ROUNDUP: Monarchs, Braves fall on road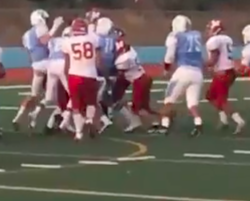 Monte Vista and University City collide Friday evening.
2017 EAST COUNTY PREP FOOTBALL
UNIVERSITY CITY 27, MONTE VISTA 15
EastCountySports.com staff report
UNIVERSITY CITY – The University City Centurions parlayed a game-opening kickoff return into a victory over key sectional division rival Monte Vista here Friday night.
In a contest played between two of the expected top two teams in Division 4, the Centurions' Marcel Patterson, who had the 88-yard kickoff return to start things off, had three touchdowns of the night.
University City also added a first-quarter touchdown pass to put the run-oriented Monarchs in a two-score hole.
Monte Vista had promised more passing this season, but UC intercepted three passes on this night.
Senior EMMANUAL MENDEZ and junior MARCO BARRAGAN broke open the holes for a 55-yard run by McClendon, which set up one of Monte Vista's scores.
McClendon scored a touchdown in the third quarter.
Monte Vista hosts Patrick Henry (0-2) next week.
---
2017 EAST COUNTY PREP FOOTBALL
KEARNY 38, EL CAJON VALLEY 22
EastCountySports.com staff report
SAN DIEGO – The Kearny Komets scored the game's final 26 points to rally to beat visiting El Cajon Valley, 38-22, Friday evening.
For the second consecutive week, the Braves got off to a great start.
The Braves' BRANDON ROBINSON forced a fumble and returned it for a scoop-n-score touchdown.
El Cajon Valley added a 2-point conversion for an 8-0 lead before the home fans had even gotten situated in their seats.
The Braves added a rushing touchdown and a passing touchdown for a decent-sized lead for the second game in a row.
DESHAWN HENDERSON broke open a 40-yard run late in the first quarter for El Cajon Valley behind the blocking of junior ANGEL SHIPLEY and crew. That gave the Braves a 22-6 lead.
El Cajon Valley led at halftime, 22-12.
This time, it looked like the Braves would keep up the pressure, added an early third quarter score for a 28-12 lead.
MAQUEL GARNER and DEANDRE KELMON both had touchdowns for the Braves.
Garner rushed in for a 26-yard score behind big MASON TILEIA's shove
The Braves were poised for a late score in the first half, but the Komets came up with a goal-line stop.
"In the fourth quarter we gassed out," El Cajon Valley coach PARRIS PISIONA said. "We couldn't get our defense off the field and couldn't maintain any drives. Injuries once again decimated us."