Scottie already home in 'Cats secondary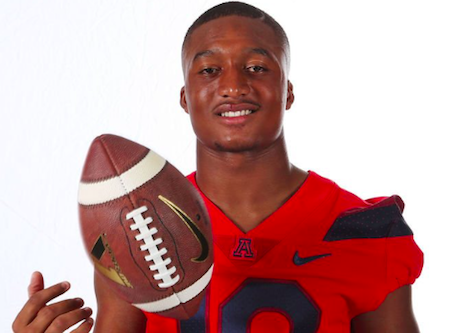 University of Arizona freshman Scott Young
2017 EAST COUNTY FOUR-YEAR COLLEGE FOOTBALL STANDOUTS
By Ramon Scott
EastCountySports.com
TUCSON – It probably didn't come as a surprise to his friends, family and fans that SCOTTIE YOUNG made his college debut as a true freshman starter for the University of Arizona Saturday night.
You know it certainly didn't come as a surprise to Young.
Young, the EastCountySports.com Player of the Year last season out of Helix, had four tackles and a jarring hit on a  receiver on the game's opening drive from his free safety position against a 62-24 blowout of Northern Arizona.
"I think it's a blessing (to start)," Young said. "I just try to take advantage of every rep I get and try to learn as much as I can, be a sponge out there, learn from the vets and the guys that have been there.
"I learn from (support staffer) CHUCK CECIL (another Helix great) and coach (Jahmile) Addae. And if I just keep on learning from those guys, I feel like I'll get better each day."
The La Mesa native shined in an open scrimmage and made plays the entire camp.
"I think as an individual I got better as camp went on," Young said. "Well, really from when I first got here in early June all the way to now I feel like I've gotten better as an athlete and as a football player."
Proud of you Nephew @_scottieoo !!!
"theres a champion in you" @HelixFootball @Daygofootball @MBASports1 pic.twitter.com/dYVzg2s1Ra

— Alex Johnson Jr (@1Alexthetrainer) September 3, 2017
Young is certainly a student of the game. The former Scottie, so to speak, is majoring in pre-business, but maybe law enforcement is in his future.
"I think that when guys love football they develop a natural 'FBI,' which is what I call Football Intelligence," Young said. "But they love it so they're gonna watch the film, they're gonna try to learn from their mistakes and try to get better every day and try to learn the little details. I watch film for an hour every night before I go to sleep. That's just the big thing for me."
Young was an early commit to the Wildcats before the '16 season, which allowed him to focus on his play during his stellar senior season at Helix.
"I was committed and I stayed committed," Young said. The (Arizona) coaches, I love them. They made me feel like family, they made me feel like I was at home."
The Wildcats face the University of Houston on Saturday night at Arizona Stadium. The Cougars' season-opener was canceled due to Hurricane Harvey.
The Cougars, despite a change at quarterback this season, is expected to run an up-tempo offense and Arizona ended up surrendering 377 passing yards to the Lumberjacks last week.
Davis ejected
Another former Highlander defensive back standout, JALEN DAVIS, had a sack and a tackle in Utah State's loss to Wisconsin, but that wasn't what made the headlines.
Davis was ejected on a close targeting call.
The Aggie defense had shutout the Badgers for the first quarter and a half of play, thanks in part to the stellar play of senior Davis.
Davis appeared to have broken up a third-down attempt for the Badgers.
At first, no flags were thrown. After a brief discussion between the officials, Davis was flagged for targeting and ejected from the game.
Wisconsin's offense sparked to life following Davis's ejection, tying the game by halftime en route to a 59-10 win
Lawrence vs. Western New Mexico
Former Grossmont High star ANTHONY LAWRENCE, who said playing visiting Western New Mexico is kinda like playing a road game with the legion of locals on the Mustangs' roster, opened with 187 yards and two touchdowns in a 34-20 win at Toreros Stadium.
Former Grossmont College defensive back A.J. SMITH had five tackles for the Mustangs and a pass breakup as the starting strong safety for WMNU.
Former Griffin and Grossmont High standout CHRISTIAN BROOKS had two receptions for the Toreros.
Elsewhere…
DOMONIQUE GUEVARA had another good outing for Morningside (Iowa) for the second straight week, as the former Grossmont Foothiller receiving star had three receptions for 29 yards in a 65-14 win over Tabor (Kan.) College.
Veteran Steele Canyon grads WILLIE FAIR and JABRION BURNSIDE turned up some nice defensive work for Azusa Pacific in a 24-13 win over West Texas A&M.
Fair, a starting linebacker, had 4 tackles and a pass break up, while Burnside added a pair of stops.
Another pair of Steele Canyon guys got busy at receiver, as JORDAN JOHNSON, of Hastings (Kan.) College, had four receptions for 58 yards in a 52-35 win over Southwestern (Kan.), while LAWRENCE DICKENS, of Marist, had 4 receptions for 25 yards in loss to Bucknell.
Former West Hills ironman NOAH YLAGAN, of Briar Cliff (Iowa), had 73 all-purpose yards in a 36-23 loss to Bethany (Kan.).
Former Christian high linebacker SEBASTIAN SWIFT had five tackles for Olivet Nazarene (Ill.) in a 39-14 win over Lindenwood University (Mo.).
Former Helix High defensive lineman SEFA TAUANU'U, a sophomore a Humboldt State, had 4 tackles, including 1 1/2 for loss, in an 83-14 exhibition win over CETYS, of Tijuana.
MAURICE CARNELL, a defensive back from Grossmont College, had an interception and four tackles for North Alabama in an 8-7 loss to Texas-Commerce.