Ylagan is Charger you can root for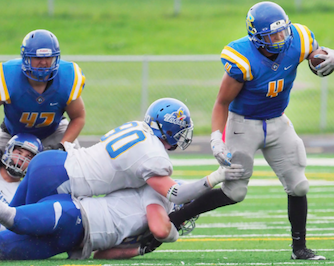 Former West Hills High standout NOAH YLAGAN, of Briar Cliff University
2017 EAST COUNTY FOUR-YEAR COLLEGE FOOTBALL STANDOUTS
By Ramon Scott
EastCountySports.com
SIOUX CITY, Iowa. – They haven't even been playing varsity football for 15 years yet at Briar Cliff University, but former West Hills High standout NOAH YLAGAN may end up at the top of the Chargers' record books for years to come.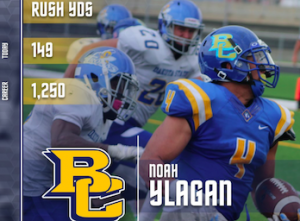 Ylagan, a junior, had 21 carries for 149 yards and 2 touchdowns in BCU's 49-33 loss to Dakota State on Saturday, as the do-it-all athlete moved into second place on the career rushing list at Briar Cliff.
Ylagan now has 1,249 rushing yards, which is still over 1,400 yards shy of the school record, but barring unforeseen circumstances, Ylagan is likely to tote the rock for another 19 games for the Chargers.
Ylagan scored touchdowns from 12 and 20 yards out on Saturday, but BCU still fell to 0-3. He is averaging 107 yards rushing per game this season.
The school's single-season rushing record is 953 yards, which could be in jeopardy if Ylagan keeps up his current workhorse-like pace.
Unfortunately, Briar Cliff has lost 13-straight games dating back to last season, but despite the winless start, the team appears improved over last year.
Highlanders in action
New Arizona Wildcat SCOTTIE YOUNG, a freshman out of Helix, had another sharp night with seven tackles, including one for loss that had to be seen to be believed, as U of A lost to Houston, 19-16. Young came up to engage a blocker and he overpowered the skill player pushing him back into his own sweeping ball carrier, knocking him to the turf.
Utah State defensive back JALEN DAVIS, who made headlines for his ejection last week on a targeting call, came back in a big way against Idaho State, as the former Highlanders had two interceptions, including one for a pick six, 2 tackles, and a pass break up in a 51-14 blowout.
Former Highlander JIHAD WOODS, a linebacker at Washington State had three tackles in the Cougars' wild 47-44 comeback win over Boise State on Saturday.
UNLV wide receiver KENNY KEYS, also from Helix, had five catches for 49 yards in the Rebels' bounce-back win over Idaho.
Former EastCountySports.com Player of the Year NATHAN STINSON, a redshirt freshman at Northern Arizona, made his season debut Saturday, carrying twice for 14 yards, as the Lumberjacks lost to Western Illinois, 38-20.
Also for the 'Jacks, SPENCER HAVIRD's storied career has brought him NAU, and the former Valhalla star DB had four tackles and one pass breakup in the win.
On the other side of the field, LB WILLIE FAIR (Steele Canyon) had 5 tackles for the Cougars.
Freshman defensive lineman BLAYKE DE LA ROSA, of Fort Lewis College, recorded his first three tackles of the season in a 17-13 win over Black Hills State.
KENE ANIGBOGU, a former Helix wide receiver currently at Missouri Western, had 5 receptions for  53 yards in a 45-7 win over Missouri Southern St.
Defensive line standout SEFA TAUANU'U brought the pressure on Saturday with three quarterback hurries in Humboldt State's 30-19 upset win on the road over No. 8 Azusa Pacific.
Also for the Lumberjacks, for Valhalla standout JOHN TODD got his season off to a good start with three catches for 58 yards in the win.
More Valhalla guys getting it done
DE'SHAWN TONE, a defensive lineman out of Valhalla now at Southwest Baptist, had a sack and seven tackles in a 32-9 win over Mississippi College.
Defensive back ISAIAH EDWARDS, a Valhalla grad now at Western New Mexico, had 3 tackles in a 37-34 loss to Eastern New Mexico.
Veteran Jamestown Jimmies' DB KEITH ROGERS, also from Valhalla, had nine tackles in a 49-12 loss to Dakota Wesleyan.
Steele pass catching stars
Former Steele Canyon Cougar LAWRENCE DICKENS looks to continue racking up receptions this season, as he tallied five catches for 54 yards in a 38-17 win over Stetson.
Former Cougar JORDAN JOHNSON, now at Hasting College in Nebraska, had a 10-yard touchdown catch in a 47-9 win over Valley City State.
Elsewhere…
Another All-East County star, ISAIAH CAPOOCIA, playing defensive back, saw action in Sacramento State's 56-22 win over Incarnate Word, making four tackles on defense in the fourth quarter.
Dixie State defensive back partners ALEX LILLIARD (Grossmont) and MIKE JONES (Mount Miguel) combined for 16 tackles and two pass break ups in a 35-14 loss to South Dakota Mines.
Colorado Mesa wide receiver VIRNELL MOON had 38 all-purpose yards in a 24-10 win over Chadron St. on Saturday.
A week earlier, the former El Cajon Valley wide out caught one pass for 27 yards and a touchdown for Colorado Mesa in their season-opening win and had 147 yards in kick off returns, including a 70-yard scamper.