Hillers polished against Lancers
Updated: September 9, 2017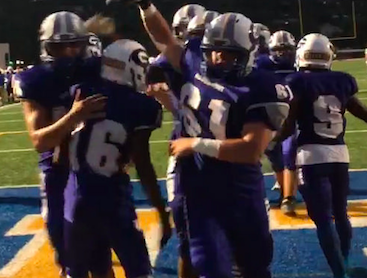 Grossmont celebrates a touchdown in the first half Friday night.
2017 EAST COUNTY PREP FOOTBALL
GROSSMONT 64, HILLTOP 3
EastCountySports.com staff report
EL CAJON – The Grossmont Foothillers put it all together Friday night, especially in the turnover department, rolling to a 63-3 win over visiting Hilltop.
Grossmont led 51-3 at halftime.
NOAH CRESS returned an interception 30 yards for a touchdown just over a minute into the game and the Hillers were ready to light up the scoreboard.
Grossmont quarterback JAMIE ODOM threw a 25-yard touchdown pass for THOMAS MANGUM for a 14-0 advantage.
Odom threw for 159 yards and three scores on the evening. Mangum had three receptions for 56 yards.
Grossmont recovered a fumble to take possession at Hilltop's 37.
ZACK JONES had 10 tackles for Grossmont, while JULIAN SANDERLIN made it six sacks in three games with two more put-downs on Friday night against the Lancers.
Sanderlin also had a fumble recovery and an interception.
Then, Odom threw another 25-yard TD, this time to JOSH MOALA, who is really starting to get untracked and in tune with the sophomore signal caller.
Grossmont senior SHEVELL STERLING, JR., had a 7-yard touchdown run for a four-score lead.
AMBER HUFF, Grossmont's kicker, had a 28-yard field goal to make it 31-3.
Moments later, Grossmont recorded another interception at their own 37-yard line.
In the second quarter, Odom hit Moala again, this time for a 62-yard touchdown.
Grossmont then recovered another Hilltop turnover at the Lancers' 10-yard line, although the Hillers gave it right back on a turnover just a few plays later.
Later in the second, however, Sterling, Jr., scored on a 2-yard run to make it 44-3.
Senior quarterback DYLAN SMITH added a rushing touchdown in the second half of three yards. DOMONIC ESPINO and DESMOND CARTER also scored touchdowns.
Carter had five carries for 63 yards, including a 14-yard score. Espino had a 2-yard TD run.
Grossmont rushed for 253 yards, led by junior RB DAMARI CRAWFORD, who tallied 18 carries for 92 yards.
The Foothillers host Eastlake next Friday.