Monarchs make Jahmon's 5 TDs stand
Updated: September 9, 2017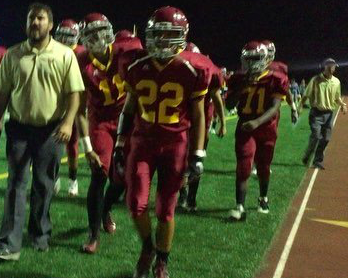 Monte Vista sideline on Friday night.
2017 EAST COUNTY PREP FOOTBALL
MONTE VISTA 34, PATRICK HENRY 27
EastCountySports.com staff report
SPRING VALLEY – Monte Vista junior running back JAHMON MCCLENDON kept piling up the touchdowns Friday night, scoring five TDs – including four in the first half – as the Monarchs would need every one to hold off winless Patrick Henry, 34-27.
McClendon rushed for a Monte Vista High School-record 333 yards, including more than 200 of those coming before halftime.
The Monarchs run a simple enough play with a straight-ahead dive, and the big back follows behind his mashing line and goes sauntering through the secondary.
McClendon had a 47-yard burst quickly in the first quarter to open the scoring as he got the big block from sophomore RON BARRY to spring him up the middle the first time.
He had a short goal line burst for his second score in the first.
On his third score, he broke free behind more blockers, including juniors CHRISTIAN DE LA CRUZ and GERARDO ARELLANO for a 40-yard score.
On the fourth TD, he ran for 90 yards, junior end JACK WALKER pushed his defender back once again, breaking the super back into the open for the length-of-the-field run.
McClendon's 333 yards for the game would be the 17th most yards gained rushing in a game in section history, according to the current list.
Patrick Henry junior Colin Frye scored in the second quarter for the halftime margin, 28-7.
The Patriots' Brett Allen caught a touchdown pass in the third quarter.
McClendon later scored his fifth touchdown, making it 34-13 in the third, little did the Monarchs know they would need the extra score.
"Patrick Henry did a great job against us in the second half," Monte Vista coach RON HAMAMOTO said. "They made some really good adjustments at halftime to attack our weaknesses. I also think our guys relaxed too much when we were up 34-7. We almost blew it."
Other Monte Vista blockers running the plays to near-perfection Friday night included senior EMMANUEL MENDES, junior ELSHADAI LEVI and junior MARCO BARRAGAN.
Patrick Henry junior Carlito Nothalf added a long touchdown run, then Frye scored on a touchdown run with five minutes left.
The Patriots are at El Capitan next Friday, while Monte Vista (2-1) is home to Casteel (Queen Creek, Ariz.).