Jake, Eagles thrill in instant classic
Updated: September 9, 2017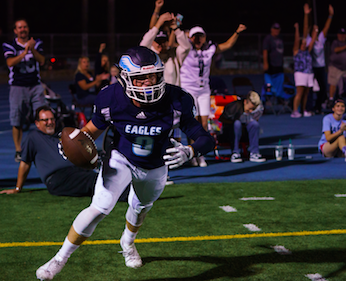 Chris Ostreng gets up after scoring a touchdown reception Friday night. / Scott Barnhill - Charles Scott Photography
2017 EAST COUNTY PREP FOOTBALL
GRANITE HILLS 43, STEELE CANYON 31
By Ramon Scott
EastCountySports.com
EL CAJON – Headliners JAKE SIEGFRIED and THOMAS FISHBURNE stole the show from the veteran-led defenses of Granite Hills and Steele Canyon Friday night, as the Eagles' WILLIAM BURTON scored on a 10-yard touchdown reception with 2.9 seconds left, lifting the hosts to a Game-of-a-Generation type thriller over the Cougars, 43-41.
"I knew I was going to be open right off the bat," Burton said. "I looked at (Siegfried), he winked, I just knew it."
For Siegfried and Fishburne, it proved to be a worthy trilogy, as the quarterbacks were facing off for the third time in their careers. Both QBs previously led their team to home wins over the other.
The dueling dual-threat quarterbacks accounted for 12 touchdowns – seven through the air and five on the ground – in a game that those in attendance will talk about for years to come.
Siegfried has the Eagles rolling after two-straight wins after he accounted for six scores and 370 yards of total offense against an oft-proud Cougar 'D'.
Burton, who is looking more and more like a prototypical tight end, had a 63-yard touchdown reception for a 7-0 lead for Granite.
Burton got a quick pass behind the line from Siegfried of a play-action fake, and that allowed the big man to haul down the left sideline, outracing a chasing Cougar defender.
Burton had 6 catches for 105 yards.
Fishburne tied the score with a 1-yard TD. The senior has done it for this team time and time again through the years, and he was in career-form in this one with four passing scores to senior breakout wide receiver JORDAN ANDERSON, along with two rushing scores.
Siegfried got the lead back for the Eagles with a 3-yard TD run.
Siegfried threw a 24-yard touchdown pass to CHRIS OSTRENG, who caught a fade in the left corner with a sliding grab of a super-high aerial, making it 21-7 Eagles.
It looked like the Eagles could put an early knockout blow to the Cougars when they upped their lead to 28-7 on a 6-yard  score by Siegfried.
But Fishburne threw touchdown passes to Anderson of 15 and 57 yards to bring the Cougars back to within 28-21.
On the 15-yarder, Fishburne threw a quick inside slant to his streaking receiver, who caught the pass in stride and weaved and whittled threw traffic to get into the end zone. The drive took just a minute-and-a-half.
On the deep route, Fishburne threw a perfect connection down the middle of the field to Anderson, who had already sped past the defense.
Fishburne, a make-it-happen scrambling quarterback, had a 6-yard TD rush to tie the game, 28-all. He had a 31-yard scramble to get down to the 16-yard line on the march.
At one point, Fishburne's familiar No. 5 jersey tore, so he came back into the game wearing No. 4. But it was the same ol' Fish. Fishburne passed for 230 yards on 13-of-19 passing.
However, Siegfried found his way to the end zone for a 34-yard score to cap a five-play drive, giving the Eagles the lead, 34-28.
Siegfried delayed, then used the blocking of senior lineman EVAN DENNEY to open the way for a split to paydirt.
However, the point-after was unsuccessful and came into play.
Fishburne threw another TD pass for Anderson for a 12-yard score, making it 35-34 after the PAT.
Anderson finished with eight receptions for 186 yards.
However, Granite Hills kicker JUSTIN MCELLIGOTT came through with a 29-yard field goal for a 37-35 lead with nine minutes left in the game.
Fishburne threw a 64-yard completion to Anderson for the receiver's fourth touchdown reception of the night, giving the Cougars the lead with 1:04 to play in the game.
Steele Canyon (1-2) figured they may have had the game won at that point, but the way these quarterbacks were clicking, nothing was going to be for certain.
Siegfried directed another drive to get down to the 10 with just over nine ticks remaining. The march was aided by a late-hit penalty out-of-bounds, then a pass interference call to get them within quick-strike distance.
"Great team win for us," Granite Hills coach KELLAN COBBS said. "William Burton really stepped up for us made big plays on both offense and defense.
"Jake did a great job of stepping up and leading our team down the field for the win. He had some great throws and some great runs. For sure, he's a competitor."
Granite Hills offensive line standouts DANIEL RUSSELL, GARRETT CURRAN and junior DAMIAN HILDALGO were on their toes making way for Siegfried.
Said Steele Canyon coach SCOTT LONGERBONE: "Just a great football game, it was a great chess match. We made adjustments and they adjusted."
Even the winning score was awesomely contested by the Cougars' ANTHONY GUY. He nearly earned a tug-o-war on the ball in the back of the end zone on Siegfried's well-placed ball. Guy had a hand in Burton's bread basket, but couldn't deflect the pass.
"(Guy) played real well," Longerbone said. "He defended big Burton a couple times and he got him on the winning TD but he was in great position."
Steele Canyon's offensive line, led by BILLY TELLOUS, JADEN MCGOWAN, DARRIN ROLDAN, SAMUEL CORTEZ and JOSH CONSTANCIO, kept their man in control against the Eagles' menacing front.
Both teams have a bye next week.
Steele Canyon travels south to Otay Ranch, while the Eagles head north to Valley Center in two weeks.
Siegfried rushed for 178 yards, while SETH ALLISTER had a 77-yard run.