2017 EAST COUNTY FEARLESS FORECASTER – WEEK 4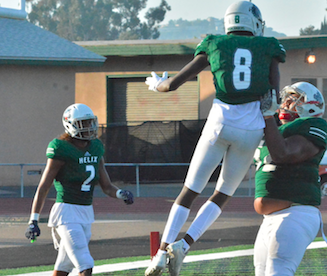 Helix's TERRANCE TOLBERT is lifted in the air by PAKA ROJAS.
2017 EAST COUNTY PREP FOOTBALL FEARLESS FORECASTER
WEEK 4
By David Dickens 
EastCountySports.com
LA MESA – Long bombs, coast-to-coast touchdowns, goal line dives, pick 6s, scoop'n'scores, kick and punt returns…
Offense. Defense. Special Teams.
When East County players get into the end zone this Friday night, they will be doing so to help the fight against childhood cancers.
Touchdowns Against Cancer raises awareness and money for the next two Friday nights. Go to touchdownsagainstcancer.com to pledge your donation for each time your team hits paydirt.
And let's light up the scoreboard, Friday night.
No. 9 CATHEDRAL (1-2) at No. 3 HELIX (1-1), 7 (NFHS Network) – The Highlanders are eager to avenge last year's regular season and CIF Open Division championship game losses to the Dons.
In the 2016 Open championship game, Cathedral pulled out a 35-27 victory.
In the regular season meeting, Helix was up big at the half, 21-7, and then the Dons scored 28 points in the second half for a 35-28 win.
The Highlanders are coming off of a bye after losing to Lancaster Paraclete, 23-6, in the Honor Bowl.
The Dons come into the game off a 48-6 win over Westview.
Cathedral lost most of their athletes from last year to graduation, but Helix still retains senior quarterback CARSON BAKER, who was 27-of-33 for 329 yards with two touchdowns and an interception in the regular season matchup, then threw for 308 yards in the title game.
Senior wide receiver/defensive back RASHAD SCOTT had 8 catches for 88 yards and a touchdown in the early matchup and he caught a deflected pass for one of his two touchdowns in the finale at Southwestern College.
Cathedral had a loss to state fourth-ranked Orange Lutheran, 37-0, and a 22-12 loss to Del Oro, so the Dons have played elite competition.
CCHS had 427 rushing yards in the Open final last year, while super running back Shawn Poma had 37 carries last week.
Helix will count on defenders MICHAEL SHAWCROFT, REE REE PATANE, LARS LASH and JAYDEN TAUANU'U to slow the Dons' offensive rushers.
Helix's big-name two-way stars and being supported terrifically on offense by receivers ISAIAH WOODEN and TERRENCE TOLBERT.
Cathedral is ranked 57th in the state, while Helix is ranked 24th.
Helix is averaging 75 yards per game on the ground and 220 passing.
Cathedral Catholic's defense is led by linebacker Jordan Allenn
Scott, who has four interceptions this season, and ISAAC-TAYLOR STUART lead Helix's no-fly zone… HELIX, 24-19.
No. 16 EASTLAKE (2-1) at No. 17 GROSSMONT (2-1), 7 – The Titans won at Hilltop, 21-3, two weeks ago, then Hillers beat Hilltop at home last week, 63-3.
Hillers' QB JAMIE ODOM is already getting great balance from his receiving corps, as he is 28-for-51 for 607 and 6 TDs so far.
Junior DES CARTER has a team-leading 10 catches for Grossmont, while receivers JOSH MOALA and THOMAS MANGUM give Odom multiple options.
"This will be our third team in four weeks ranked in the top 20 in San Diego," Grossmont coach TOM KARLO said. "Odom is getting better every day and to win this one we need to create turnovers and take care of the ball on our side."
Former Little League superstar Micah Pietela-Wiggs has 6 TDs so far, 3 rushing and 3 receiving, as he has 8 catches for 125 yards and also had 11 yards rushing on 11 carries. He's even thrown a TD pass and has two interceptions.
Eastlake also has a home run threat receiver in JAYLN JACKSON. The Titans' backs are juniors Roman Coe and Parker Merrifield.
Grossmont forced 5 turnovers last week and figure that would be an effective strategy again, as JULIAN SANDERLIN, ANDREW LIRA and NOAH CRESS led the change of possession parade,
DASEAN CRAWFORD and JOE TOLEDO will have their hands full, as Eastlake junior QB Daniel Amon is 23-for-38 with 5 TDs this season.
Bernard Coe leads the Titan defense with 27 tackles. He also has an interception.
Eastlake's hot start caught the early attention of pollsters, but the Foothillers are still the decided favorite here… GROSSMONT, 31-27.
WEST HILLS (2-1) at MOUNT MIGUEL (1-2), 7 – After the season-opening home loss to El Centro Southwest, Wolf Pack coach CASEY ASH said, "We don't ever need to worry about our opponent. We need to worry about ourselves and focus on the Wolf Pack and how well we play."
Two games later, they have put up 62 points and allowed only seven, improving to 2-1 after the impressive 28-0 road shutout last week at Mission Bay.
Whether it be RYAN JEWELL blocking a PAT or grabbing a pick six, or running back RICKY WILSON operating as a true goal-line back, or junior quarterback JORDIN YOUNG using his legs and his arm, the Pack have some key cogs in their unit.
"Ryan Jewell always finds a way to contribute even when he's not being targeted on offense," Ash said.
Young has completed 58 percent of his passes and thrown for five TDs, while back AUSTIN DILL averages six yards per carry, as the Pack currently are running at a 2-to-1 run-to-pass ratio, with Young involved in 50 percent of the plays.
CADE WEAVER has also been catching critical passes or pinning offenses deep with his leg, while AUSTIN DENISON has been getting in and sacking quarterbacks.
"West Hills is a well-coached team and they are very good at executing what they do very well," Mount Miguel head coach SHAUN MCDADE said. "It's going to be another hard, four-quarter battle. I think the matchup is pretty even. it went into overtime last year and I think you can expect more of the same this time out."
Mount Miguel has been good at times, but they fell to Valhalla at home last week to take away from the momentum off a home win over Chula Vista the week prior.
SANTINO PACHECO continues to star for the Matadors, as he has played lights out on defense, while against Valhalla, the senior had six catches for 168 yards and a touchdown.
Matador back SHEMAR GREENE will likely be great in this matchup, just as he was last year in a 29-28 overtime loss at West Hills. Greene has rushed for 318 yards so far this season.
Last week, Matadors quarterback MUGABE MILLER threw for 268 yards against a usually stingy Norsemen defense, though Valhalla came away with a 24-14 win.
Young has 229 yards passing and 105 rushing season.yards so far this season.
JAKE HALLAHAN leads the Wolf Pack defense.
"This week, we will find out if our defensive performances the past two weeks have been more to do with our opponents' play or the play of our own," Ash said. "We are opposites in the way we approach the game which makes for an interesting matchup.
"The running back (Greene) is the key and we have to be aware of where (Pacheco) is aligned. Keep the quarterback contained and stay in coverage when he scrambles."
While this is a Grossmont Conference cross-over game, the contest have further implications in the team's respective section division rankings. Both teams are hovering near their respective playoff bubbles as league season approaches.
West Hills offense seems to be hitting all cylinders though it will be a battle similar to last year's game… WEST HILLS, 24-22.
PATRICK HENRY (0-3) at EL CAPITAN (1-2), 7 – Both El Capitan and Patrick Henry have had a rough start to their seasons, though the Vaqueros might tell you they think they should be 2-1.
Patrick Henry is winless and had to face a stellar Bishop's team on all sides of the ball, which beat the Pats, 77-0.
El Cap, meanwhile, had to face maybe the best in the state to open the season in the Madison Warhawks.
El Capitan faces Henry after a close, but magnificent win against Valley Center after they lost to last year in overtime on the road against the Jags.
This time without their starting quarterback, WICK HAUSER, who will also be out this week and without YAPHET YOKLEY, who have been two key components to the recipe for success.
The Vaqueros put together the upset thanks to the hands of their defensive twins CHANCE and CHASE LOVATO.
The Lovato brothers stand only 5-foot-9 and weigh 165 pounds each, but they compete against each other and that they did last Friday.
Chase started it with a 36-yard interception return, then Chance, after being burned once, made his big plays down the stretch with a sack and an interception to seal the win.
CHRIS MCDONOUGH tipped a pass that resulted in an interception by Chase Lovato in the third quarter with the score, 14-13.
"We have to play error free football and keep them off the field," El Capitan head coach RON BURNER said. "Our offense has to do a better job of converting in the red zone."
El Capitan senior stud ANTONIO OLIVIERI is in at quarterback once again, as Hauser deals with a shoulder issue.
Wide receiver STAR IULI made some big plays in the win over the Patriots last year, as El Cap won 46-39 on the road. He also came through in last week's win.
Vaqueros running back CONNOR ROOSA should look for a return to top form, while defensive line standout JONATHAN ABBOTT forced a fumble against the Jags.
The Patriots average 5 1/2 yards per carry, just over 180 yards per game between a trio of backs.
Henry junior quarterback Ethan Gomez had over 300 yards of total offense last week. His top target is Brett Allen.
The Vaqueros' defense should control this one… EL CAPITAN, 17-10.
CLAIREMONT (2-1) at SANTANA (1-2), 7 – The Santana Sultans are licking their chops and have been quiet as a church mouse ever since the big win to open the season versus Castle Park at Santana.
Since then Santana lost an opportunity to take the Mayor's Cup as, the Sultans lost 34-7 to the crosstown rival. And then last week against a Christian team, which probably has the best offense in the East County, JOSH OEDEWALDT was 18-of-32 for 187 yards.
Santana needs this one against Claremont to get back on track and it starts with the offensive line giving Josh time to pick a part the defense.
The Sultans can keep it on the ground with DALE GENSCHAW, IAN LITTEN, opening up plenty for Josh and his receivers to start clicking again. receivers
Santana sackmeisters LANDON WOOD and BRAYDEN NIETO should get to the QB once again this week… SANTANA, 30-22.
CASTEEL (Queen's Creek) (3-0) (-7) at MONTE VISTA (2-1), 7 – Casteel's team is undefeated and have hogtied all of their opponents previously and held all three scoreless, scoring 62 or more points totaling 196 points in three games which is 65.5 points per game.
Either the opponents from Arizona were terrible or Monte Vista might have their hands full with the visitors from the desert.
Junior quarterback Gunner Cruz, who has offers from Arizona State and Northern Arizona, in three games is 43-of-61 passing for 778 yards for 260 yards a game, along with 12 touchdowns to one interception.
Colts rushing leader Mac Johnson, also a junior, has 33 carries for 391 yards on the ground for six touchdowns.
The Colts have no seniors and are playing just their second year of varsity football after going 10-4 last year.
Sophomore wide receiver Brent Goodwin has 13 catches for 336 yards and five reception TDs.
Defensively, middle linebacker Jack Littleton leads the defense with 24 tackles and two fumble recoveries in three games and junior strong safety Cameron Brown has 10 tackles, two picks and two passes defended.
Monte Vista just hung on to beat winless Patrick Henry last week, now the Monarchs face a team that hasn't punted yet this season.
Monte Vista got a little comfortable with a 28-7 halftime were outscored 20 to 6 in the second half, however, running back JAHMON MCCLENDON scored five touchdowns and rushed for a Monte Vista-record 333 yards. He broke the previous school mark set by RAY BRAITHWAITE.
The key to his success is the line of sophomore RON BARRY, and juniors CHRISTIAN DE LA CRUZ, GERARDO ARELLANO and  JACK WALKER.
The Colts have played a relatively week schedule, but are still among the favorites in Arizona's Division 3A and a soon to move all the way up to Division 5A in the years to come in the growing community.
"They have size and really have great skilled kids," Monte Vista coach RON HAMAMOTO said. "T
hey remind me of University City. (Cruz) can really throw it and they have one heck of a size roster, they have 70 on their varsity to our 26 on varsity.
"We need to control the clock play our best and win the turnover battle and that is the secret to our success."
Will the order be too tall for the Monarchs?… CASTEEL, 27-20.
No. 15 CHRISTIAN (3-0) (-21) at FALLBROOK (0-3), 7 – The Fallbrook Warriors have been outscored 112-21 in three games and when they plaedy the last time out, they lost at home 44-0 to Torrey Pines.
The Warriors finished 1-9 last year and 0-4 in league, including a 48-7 loss down in El Cajon to the Patriots.
However, their one win last year was against Hoover, which also one on the one game last year. so the last win for the Warriors 48 to nothing game six last year against Hoover. Christian who can win with anywhere with their
Christian can win with ease here with their pro-style offense, which resembles the New England Patriots.
With BRAD JEREMIAH behind center, he is a mobile, accurate QB who knows how to read the defense much like Tom Brady.
Jeremiah in the last three games is 84-of 110 for 1,265 yards for 420 yards per game, 17 touchdowns to one interception and also nine carries for two touchdowns.
Running back ALEXANDER GONZALEZ leads the ground attack with 20 carries for 146 yards and five touchdowns.
Jeremiah has so many choices with ALONZO RICHARDSON and JESSE MATTHEWS.
The Patriots' defense so far in three games has three sacks, three picks and 183 tackles.
The key to build on is to improve their offensive line, which is very young but are improving each game… CHRISTIAN, 45-14.
EL CAJON VALLEY (1-2) vs. CRAWFORD (3-0) (at Hoover), 4 – What Braves did last week was nothing short of remarkable.
After the dismissal of previous had coach PARRIS PISIONA, the El Cajon Valley kids kept their composure and impressed everyone by rushing for a huge night behind DARREL DAVIS and MAQUEL GARNER.
"I am proud of those kids," Pisiona told EastCountySports.com this week. "There is a genuine care for one another on the team that will hopefully lead to something special."
The players went out, meanwhile, and played for their former coach.
The Braves have led in all three of their games this year and their offensive line manhandled the Chiefs' defensive front.
Junior ANGEL SHIPLEY, sophomore FREDERICK HENDERSON, junior MASON TILEIA and senior MIKE MALONE were the men responsible for making sure the backs had the huge night.
Center ANDRE ROBLES directed the team up and down the field.
The Colts have a small roster, but have been impressive so far and are a sure D5 contender.
QB Shawn Balala is a dual-threat on offense for the Colts. Ali Musa is the top target.
The Braves' will have to overcome the emotionally draining victory last week… EL CAJON VALLEY, 19-16.
SILVER VALLEY (Yermo) (1-0) at MOUNTAIN EMPIRE (2-1), 7 – Out of the Southern Section, Silver Valley allowed just 15 points-per-game last year and won 58-15 in their opener this year, rushing for 361 yards.
The Red Hawks are rated as the underdog here by computers despite winning 21-7 last week against visiting Hoover.
CAMERON WILL had 21 tackles last week for the Red Hawks.
Mountain Empire's seems to have too many skill players compared to its opponent here… MOUNTAIN EMPIRE, 22-19.