Lovatos bring rain on 'D' in win over Jags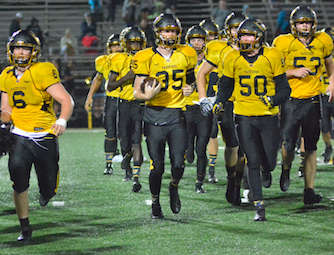 El Capitan runs through the celebration line following its win over Valley Center Friday night.
2017 EAST COUNTY PREP FOOTBALL
EL CAPITAN 14, VALLEY CENTER 13
By Jim Lindgren
EastCountySports.com
LAKESIDE – Defense in high school football is often predicated on two elements:
Take a CHANCE and CHASE the ball.
Such was the case Friday night in El Capitan's 14-13 thrilling win over Valley Center in a Division II non-league win in a slight second-half rainfall at El Capitan.
Identical twins CHANCE and CHASE LOVATO made the biggest plays on a big-play defensive night for the Vaqueros (1-2) in their upset of Valley Center (2-1).
Both stand about 5-feet-9 in cleats and weigh about 165 pounds, but they came up big against the Jaguars, who figure to be a top challenger in the Division II playoffs this year.
"They are super competitive," El Cap defensive coordinator Antwan Applewhite said. "They always try to one-up each other."
They one-upped, all right, and ultimately tied each other on Friday to give the Vaqueros a much-needed win.
Chase Lovato started first with a 36-yard interception return touchdown. He alertly noticed an underthrown pass from Valley Center's Rikki Mazzetti, picked it at the 36 and darted through several defenders for the score and a 14-7 lead with 8:56 to play in the second quarter.
Chance Lovato, after being beaten on a first-quarter TD pass that made it 7-0, made several nice plays to thwart the Jaguars' high-powered offense.
In the third quarter, CHRIS McDONOUGH tipped a pass in the end zone that Chase Lovato snagged and returned 20 yards for a TD-saving interception that kept the game at 14-13.
In the fourth quarter, with Valley Center driving and threatening, Chance blitzed on a third-down play from the 25-yard line and sacked Mazzetti for a 9-yard loss with 2:17 left to play.
On the next play, on fourth-and-16 from the 34, Mazzetti tried to find Vasquez, but Chance Lovato stepped in front for an interception at the 7-yard line to ice the game for the Vaqueros.
Chance Lovato third down sack… fourth and 7 for VC at the EC 34 pic.twitter.com/XToRdpB6Nu

— Ramon Scott (@RamonScottPoker) September 9, 2017
"I love playing with my twin brother," Chance said. "I love seeing us both shine."
Said Chase, "It's that twin battle thing. We're very competitive, but it's awesome that we both stepped up in a big win."
Chance Lovato intercepts a fourth-down pass attempt with 1:45 left in the game at El Capitan hold on to a 14-13 lead over Valley Center… pic.twitter.com/hEauJcv2Fv

— Ramon Scott (@RamonScottPoker) September 9, 2017
El Cap's first win was also improbable considering the Vaqueros were playing without four injured starters, including junior quarterback WICK HAUSER, who injured his shoulder late in their 26-24 loss to Mater Dei last week.
Insert ANTONIO OLIVIERI, a senior who normally plays tight end and defensive end and has thrown only 17 passes in two seasons after serving as the freshman and JV quarterback in his first two seasons.
Olivieri is perhaps El Cap's best player and is being recruited by SDSU, Northern Arizona and Idaho as an athlete, not as a QB.
Before he took a snap Friday, he made a huge stop on the second play of the game for a 3-yard loss.
With the ball in his hands, Olivieri completed 11 of 21 passes for 97 yards and rushed six times for 17 yards.
"Big game for him," El Capitan coach RON BURNER said. "He's one of our top players, and he really came through.
"All week he was like, 'Whatever I gotta do, I'll do it. You want me to play quarterback, I'll play quarterback.' "
Said Olivieri, "I knew my team had my back. First of all, I just want to thank the Lord for letting me play quarterback today. My team really stepped up for me."
BRANDON WILLIAMS also had an interception for the Vaqueros in the first quarter. CONNOR ROOSA had a sack for minus-7 yards on the first play of the game. DYLAN BURKE almost had a pick, defending a pass.
RAY LAWLER recovered a fumble after an initial hit by JAKE CASHMAN in the fourth quarter.
"Defense played lights out," Burner said. "With all the injuries we had, we made a decision before the game to leave our defense intact. We knew we couldn't get into a shootout with these guys. They're just too good.
"We had a scheme we thought could beat them. We stuck with it. We studied them up and down on both sides, and we stuck with our plan."
Applewhite has been instrumental in developing the Vaqueros' defense into one of the finest in the East County. He is a former San Diego State star linebacker who also played for the Chargers.
On Friday, he was matched against Gilster, an offensive guru who has won five CIF championships at Valley Center. Gilster, 55, also played at SDSU as an offensive linemen in the 1980s.
"We got out-coached, and that's on us," Gilster said. "We got out-played. That's about all there is."
Gilster then turned to his team and lamented, "Offensively, we had three great opportunities to get points, and we came away with zero. Do you realize that quarterback played every snap at defensive end? We got beat by a defensive end."
With five sophomore starters and a host of junior contributors, Valley Center went 10-2 last year and lost to eventual champion Bishop's in the Division III semifinals. This season, the kids have grown up and the Jaguars are even better. And they need to be having been moved up to Division II.
Mazzetti, who normally guides the offense like a Maserati handles corners, threw for 2,181 yards as a sophomore. He was 12-2 as a starter before the Lovato twins caused the Maserati to stall.
Mazzetti completed only 9 of 17 passes for 108 yards with three interceptions – his first three of the season – and only one TD.
Mateo Sinohui rushed 32 times for 59 yards before going down with a right calf injury on Valley Center's final drive.
Sinohui's biggest run was a 51-yard gain that appeared headed for the end zone until Chance Lovato pulled him down from behind.
Another difference in the game, ultimately was a failed PAT kick by Valley Center in the second quarter.
Moments later, the Vaqueros missed a 28-yard field goal at the end of the half after a 13-play drive to the 12-yard line.
Valley Center took a 7-0 lead on its second possession as Mazzetti lofted a perfect pass to Keith Vasquez in the back right corner of the end zone.
El Cap struck back with a 5-play, 80-yard drive, highlighted by a 40-yard run by Roosa and a 21-yard gain by STAR IULI on a pass from Olivieri. Iuli finished the drive with an 8-yard sweep around left end to tie the game at 7-7 with 1:08 to play in the first quarter.
Chase Lovato's 36-yard interception return gave the Vaqueros a 14-7 lead with 8:56 to play in the second quarter.
Valley Center answered with a 5-play, 72-yard drive to make it 14-13 with 6:59 to play in the first half. The PAT was wide right, and, thus, put an end to the scoring in this one.
Chase Lovato's interception in the end zone in the third quarter thwarted a 15-play drive by the Jaguars.
Lawler's fumble recovery stopped a 7-play drive at the 10-yard line.
Chance Lovato's pick at the 7-yard line halted an 11-play drive.
Roosa finished with 70 yards on 13 rushes. Iuli had four receptions for 38 yards, and DYLAN BURKE nabbed three for 22.
They got room to perform and Olivieri had nice protection from an offensive line of RYAN GREAVES, JAKE CASHMAN, KEVIN WESTBROOK, BRYAN McFARLANE and CARSON FIEL.
El Capitan plays host to Patrick Henry (0-3) next Friday. Valley Center hosts Imperial (1-1).