Hillers pick wrong foe for homecoming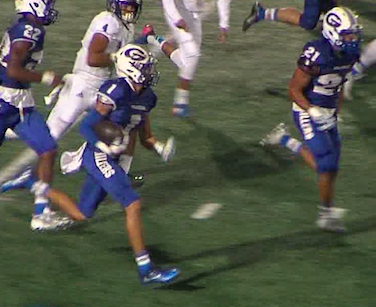 Grossmont's Andrew Lira returns a blocked field goal for a touchdown Friday.
EAST COUNTY PREP FOOTBALL
EASTLAKE 32, GROSSMONT 19
By Jim Lindgren
EastCountySports.com
LA MESA – We've grown accustomed to the phrase "Pick-6" in football these days, signifying an interception return for a touchdown.
Eastlake pulled off a "6-Pick" Friday night in beating Grossmont 32-19 to spoil the Foothillers' homecoming game.
Six interceptions!
"This is one of those things where you shoot yourself in the foot," Grossmont coach TOM KARLO said. "We did that too many times. You're not going to win games like that, especially against a good team like Eastlake."
Four of those picks came in the second half as Eastlake shut out Grossmont in the final 24 minutes and scored 22 unanswered points after trailing 19-10 with four minutes left in the second quarter.
"We don't give up," Eastlake star Micah Pietila-Wiggs said. "We never give up. We keep playing the entire game. We're way better than last year."
Eastlake (3-1) just topped its win total over last year's 2-9 season with its only loss being a 43-41 heartbreak loss to Corona Santiago last week. Grossmont fell to 2-2 and plays another talented team from Buena Park next week at Lt. Thomas M. Adams Field.
"This was two good teams playing their hearts out," Karlo said. "One team made too many turnovers. You can't win games when you make that many mistakes and turn the ball over six times."
Micah Pietila-Wiggs and Kevin Bateman – two names you may remember from 2013 when a youth baseball team from Eastlake captured the county's attention before losing to Japan in the Little League World Series – stamped their names on this game.
Pietila-Wiggs had two acrobatic interceptions and a 27-yard touchdown run. Bateman scored on a 5-yard pass from Daniel Amon to give the Titans their first lead at 23-19 early in the third quarter.
Eastlake's Roman Coe also had a fine evening until suffering a separated right shoulder late in the game. Coe (5-foot-6, 200 pounds) had 31 carries for 155 yards, more than doubling his output of 150 yards in the first three games.
"He came up big," Eastlake coach Dean Tropp said. "You get him rolling with that low center of gravity, it's tough to take him down. He's like a bowling ball."
Every team that plays Grossmont tries to keep the Foothillers' offense off the field, and Tropp's game plan was no different.
Coe's rushing and six interceptions went a long way toward fulfilling that goal.
Robby Hughes, A.J. Hernandez, Dylan Kohler and Jalyn Jackson also had interceptions for Eastlake.
"We're kind of young and inexperienced at quarterback," Karlo said. "We made a lot of mistakes. We've got to correct those mistakes."
Grossmont came into the game averaging 440 yards and 38 points per game – typical numbers for the Foothillers' no-huddle up-tempo offense in Karlo's five previous seasons at the helm. The Foothillers whipped Hilltop 64-3 last week while Eastlake topped Hilltop 21-7 two weeks ago.
Eastlake totaled 355 yards, and Grossmont 297.
The Foothillers did have three huge plays to take a 19-10 lead with 8:02 to play in the second half. They really didn't have much the rest of the way.
Sophomore JAMIE ODOM threw for 248 yards and two touchdowns, completing 10 of 25 passes, but he also had five interceptions. DYLAN SMITH was 2 of 4 passing for 9 yards and one interception.
Odom's first pick came on his second throw by Hughes, and Eastlake gained possession at the Foothillers' 20-yard line. Three plays later, the Titans attempted a 37-yard field goal.
ZACH JONES burst up the middle and blocked the kick. Andrew Lira scooped up the ball and raced 72 yards for a touchdown, getting a key downfield block by NOAH CRESS. A high snap on the PAT lead to a failed rushing attempt, and the 'Hillers were up 6-0.
Eastlake drove 61 yards in six plays on the ensuing possession with Pietila-Wiggs taking a 27-yard sweep into the end zone for a 7-6 lead.
Three plays later, Odom connected in stride with DESMOND CARTER about 30 yards downfield. Carter broke a tackle around the 22-yard and cruised into the end zone for an 84-yard TD.
Eastlake drove 49 yards in 13 plays, and DJ Del Fierro booted a 34-yard field to make it 13-10 Grossmont.
The Foothillers needed only four plays to go up 19-10. Odom again threw a strike to THOMAS MANGUM downfield, and Mangum raced untouched 65 yards to paydirt.
Eastlake dominated from there. The Titans got two more field goals from Del Fierro – from 35 and 25 yards – and pulled within 19-16 on the last play of the first half.
Bateman's 5-yard TD in the third quarter gave Eastlake the lead for good. Parker Merrifield scored on a 9-yard run to make it 29-19 late in the third quarter, and Del Fierro added a fourth field goal – his sixth of the season – to complete the scoring with 4:31 left to play.
Grossmont strives to take 70 or 80 snaps in every game. After 20 minutes, the Foothillers had 10 plays and only three first downs. They also had a 19-10 lead, thanks to the three long scoring plays.
Mangum finished with four catches for 117 yards and a score. Carter caught three passes for 113 yards and a TD. SHEVELL STERLING had two catches for 15 yards and 31 rushing yards on 10 carries.
It wasn't nearly enough against a very good, extremely large team from Chula Vista. Eastlake features one of the top offensive lineman in the county in Billy Dunkle (6-5, 335), who already has received 11 Division I scholarship offers.
He was instrumental in opening nice holes for Coe, who reminds prep fans of former St. Augustine star Elijah Preston, now redshirting in his freshman year at San Diego State.
"Give it up to my O-line," said Coe, sporting a sling on his right arm after the game. "They broke open some nice holes."
Grossmont also some defensive stars. JULIAN SANDERLIN posted two sacks to give him eight for the season. ERIC SHANKS, DAISEAN CRAWFORD and Jones also had sacks.
JOSEPH TOLEDO and Shanks broke up passes and almost made interceptions that could have turned the tide.
In addition to his long TD return, Lira blocked a PAT.
After taking its 19-10 lead, Grossmont had 10 possessions the rest of the game. Three ended in punts. One ended on a low punt snap, Another ended on a failed fake punt rush. And, of course, five possessions ended with interceptions.
"Just too many mistakes," Karlo said. "But we'll get better.
"We're not going to have many easy games. We've got a really tough schedule."
EASTLAKE 32, GROSSMONT 19

Eastlake  7 9 13 3 – 32

Grossmont 13 6 0 0 – 19
G – Lira 72 blocked field-goal return (run failed)
E – Pietila-Wiggs 27 run (Del Fierro kick)
G – Carter 84 pass from Odom (Huff kick)
E – FG Del Fierro 34
G – Mangum 65 pass from Odom (run failed)
E – FG Del Fierro 35
E – FG Del Fierro 25
E – Bateman 5 pass from Amon (Del Fierro kick)
E – Merrifield 9 run (kick blocked)
E – FG Del Fierro 25