Lumberjack Todd has GNAC for receiving
Updated: September 25, 2017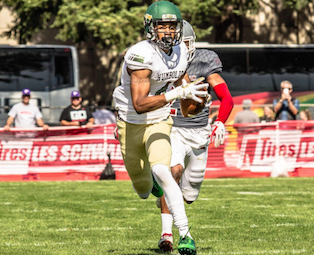 JOHN TODD, of Humboldt State, gets away from a defender on Saturday.
2017 EAST COUNTY FOUR-YEAR COLLEGE FOOTBALL STANDOUTS
By Ramon Scott
EastCountySports.com
ARCATA –Humboldt State's JOHN TODD, out of Valhalla High, earned Great Northwest Athletic Conference Offensive Player of the Week honors after his performance on Saturday in the Lumberjacks' come-from-behind win over Western Oregon.
Todd, a junior, had a career-best seven receptions for 225 receiving yards and three touchdowns, as HSU rallied from a 21-point deficit to win on the road, 49-48.
Todd's receiving yards total ranks second all-time in program history.
Three weeks into the 2017 season, Todd is second in the GNAC in yards receiving per game, averaging 113.7.
Also in the game, former Helix defensive lineman SEFA TAUANU'U had two tackles for the 'Jacks.
Lawrence has huge performance
Former Grossmont Foothiller ANTHONY LAWRENCE, threw for 367 yards and five touchdowns to lead the University of San Diego to a 37-17 win over visiting Butler.
For his efforts, Lawrence was named the Pioneer Football League Offensive Player of the Week. Lawrence was 26-for-39 with no interceptions.
You go, Sergio
SERGIO BAILEY, out of Grossmont College, caught a 25-yard fly pattern for the first touchdown on the first play of overtime to break a 13-13 tie, although Eastern Michgian fell in double OT to Ohio, 27-20.
Bailey led EMU in receptions with seven and had 82 yards on the day, including the huge OT TD.
The connection between @broganroback11 and @JustHunnids is UNREAL! Eastern takes the lead 20-13 #EMUEagles

WATCH: https://t.co/O0oNQMQ0PX pic.twitter.com/XRugTanQ8l

— EMU Football (@EMUFB) September 23, 2017
Dickens' big day
LAWRENCE DICKENS of Marist, caught a 14-yard touchdown pass late in the fourth quarter to bring the Red Foxes to within 44-37 in a loss to Jacksonville.
Dickens had 8 receptions for 123 yards and also returned a kickoff for 49 yards in 44-37 loss to Jacksonville.
Duck and tuck! Lawrence Dickens' 14-yard TD keeps #Marist in the game. #GoRedFoxes #PFL #FCS pic.twitter.com/N3L7VKjSk5

— Marist Football (@Marist_Football) September 24, 2017
Elsewhere…
Wide receiver VIRNELL MOON, out of El Cajon Valley, had 6 receptions for 134 yards and two TDs in a 40-14 win for Colorado Mesa over Fort Lewis.
Former Helix Highlander JALEN DAVIS, of Utah State, had 2 tackles, a sack and a forced fumble in 61-10 win over San Jose St.
Washington State's JAHAD WOODS, also out of Helix, had four tackles in a 45-7 win over Nevada.
Former Steele Canyon Cougar WILLIE FAIR, of Asuza Pacific, had two sacks and four tackles in an 83-7 win over Simon Fraser, while his former SC teammate JABRION BURNSIDE added three tackles for the Cougars and former Helix Highlander EMMANUAL ALAILIMA had two tackles, including 1 1/2 for loss and a half a sack for APU.
Former Highlander NATE STINSON had 26 all-purpose yards in Northern Arizona's 28-10 win over Cal Poly.
DE'SHAWN TONE, a linebacker out of Valhalla, had eight tackles for Southwest Baptist University in a 55-6 win over Quincy.
Former Helix defensive back SCOTTIE YOUNG, a freshman at the University of Arizona, had six tackles in the Wildcats' 30-24 loss to Utah.
KENDAL KEYS, also out of Helix, had three catches for 20 yards at legendary Ohio Stadium, as the Rebels fell to Ohio State, 54-21.
Dixie State defenders MIKE JONES and ALEX LILLIARD combined for 11 tackles in a 58-40 loss to Central Washington. Jones, out of Mout Miguel, also forced a fumble, while Lilliard, out of Grossmont, had a pass breakup.
Former West Hills' standout NOAH YLAGAN rushed 15 times for 52 yards, but his Briar Cliff Chargers lost to Northwestern College on Homecoming.
Former Christian linebacker SEBASTIAN SWIFT, had 14 tackles for Olivet Nazarene in a 40-21 loss to Marian University.
KENE ANIGBOGU, of out Helix, had 2 catches for 32 yds in Missouri Southern's 63-0 loss to Northwest Missouri.