2017 EAST COUNTY FEARLESS FORECASTER – Week 6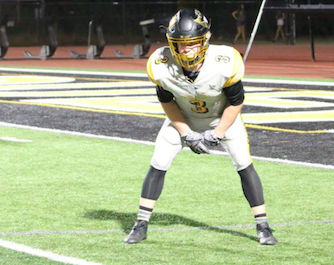 El Capitan senior CHASE LOVATO / photo by Billy Ortiz
2017 EAST COUNTY PREP FOOTBALL FEARLESS FORECASTER
WEEK 6
By Dave Dickens
EastCountySports.com
EL CAJON – El Capitan head coach RON BURNER would like to fancy his Vaqueros as an underdog heading into this Friday's Grossmont Conference cross-over game at Granite Hills at 7.
After all, both teams are 2-2, but the Eagles will have the home field advantage, not to mention the revenge factor for last year's 17-16 El Cap win in Lakeside, as Granite's try at a game-winning field goal was blocked as the clock expired.
"We need to play our best game to keep it close," Burner said this week. "It's also their homecoming, so that's extra incentive for them. No way we can be favored in this one."
Well, don't tell that to the computers.
Both major sets of currently published ranking have El Capitan (2-2) placed higher than Granite Hills (2-2) entering Friday's contest.
El Capitan is only behind Helix, Grossmont and Christian among the East County rankings leaders.
The Eagles veterans aren't probably too concerned with software opinions.
"Their D-line is pretty fast and good. WILL (BURTON) is a beast, but so is (TYLER GONZALEZ)," Burner said.
Surely, the Granite Hills returnees remember the game in Lakeside exactly one year ago.
The Eagles led 13-3 into the third quarter, as the Vaqueros' starting quarterback was lost to a serious leg injury.
ANTONIO OLIVIERI, a tight end by trade on offense, took over as the signal caller, as El Capitan scored a pair of touchdowns, including a 33-yard TD run by CONNOR ROOSA, to hold off Granite.
The Vaqueros are in a similar predicament this time around.
Olivieri has been taking the snaps most of this season due to a shoulder fatigue injury to the starter.
And he has filled in more than admirably, as the Vaqueros have won back-to-back games entering Friday's tilt.
Last time out versus the Patrick Henry Patriots, Olivieri threw for 230 yards and two touchdowns, while also rushing for 71 yards and two scores.
Meanwhile, running back Roosa and the LOVATO brothers – CHASE and CHANCE – have also been on fire offensively and defensively. Both players had interceptions last week and both are among the county leaders in picks.
The Eagles suffered a setback as they went to Valley Center and lost, 29-7, last Friday after leading 7-0.
Granite Hills has had quite the home-and-away dichotomy, out-scored 81-14 on the road to go with its two home wins, including the last-minute win over Steele Canyon two weeks ago.
Look for the defenses to have a big say in this one.
It will be up to Eagles senior quarterback JAKE SIEGFRIED, who racked up 426 yards of total offense in the matchup last season.
Granite Hills' veteran front led by senior GARRETT CURRAN will look to help the Eagles' dual-threat QB give the Vaqueros fits once again.
There's no reason to think this shouldn't be a nail-biter just like last season… GRANITE HILLS, 17-14.
MIRA MESA (4-0) at STEELE CANYON (2-2), 7 – The resurgent Steele Canyon Cougars will get to ride around San Diego Bay in a sightseeing power boat thanks to their 14-13 "upset of the week" win over Otay Ranch last Friday.
Let's hope the Cougars aren't looking past the undefeated Marauders thinking about that boat ride.
Despite the records, this one rates fairly evenly, especially with Steele Canyon, which appears to be heating up just in time for the league season, at home.
Mira Mesa played pretty close in wins with real competitive teams like Escondido (28-0) and Mt. Carmel (28-27).
The Marauders beat rival Scripps Ranch, 50-20, in the "Battle of Mira Mesa Boulevard."
Junior quarterback Noah Tumblin is 41-for-66 this year with 837 passing yards with 10 touchdowns and one interception and this kid is also dual-threat quarterback, as he has 31 carries for 366 yards and three rushing TDs.
Right alongside us sophomore running back/free safety Elijah Thomas, who has 53 carries for 278 yards and four touchdowns.
Also look out for junior free wide receiver Artyon Harr, who has 16 receptions for 386 yards (a 24.1-yard average), along with six receiving touchdowns and nine total touchdowns.
Steele Canyon standouts to look out for include SDSU-bound defensive end/tight end MIKEL OLIVER, who could not be blocked last week against Otay Ranch.
The slippery THOMAS FISHBURNE, Steele's senior quarterback, had just 73 yards passing last week, but also added 79 yards rushing and engineered the late-minute drive that we have come to expect from "Fish" time-and-time again.
For good measure, he stayed out there last week tackling as a safety and punted quite a few times, as well.  He is just a great all-around athlete who never wants to get off the field.
He is just a great all-around athlete who never wants to get off the field. His two-minute drill complete
His two-minute drill completions to PERRY STEELE and JORDAN ANDERSON, who hauled in the 19-yard go-ahead score, made it look like Fishburne can turn it on at any given moment.
Also, look for East County Sports Athlete of the Week from last week's win, AMIR HARRIS, who had six tackles, a fumble recovery and the sack.
Steele Canyon should make it close but the nod goes to… MIRA MESA, 27-24.
OTAY RANCH at VALHALLA, 7 – The last time these two opponents squared off against each other was the first game of the season in 2015, but that was at Otay Ranch, where the Mustangs came out victorious, 14-7.
This year, however, the Mustangs travel to El Cajon where Orange Nation loves their Norsemen, who haven't lost in front of their faithful since Oct. 23, 2015, against Helix.
The visitors will likely experience the volume at Valhalla come Friday night.
Otay Ranch comes to Valhalla after leading the Steele Canyon Cougars most of the game, only to let it slip away last Friday, 14-13.
Now the Mustangs are two and three and are on a two-game losing streak, as they also lost to the Saint Augustine Saints two weeks ago in similar fashion, 19-14.
Still, the computer rankings make Otay the favorite in this matchup, likely in spite of the venue.
The Mustangs are unique as they use a two quarterbacks system each game.
Senior quarterback Alfredo Garcia is 17-for-36 for 350 yards, with three touchdowns and one interception this season, while junior quarterback Jonte Stewart is 11-of-18 for 211 yards and four touchdowns so far this year.
Running back/defensive end Sammy Paranda (five rushing touchdowns) is also a prime weapon for the Mustangs, while Gus Espiritu had 120 yards on 20 carries last week.
Valhalla, on the other hand, has all-purpose stud BRYAN MADRIZ, who can punt, throw, catch and anything else you ask of his expertise.
DENNIS DAHLIN was shut down last week, but has been spectacular all season long with Madriz as the terror twins.
Senior JASAI BENNETT and CONNOR BUCKLEY combined for 11 receptions last week against the strong secondary of Eastlake, which provides Valhalla's short passing game a needed spark.
The defense gave up the most points it has all year last week in a frustrating 38-7 loss to a big, sharp Titans outfit, but the Mustangs were penalty prone last week in their loss.
The secondary will have to account for Otay wideouts Josh Lira and Zeek Cruz, but it should be noted that the Mustangs are a run-heavy offense with nearly a 4-to-1 run-to-pass ratio.
Senior defensive ends JOSH MCNISH-HEIDER and JACE MANNING will have to play stellar on defense to win this battle, so you have to like the chances of… VALHALLA, 19-17.
SANTANA (3-2) at MAR VISTA (3-2), 7 – Mar Vista has to play host to yet another visitor from the Grossmont Valley League, as they may be licking their chops in this one, after a season-opening loss to Monte Vista, 28-21.
Santana is rated below Monte Vista by the computers, so the Mariners may think they can turn the tide against a lower-ranked eastern foe.
The Sultans faced the Mariners at home and the Sultans knocked them off, 49-35.
Most of the key starters for the Mariners graduated, as they face the Sultans last time after the Mariners came to Santee and put up 360 yards rushing and 219 yards through the air.
Santana is on a two-game win streak after defeating Clairemont, 31-0, then won an epic battle in the El Centro desert against Vincent Memorial 50-43.
81 points in the last two games have the sultans or pick picking up momentum at the right time right before league starts.
Senior quarterback JOSH OEDEWALDT is on fire at the right time after his 13-of-29 against Clairemont for 205 yards and four touchdowns, and again he lit up Vincent Memorial last week with a 10-of-18 for 213 yards with one touchdown and one pick.
Defense stepped up for Santana and the purple front is averaging three sacks a game as a team and two interceptions – one in each of the last two games.
Vincent Memorial was, and still is, ranked number one in division five.
Look for more out of wide receiver DEVON CHESTNUT and sophomore BROOKS MOUTAW, who last week ran for 170 yards and four touchdowns, reminding many of the Sultans' faithful, who made the trip to the neutral site, of record-setting back BOBBY WALLACE.
Oedewaldt ran for his first touchdown against Vincent Memorial, a quarterback sneak from inside the 1-yard line with 23 seconds remaining on the game clock to top the Scots in a shootout. He now has eight touchdowns and one interception on the season.
LANDON WOOD had 17 tackles, a sack and recovered a fumble after a blocked field goal by senior BRAYDEN NIETO last Friday.
Chestnut caught and ran with the ball for a 60-yard score, then on the next play from scrimmage, he intercepted a pass.
It will be close, but extend the winning streak for… SANTANA, 28-24.
MOUNT MIGUEL (2-3) at MADISON (4-0), 6:30 – The last time these two squads tangoed was in 2013 at Mount Miguel, when it was 20-7 Madison, as BRAD MORENO was still the quarterback for Mount Miguel.
Madison ranks No. 21, just below Helix in the state rankings, and has been wreaking havoc on the Grossmont Conference teams this year.
Starting with the opener at El Capitan and destroying the Vaqueros, 47 -19, then it was on to Spring Valley to tame the Steele Canyon Cougars, 41-10.
The Warhawks took a two-week break from the Grossmont teams to make a statement in the South Bay, 56-6. over the Bonita Vista Barons, and just last week knocking off another visiting Utah squad from Dixie, 24-14.
The Warhawks are on the warpath and averaging 42 points a game, compared to their opponents meager 12 points per game.
Last week's Warhawks win over Dixie saw Madison allow 333 total yards, but amassed 271 to still come away with the win.
Sophomore quarterback Mario Alves is 24-for-41 this year, with just 333 yards and five touchdowns to two interceptions.
The Warhawks' ground attack features two backs averaging 100 yards per game.
Junior Canon Christian has 28 carries for 453 yards with six touchdowns and his partner on the ground, sophomore running back Keontae Springs has 39 carries for 411 yards with six rushing touchdowns and one receiving touchdown.
The Warhawks defense with a phenomenal pass rush has 16 total sacks.
Senior defensive and Cesar Nillaga leads the team was 16 tackles and eight sacks.
Mount Miguel has had only close games and has to play several quality opponents this year.
Every game was winnable for the Matadors, who are coming off a commendable win against the Imperial Tigers on the road, 20-14.
They key to Mount Miguel all year is the keep it close.
They like to play good old fashion hard-nosed football in the trenches, old-school style, running the ball up the middle with big running back SHEMAR GREENE and running behind an improved line.
Dual-threat quarterback MUGABE MILLER wide receiver/defensive back SANTINO PACHECO have been phenomenal on both sides of the ball.
Pacheco is has been like a cheat code with his ability to anticipate on the ball as a receiver and a defensive back.
However, just like the other four teams that have played the Warhawks, Madison is just too good here for almost any opponent… MADISON, 28-8.
BONITA VISTA (0-5) at HELIX (3-1), 7 – The last two times these two teams met, they sported very similar records, as far as similar to this season.
Bonita Vista was winless, while the Highlanders were 2-2, but the Barons were owned defensively by the Scotties that night and were defeated 21-6 at Helix.
Helix finished that particular night with 300 total yards, 150 passing yards and 150 yards rushing on the ground, forced turnovers – three interceptions and a fumble.
The 2017 version of the Highlanders' team travels to the South Bay as more of a veteran team, a methodical and finesse offense of style with the lights out defense.
Led by signal caller CARSON BAKER, a dual-threat quarterback passing with 58-of-88 for 889 yards and 11 touchdowns with just three interceptions, and is the squad's third-leading rusher with 26 carries for 121 yards and one touchdown.
The Highlanders' leading rusher sophomore running back/defensive back ELEYLON NOA has 57 carries for 445 yards, averaging 111 yards per game with two rushing TDs.
It's taking a lot of pressure off of the passing game.
Running back/defensive back senior ISAAC TAYLOR-STUART has 16 carries for 126 yards with two touchdowns.
Soon-to-be San Diego State Aztecs RASHAD SCOTT, a wide receiver/defensive back, had 13 catches for 127 yards, and four touchdowns. Not to mention, his defensive skills, specializing in interceptions with four in the season's opening game.
Senior safety JADEN TAUANU'U is one of the better tacklers on the team.
Bonita Vista is led by senior quarterback Franklin Forbes.
The Barons are coming off their best game of the season, a 24-21 loss to Chula Vista last week..
Although the Barons are in a tough league, Helix, after knocking off a great Saints team with superior interior play, should have similar results this week to the 2016 meeting… HELIX, 31-6.
SANTA FE CHRISTIAN (1-3) at CHRISTIAN (4-0) (Sat., 7) – Christian led by a long-time coach MATT OLIVER and an athletic director that is part of the staff, DAVID BEEZER, take their pro-style offensive design that is modeled somewhat after the Seattle Seahawks, into Saturday night's 29th meeting between the old rivals.
Senior quarterback BRAD JEREMIAH leads his team into battle against a very strong and aggressive opponent.
But with Jeremiah, who threw for 500+ yards in his first outing against Hurricane, has just gotten better.
The offense is very methodical and as long as the offensive line continues to gel, that would alliviate really the only concern going forward.
Jeremiah has a slew of receivers that are dependable and Christian does like to use the pass more than most high school squads.
Sophomore wide receiver ALONZO RICHARDSON, senior JESS MATTHEWS, junior ALEXANDER GONZALEZ and senior NASHOM CARTER have combined for 95 catches so far this season.
Carter had six catches last time out versus the Warriors from Fallbrook.
The Patriots had four sacks and a fumble recovery on defense in the win.
Christian has scored 199 points to this point and Jeremiah has an astounding 22 touchdown passes.
Santa Fe Christian visits Granite Hills Stadium in El Cajon to take on a great Christian team that is spectacular watch from every aspect from top to bottom.
Santa Fe lost last week to Bishop Diego of Santa Barbara, 35-20, as the Eagles have only three touchdowns through the air, so expect a ground attack against a great Patriot defense.
The Eagles have 11 touchdowns via the run as junior Jack Miles has four touchdowns.
Miles, who also plays linebacker, has 63 carries for 299 yards.
Miles leads the ground attack, along with senior running back/defensive lineman Dimitri Washington, who has 225 yards rushing, including three rushing TDs and one receiving TD.
"The Eagles will always be a rival of ours," Beezer said. "Our program has played them in many big games over the years for championships, and our guys understand that makes them our rival."
Christian has won the championship game over SFC twice, including in 2011. The Eagles knocked out the Patriots in a pair of CIF semifinal games, as well.
The Pats won the last meeting in 2014, 49-7, at Granite Hills Stadium.
"Depending on how they defend us dictates what we will do on offense," Beezer said. "Santa Fe is a good football team, disciplined and well coached."
It's homecoming for the Patriots, so expect Christian to be fired up and easily win this one… CHRISTIAN, 35-10.
FOOTHILLS CHRISTIAN (3-2) at AVALON (0-3) (8-man, Fri., 7) – The Knights go 26 miles off of Los Angeles to find a game against the Lancers from Catalina Island.
FCHS families got hotel rooms to make a trip of the football outing, enjoying the tourist destination, as well.
The Knights come in with a three-game winning streak, including a forfeit win. It is the first series of shutouts ever achieved by Foothills over 12 years of football in 8-man or 11-man.
The Knights' on-field wins in the streak have come by lopsided margins.
After getting shutout in their first two games, the Knights have won their last two contests by a 98-0 margin, making FCHS an immediate contender to repeat as 8-man champs.
Avalon has allowed 164 points in three games… FOOTHILLS CHRISTIAN, 29-26.