Eagles feel right at home versus Patriots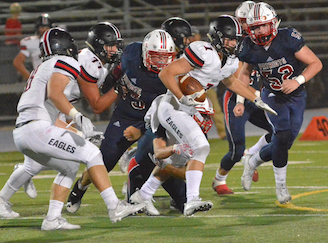 Santa Fe Christian rushes through the Christian defense Saturday night. / EastCountySports photo
2017 EAST COUNTY PREP FOOTBALL
SANTA FE CHRISTIAN 30, CHRISTIAN 7 
By Ramon Scott
EastCouuntySports.com
EL CAJON – Christian High's offense had given its opponents fits over the first four games of this season.
The Patriots were big favorites in those matchups and probably even exceeded their own early season expectations in the productivity department.
But when matched up with familiar foe Santa Fe Christian Saturday night at Valley Stadium, it was like the Pats ol' rival had seen this playbook before.
The Eagles brought all kinds of pressure on the Christian passing game, which caused incompletions throughout, as well as, a pair of interceptions and a pair of sacks in the first half.
Santa Fe's defense started strong in the second half and pretty much completely stymied the Patriots running game, too.
The Patriots' offensive line had trouble picking up blitz packages and quarterback BRAD JEREMIAH appeared rushed after spending plenty of time on his back on the playing surface.
Instead, it was the Eagles celebrating their defining moment of the season to date in front of the Patriots' Homecoming throng.
Christian (4-1) used a gadget play to score its first touchdown on a pass from a wide receiver on a double-pass. JESSE MATTHEWS threw to ALONZO RICHARDSON for the Pats' first score of the game, tying the contest at 7-all.
The Eagles took the lead with 47.4 seconds left in the first half on a 39-yard touchdown reception by senior Matthew Stevenson.
Santa Fe Christian (2-3) took a 23-7 lead on a TD run by Jack Miles midway through the third quarter.
The Eagles picked off the Patriots for the third time of the night midway through the fourth quarter, taking over the Pats' 27.
Even when the defensive reigns were loosened a bit by the Eagles, the visitors were still able to get the Pats off their game.
Dimitri Washington scored a touchdown in the fourth quarter on a third-and-goal try.
The score was tied at 7-all with four minutes left in the first quarter.
SFC rushed frequently straight up the gut of the Christian front, churning out nearly 250 yards on the evening.