2017 EAST COUNTY FEARLESS FORECASTER – WEEK 7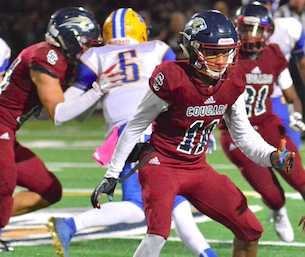 Steele Canyon senior Randy Jordan / photo by Ramon Scott
2017 EAST COUNTY PREP FOOTBALL FEARLESS FORECASTER – WEEK 7 
By Dave Dickens
EastCountySports.com
SPRING VALLEY ( 10-1- 2017 ) – The third-ranked Helix Highlanders will play in hostile territory against the Steele Canyon Cougars, who are on the move up the polls after last's week's dismantling of previously unbeaten Mira Mesa.
Steele Canyon is a sneaky, but very team-oriented group. Individual records are the last thing on their minds, but for Cougars' quarterback THOMAS FISHBURNE, his rise to the top of a brief but respected list of passers to play off Campo Rd. to become the school's all-time passing yardage leader is probably something he would trade in for a win this Friday night.
You see, the Highlanders have manhandled Fishburne and the Cougars over the last couple of years to an average result of 41-3. Yes, Helix has been the better team, but Steele Canyon always seemed to get Helix in the wrong place at the wrong time.
The Scotties will be the more talented team on Friday night, but at least this time for the Steele Canyon seniors, including Fishburne, MIKEL OLIVER, AMIR HARRIS, JORDAN ANDERSON, NATHANIEL GORDEN, ROBERT WHITEHEAD, ANTHONY GUY, DARIN WALTON and several other veterans, their careers have come down to this defining moment.
And while the Cougars have earned their success, which has vaulted them into serious contender status for a CIF championship in Division V, this is for a banner and a patch. Somehow, someway, get this home win here to have that memory of a lifetime.
It isn't expected to happen.
The Cougars (3-2) have been the underdogs through the first five battles of non-league contention, however in this first Grossmont Hills League game, coming off a spectacular upset of the Marauders of, 52-26, the Cougars are on a 2-game winning streak and the two losses were a nail-biters against Granite Hills 43-41 and a loss to one of the top teams in San Diego, Madison 41-10.
Fishburne was 18-of-25 for 268 yards and 4TDs last week, while he also had 13 carries for 44 yards and a played a great FS to boot.
RB ISAIAH THOMPSON had 15 carries for 96 yards against Mira Mesa.
Look for two of "Fish's" favorite targets, WRs Gorden and KENDALL JOHNSON. Gorden had two touchdowns last week against Mira Mesa.
Look for big plays from Steele's athletic defensive ends, linebackers, corners.
The resurgent Oliver, along with ALEXANDER ATHERTON and Walton (two sacks last week vs. the Marauders) will have their hands full, however against the state's 17th-ranked team, which is coming off an annihilation of Bonita Vista 65-0.
Helix had outscored their last three opponents 139-7.
Helix looks to be like the leader of the pack and on their way to another league title and more than likely deep into the CIF Open Division finals.
Senior QB CARSON BAKER is going into league play 69-for-101 for 1,064 yards, 14 TDs and 3 interceptions. He also has strongly improved his scrambling this season with 26 rushes for 121 yards and a TD.
For this very reason, the Cougar secondary will have their hands full containing Baker.
The Highlanders are also dangerous on the ground led by sophomore RB/DB ELELYON NOA, who has 57 carries for 445 yards and 2 TDs, and also RB/DB ISAAC TAYLOR-STUART, who has 20 carries for 185 yards and 3 TDs.
Defensively, SDSU-bound senior WR/DB RASHAD SCOTT leads the defense in picks with 6 for 92 return yards, and also has 14 catches on the offensive side for 171 yards and 5 TDs.
The last time these two teams met last year, the Highlander defense completed their mission posting a goose-egg for the then, injury-filled Cougar squad. Helix won the contest 42-0 last year, however the
Helix (4-1) won the contest 42-0 last year, however, the Cougars also have momentum for once, have defeated some playoff caliber teams in Mira Mesa, Otay Ranch, and last year's playoff contender Brawley in 105 degree heat.
Although the Highlanders have played a modest more difficult schedule, it should be noted that the Cougars previous foes are a combined 18-8 this season, while the Highlanders' previous opponents are just a combined 11-18.
The has all the makings of being one of the biggests upsets imaginable, but we can't leave out one little statistic.
Helix has won 36 of its last 37 league contests… HELIX, 30-19.
No. 19 GROSSMONT (3-2) @ EL CAPITAN (2-3), 7 – The Vaqueros put together a 2-game winning streak, that is until the rematch of last year's blocked field goal redux thriller with Granite Hills.
There, the Vaqueros struggled quite a bit, not to mention it was Homecoming for the Eagles. El Cap just couldn't get it going its way last week.
Coach RON BURNER's Vaqueros lost at Grossmont last year, 37-0.
Although fill-in QB ANTONIO OLIVIERI has for the most part been spectacular, he really is needed for the defense and his strength role at tight end.
At press time there was still no update as far as the status of starting QB WICK HAUSER or WR YAPHET YOKELY, these two players would be a huge difference going up against a very good defensive front and secondary.
It is almost like déjà vu as the Vaqueros had lost their starting QB PHOENIX CATES last year before facing the Hillers, who were undefeated at that time.
Both of these squads have faced very difficult opponents.
Grossmont is coming off a big win versus Buena Park and a bye, maybe at just the right time.
"We have to come out and play fast," said Coach Tom Karlo. "Our goal on defense is to try and take away their screen game.
"On offense, we have to play at our fast pace and be aggressive. We look at this as a challenging first league game on the road."
This year, the contest will be played in Lakeside in front of a usual loud and faithful crowd of Vaquero fans.
Sophomore QB JAMIE ODOM won the job as the starting QB job in the opening weeks then coming in against a tough Bishop's team, Odom struggled, but looked great with 4 TDs and no interceptions against Buena Park.
Senior WR JOSH MOALA has been money and the go-to guy with 6 TDs thus far.
LB DAISEAN CRAWFORD leads the defense with 64 tackles, 2 sacks, 3 caused fumbles, and 3 recovered fumbles.
DL JULIAN SANDERLIN has been opposing QBs nightmare with 37 tackles, 9 sacks (leads team), and 1 pick.
DB ANDREW LIRA is part of a no-fly zone with 34 tackles and a team-leading 3 picks.
RB/DB CONNOR ROOSA definitely wants to avenge the shutout from last year and let's not forget about CHASE and CHANCE LOVATO, as they can be dangerous anywhere on the field.
Surprisingly, El Capitan leads the all-time series 29-25-3, but this one goes to visiting… GROSSMONT, 26-17.
VALHALLA (2-3) @ WEST HILLS (4-1), 7 – This matchup was last year at Valhalla and the Pack was beaten badly, 34-0.
This year the Wolf Pack are on a 4-game winning streak.
"(Valhalla) has played a much higher level of competition than we have," West Hills coach CASEY ASH said. "Despite their record, they are the best team we will have faced."
That is saying a lot considering they played a phenomenal Southwest El Centro team to open the season and were destroyed, 36-17.
After that loss, the Wolf Pack retooled their mental and physical abilities and applied them to the field.
A streak is a streak, regardless of the quality of the opponent.
"Our success will depend upon our ability to adjust to a faster, more physical game than we have seen in recent weeks," Ash stated.
Junior QB JORDIN YOUNG has not only taken over as the signal caller for the Pack, but also has great quickness and speed, and as a mobile QB Young is 34-of-64 for 454 yards with 9 TDs and 2 picks with his arm and has 55 carries for 240 yards and 4 TDs on the run.
Look for WR/K CADE WEAVER to put up some points either in the kicking or receiving dept.
He has 13 catches for 284 yards and a team-leading 6 TDs.
Senior WR/CB KR RYAN JEWELL, the jack of all trades, has 2 picks and a couple of great punt and kick returns that has put his team into great field position.
The Wolf Pack defense, especially coming off the edges and in the secondary, have been very staunch during their current run.
The Norsemen just couldn't get it together on offense last week losing to the pretty talented Otay Ranch, 21-7.
Otay Ranch has the tough Eastlake squad this week that the Norsemen also took a beating from.
The Norsemen also have to go on the road where the Wolf Pack defensive horn will be howling away in the stands.
For Valhalla to win this game, they have to take care of the football and need to get great teamwork out of the offensive line and QB DENNIS DAHLIN and out of multi-purpose BRIAN MADRIZ.
It will be imperative to strike quickly and often to beat this defense.
DE JACE MANNING and DE JOSHUA McNISH-HEIDER need to come up big and get to the quarterback often and put the kibosh on the legs of Young.
Valhalla can claim victory in eight of the last nine meetings in this series, but this time… WEST HILLS, 27-24.
GRANITE HILLS ( 3-2 ) @ SANTANA (3-3), 7 – Granite Hills has had the Sultans number for years now.
The last time the Sultans beat the Eagles was back in 2005 in the second game of the season, 7-0.
That is 12 years, though there were a few years they did not face each other at all.
This year has definitely been a year of surprises for the Eagles.
The first game of the season, Coach KELLEN COBBS stated after that contest he might have over prepared for San Pasqual.
They had beaten the Golden Eagles last year twice, 14-12 in the regular season and 30-14 in the first round of the playoffs in 2016.
In 2017, Granite Hills lost, 52-7, in which the Golden Eagles dominated.
The second loss to Valley Center wasn't pretty, but yet again they bounced back following each loss, as they beat the Vaqueros last week handily when it was expected to be a barn burner.
"To beat Santana we need to play with consistency at the offensive line and stay ahead of the chains," Cobbs said. "On defense, we need to take advantage of turning the football over as Santana has done a lot in recent weeks."
The Sultans do have the defense and the offense to win this football game, but as Coach TIM ESTES mentioned they have to play flawlessly, keying in on taking care of the ball and not forcing throws down the field just to pick up large chunks of yardage.
QB JOSH OEDEWALDT is the key to this offense and lately, his favorite partner has been WR DAVON CHESTNUT.
Health will be the key to Santana's success, especially at running back since they were on her fifth running back last Friday.
"Granite is a very good football team," Estes said. "They are big, physical, and have beaten some football teams this year. For us to win we have to play our best game of the year."
The Eagles own this series, 36-7, so… GRANITE HILLS, 31-13.
MOUNT MIGUEL (2-4) @ MONTE VISTA ( 2-3), 7 – The battle of Spring Valley or the neighborhood game as it has come to be known, as the teams separated by less than five miles will meet for the 56th time.
"This is the first league game, and a very pivotal game for both of us," Mount Miguel coach SHAUN MCDADE said.
Mount Miguel has been within a few minutes and within 10 points of possibly winning every game so far.
The Monarchs won at Matador Stadium last year, 36-21, spoiling Homecoming with a big second half.
Surely the Matador returnees would love to take it to the Monarchs in front of their home crowd.
A large dose of RB SHEMAR GREENE, who was sidelined in last year's meeting with a sprained ankle, could be exactly what the doctor ordered to open up the passing game and running lanes for QB MUGABE MILLER, was a receiver in the game last year, and WR/CB SANTINO PACHECO, who should also be a factor on offense and defense with his lighting speed and soft hands.
Pacheco was the ECS Athlete of the Week after 5 catches for 50 yards 13 tackles, along with a touchdown and two sacks in a 15-6 win over Chula Vista. Look for big stops from this fantastic athlete on both sides of the ball.
"They are a very well coached team and run their system well," McDade said. "The running back is the real deal and we are going to have 11 hats on him all night.
"We have to try and keep them out of the 3rd-and-short situations because they are really good in those cases. It is going to be a knock down drag out battle."
The Monarchs handled the Matadors last year but this is a completely different squad.
Coach RON HAMAMOTO always has his team prepared.
Monte Vista has had a very similar team approach all season with junior running back JAHMON MCCLENDON.
Monte Vista lost 58-21 to Bishop's but they did lead early, and also lost the week before to a top
notch team from Arizona, 28-21, in overtime.
Both teams have got to learn to put the other squad to bed and then play solid defense.
RB/DB TORREY MACK is like a freight train that will find the smallest crevice with the assistance of the O-line to eat up big chunks of yardage.
Also key sophomore defensive standout RB/LB LOGAN SCHMIDT is the key to interrupt the Matador offense.
This one should come down to the team who has the ball last, in which Fearless is going out on a limb… MOUNT MIGUEL 22-21.
CHULA VISTA (3-3) @ EL CAJON VALLEY (1-4), 7 – After starting the season 0-2, losing the opener to Serra 40-16 after taking the lead in the first half, and then losing the second game to Kearney, 38-28, also leading at one point, the following Wednesday, head coach PARIS PISIONA was dismissed from his coaching duties.
No one is sure of the details, but the irony to the story was the Braves won their next game at home with interim coach/vice principal NICK WILLIAMS at the helm.
They beat the visiting Chieftains from Clairemont that night, 32-21.
After the win, RB/DB DARREL DAVIS stated that the win was for their former coach.
After speaking with many other coaches in the league, he was very well respected.
The Braves used all of their emotion it seems to win that game.
The injury bug has also been unkind to an already depleted roster.
When healthy and on the same page, these Braves have the heart to win football games.
The key to success for this squad is to get healthy and get that heart back they played with against Clairemont.
This is the last game of non-league for the Braves and would be a huge upset.
Key cast members that need be healthy and ready are RB/OLB MAQUEL GARNER, center ANDRES ROBLES, FB/MLB OMAR MAHMOUD, and key defensive leader OLB BRANDON ROBINSON.
However, the visiting Spartans will not be an easy task to defeat.
Last year at Chula Vista it was close, but finished 28-22 in favor of the Spartans.
The Spartans are coming off a crushing defeat at the hands of Eastlake, 35-0, which has crushed almost all of its opponents.
The Spartans also lost earlier in the season to another Grossmont Valley team, Mount Miguel, 15-6.
Senior captain QB DARRION HAMILTON is the key to stopping the Spartan offense as he is 19-for-48 for only 183 yards, 4 TDs and 6 interceptions, along with 49 carries for 215 yards and 4 TDs as a dual threat.
The Spartan defense has two defenders that could be trouble for the Braves O-line.
LB Victor Agraz has tackles, 2.5 sacks, and 1 interception.
DE Ubaldo Nolasco has 31 tackles and 10.5 sacks.
If El Cajon Valley comes out like they did a few weeks back against Clairemont, and can be as physical up
front for their backs, this game is winnable, however, the nod goes to… CHULA VISTA 17-10.
CHRISTIAN (4-1) @ MISSION BAY (0-5), 6 – The Christian High Patriots were on a roll until they met up with the team that knows them best in Santa Fe Christian.
That is the rivalry that AD David Beezer talked about could go either way.
With rivalries at any level, when two teams have to play each other, no matter if there are rookies or veterans on the field, the tendencies are what the coaching staff looks at on film.
This non-league affair should be lopsided as the record shows.
Last year when these two teams met was the last game of the season at Granite Hills Stadium and the Patriots handled the Bucs, 51-21.
In the 5 games Mission Bay has lost, it has been outscored 177-27.
With going up against a weak defense and having one of the highest scoring offenses in the county, QB BRAD JEREMIAH his plethora of outstanding targets, including ALONZO RICHARDSON (19 catches, 383 yards and 6 TDs), ALEXANDER GONZALEZ (22 receptions, 148 yards 7 TDs) and many others.
Along with a young offensive line coming together under the senior leadership, Look for… CHRISTIAN 34-10.
MOUNTAIN EMPIRE (2-3) @ (Anza) HAMILTON (2-3) – 6:30 – The Red Hawks are looking for a game of redemption on the road, traveling all the way up to Anza.
Coach RODNEY VANN has stated how awesome it is to have the Red Hawk faithful fans who travel so well.
"We are getting healthy again and this bye week really helped," Vann stated. "We still have one key injury on the O and on the D line, CHARLIE SALLEE. He will be out for 2 more weeks.
Our replacement players have done the best they are capable of, and the good part of that is the experience for the future for them."
Hamilton, who has a similar record is coming off the winning end against Nuview Bridge High, 27-18.
It appears that the Bobcats give up a lot of points on defense and have only scored a small amount of offense, scoring 54 points.
Hamilton lost at Mountain Empire last year, 41-15, as now-QB GABRIEL HYDORN had three touchdown receptions as a wide receiver in that one.
Mountain Empire has won three of the last four meetings, so the nod goes to… MOUNTAIN EMPIRE 21-7.