Sultans forget their stuff at the beach
Updated: September 30, 2017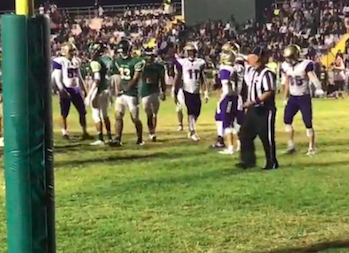 Santana scores a touchdown Friday night at Mar Vista.
2017 EAST COUNTY PREP FOOTBALL
MAR VISTA 34, SANTANA 28
By Jim Lindgren
Special to EastCountySports.com
IMPERIAL BEACH – Click your red shoes three times and repeat: "There's no place like home!"
For the sixth straight year in this series between Santana and Mar Vista, the home team has come out on top.
Unfortunately for the Sultans, they had to take a bus Friday night, turned the ball over six times and left the beach with a tough 34-28 loss to the Mariners (4-2).
"Every time we play them, it's always a competitive game," Santana coach TIM ESTES said. "The home team always seems to win, and they were the home team."
A week after edging Vincent Memorial 50-43 on a touchdown by JOSH OEDEWALDT with 0:23 left to play, Oedewaldt tallied another 1-yard TD to pull Santana to 34-28 with 1:30 left on Friday.
Santana (3-3) attempted an onside kick, but Mar Vista recovered and was able to run out the clock.
Oedewaldt was 16 of 36 passing for 157 yards and one interception.
BROOKS MOUTAW scored on a 2-yard run to give the Sultans a 7-0 lead. But later in the first quarter, Moutaw (5 carries, 12 yards) sustained a shoulder injury and had to miss the rest of the game.
DYLAN HANSLICK, normally a slotback and defensive back, came in at running back and finished with nine rushes for 45 yards and two touchdowns.
"He normally doesn't practice at running back, "Estes said, "But we had him take some reps this week, just in case. And just in case came up. He ran well."
COLTON SNIPES tied a San Diego Section record with four blocked kicks – two field-goal attempts and two PAT attempts – to give the Sultans a fighting chance.
Santana's six turnovers included an interception and three fumbles on offense, plus two muffed kickoffs that gave Mar Vista optimal field position. Two of the offense fumbles came inside the 10-yard line and 20-yard line.
"That was ultimately the bottom line, turnovers," Estes said.
After Moutaw gave Santana the early lead, Marcus Ramirez scored on a 6-yard run for Mar Vista. Sebastian Burke then scored on a 9-yard run. Then Jacob Beck found Marcelino McLang on a 17-yard scoring strike, and the Mariners had a 19-7 lead.
Hanslick scored on a 3-yard run to trim the margin to 19-14. But Mar Vista answered with a 75-yard TD pass from Beck to Burke for a 26-14 cushion.
Hanslick scored again on a 6-yard run to make it 26-14. But Burke soon took off for a 49-yard touchdown scamper and a 34-21 lead.
"Because of our turnovers, they had a short field three or four times," Estes said. "That's tough to defend against a good team like Mar Vista."
LANDON WOOD posted 12 tackles and two sacks for the Sultans. Snipes added nine tackles. CAMERON LARICCIA totaled eight tackles.
Oddly, in this age of artificial turf, Santana has played two in a row on the old-fashioned grass stuff. Mar Vista's blades, however, seem few in numbers and brown in several areas.
"I love it, though," Estes said. "It's great to see guys after the game with dirt and grass stains on their uniforms."
For the season, Santana's scoring margin is 179-178 heading into next week's Grossmont Valley League opener at home against Granite Hills (3-2), a 28-7 winner over El Capitan on Friday.