Miller gets Big Sky weekly award
Updated: October 12, 2017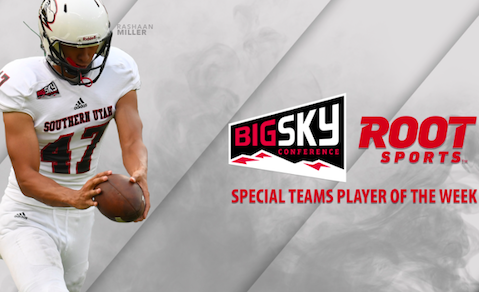 FORMER WEST HILLS HIGH STAR RASHAAN MILLER
2017 EAST COUNTY FOUR-YEAR COLLEGE FOOTBALL STANDOUTS
By Dave Dickens
EastCountySports.com
OGDEN, UTAH (10-11-2107) – Former West Hills High QB RASHAAN MILLER was recently recognized and selected as the BIG SKY ROOT SPORTS special teams player of the week on October 9th.
Miller has been a true athlete in high school, but particularly on the college circuit.
He has adapted to working as a wide receiver and punter especially in his college stint.
In just five games this year as a full-time punter with Southern Utah University, Miller has punted 34 times for a 40.6 yards a punt average.
Miller was honored for the game this last weekend versus the Cal Poly Mustangs.
Miller played a crucial role in this game keeping Cal Poly in their end of the field in the 20-14 win against the Mustangs.
He had 7 punts on Saturday, the longest of 55 yards, and 4 within the 20 yard line.
Miller's punt of the day was late in the game as he pinned the Mustangs down to the 19-yard line with 2:51 left in the game last Saturday.
This particular punt helped lead to a Cal Poly fumble at the 44 yard line, which ultimately led Southern Utah University to take a knee and seal the deal.
Always fantastic to see a great talent that started their career in the East County and move on with great honors to become a huge success.