Collins looks strong at receiver for OSU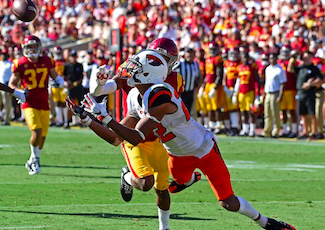 2017 EAST COUNTY FOUR-YEAR COLLEGE FOOTBALL STANDOUTS
By Ramon Scott
EastCountySports.com
CORVALLIS, Ore. – Former Granite Hills multi-purpose star SETH COLLINS showed just how far he has come from his serious illness late last year in a game against the University of Southern California last Saturday.
Seth Collins, currently a wide receiver at Oregon State, had 5 receptions for 91 yards and 4 carries for 23 yards in a 38-10 loss to USC.
Collins, who was featured last weekend in a segment on the Pac-12 Network (see above video), made a one-handed catch that dispelled any notion that his time spent recovering would deplete his incredible athleticism.
Seth Collins one handed catch! Just wow. 😱 #OSUvsUSC pic.twitter.com/LBjOmlDgeS

— Pac-12 Network (@Pac12Network) October 7, 2017
Collins' teammate, LEEPO NAPOLEON, from Helix, had 2 tackles against the Trojans.
Elsewhere in the Pac-12…
Former Highlanders were busy on defense, as free safety SCOTTIE YOUNG made 11 tackles, including 1 1/2 for loss in Arizona's 45-42 win over Colorado.
Wildcats' coach Rich Rodriguez made some comments regarding Young in his weekly news conference on Monday…
RichRod on Scottie Young Jr. stepping up and "playing hard" against Colorado: pic.twitter.com/1t4PPi41Kb

— The Wildcaster (@TheWildcaster) October 9, 2017
Meanwhile, Washington State red-hot linebacker JAHAD WOODS had 7 tackles, including 1 1/2 for loss in a huge 33-10 win over new starting quarterback Braxton Burmeister and the Oregon Ducks.
Former Grossmont Foothiller ALEX LILLARD, of Dixie State, had an interception and 8 tackles in a 38-24 win over Chadron St., while teammate MIKE JONES, a former Mount Miguel Matador, had five tackles for the Blazers.
Former El Cajon Valley Brave wide receiver VIRNEL MOON caught five passes for 113 yards and a touchdown, while also adding a pair of kick returns for 40 yards in Colorado Mesa's 49-37 win over Black Hills St.
The East County connection on defense at Asuza Pacific had a big role in the Cougs' 35-21 win over Colorado Mines.
WILLIE FAIR, a linebacker form Steele Canyon had a sack and three tackles, while former Helix Highlanders' MAEAEAFE ALAILIMA and JABRION BURNSIDE combined for five more stops in the win for APU.
Former Valhalla defensive back ISAIAH EDWARDS had a 67-yard interception return and five tackles for Western New Mexico in a 38-25 win over Tarleton State Univ.
Another Norseman, DESHAWN TONE, a defensive lineman at Southwest Baptist had a sack and 6 tackles in a 21-7 win over Truman St.
Former Grossmont College and Lincoln High defensive back MAURICE CARNELL had two interceptions, including a 28-yard interception return off a deflection for a touchdown as North Alabama rolled to a 30-7 win over Florida Tech.
Former Christian Patriot JOEY MORONES had a tackle for Missouri Baptist this week in a 50-16 win over Lindenwood (Mo.).
In the special game between San Diego State and UNLV at Sam Boyd Stadium in Las Vegas on Saturday, former Helix Highlander wide receiver KENDAL KEYS made one of his typical spectacular touchdown receptions in the Rebels' 41-10 loss to his hometown university.
Best moment of the night for #UNLVfb: @A_Rogers4's strike to Kendal Keys. pic.twitter.com/wAhcep3JvY

— Zac Pacleb (@ZacPacleb) October 8, 2017
Former Grossmont College and Olympian High wide receiver SERGIO BAILEY had four receptions for 72 yards, but his Eastern Michgian Eagles lost to Toledo, 20-15.
Briar Cliff University iron man NOAH YLAGAN, out of West Hills High, set a pair of school records in the a 45-14 loss to Hastings (Neb.) on Saturday.
Ylagan had 41 carries for 218 yards to set both school single-game marks.
Utah State superstar JALEN DAVIS, from Helix, had 6 tackles and a pass break up in a 27-14 loss to Colorado St.
LAWRENCE DICKENS, a wide receiver for Marist College out of Steele Canyon High, had 2 receptions for 18 yards in a 41-17 loss to Columbia.
Former Highlander SEFA TAUANU'U had a fumble recovery and four tackles for Humboldt State in a 55-27 loss to Central Washington.