Cougars' scoring rush drowns Pack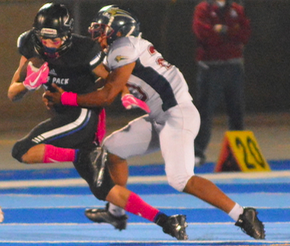 Steele Canyon makes a tackle against West Hills on Friday night. / EastCountySports photo
2017 EAST COUNTY PREP FOOTBALL
STEELE CANYON 28, WEST HILLS 10
By Jim Lindgren
Special to EastCountySports.com
SANTEE – Steele Canyon coach SCOTT LONGERBONE initiated a new special teams play this week and labeled it "Tsunami".
Little did he suspect that it would contribute to a tsunami-like barrage of points that would propel the Cougars to a 28-10 win over West Hills on Friday night, spoiling the Wolf Pack's homecoming.
"I drew up that play," said a proud and happy Longerbone. "Put it in this week because I felt our speed would make a difference."
Did it ever!
While getting some key rushing contacts inside, ROBERT WHITEHEAD, the son of former El Cajon Valley coach NORMAN WHITEHEAD, charged hard from the left side and blocked a punt around the 10-yard line so emphatically that the ball caromed all the way to the end zone.
Also in the mix, DAVID LIPSCOMB alertly sprinted all-out and dived for the ball just as it was about to go out of the end zone, grasping it just in time for a touchdown.
It was one of three Steele Canyon touchdowns in a span of 2:05 near the end of the first half that turned a 3-0 ballgame into a 21-3 Cougar lead that ultimately would provide the victory.
"That cost us dearly," West Hills coach CASEY ASH said. "Special teams have been good for us all season. We've won some games because of that. But they were better than us tonight."
With about 4 minutes left in the second quarter, Lipscomb sacked West Hills quarterback JORDAN YOUNG on a third-and-3 play from the Cougars' 9-yard line. Lipscomb also forced a fumble, and DARIN WALTON recovered it and returned it to the 28-yard line.
"Nothing but a blessing," Walton said.
Six plays later from the 14-yard line, THOMAS FISHBURNE threw a bullet-strike into the end zone where PERRY STEELE hauled it in with one right hand for the touchdown and a 7-3 Steele lead with 2:35 to play in the half.
After the Wolf Pack had three straight incompletions, Whitehead and Lipscomb turned the "Tsunami" into a 14-3 lead with 2:00 to play.
On the ensuing kickoff, a pooch kick was recovered by MARVIN JAMES at the 33-yard line, and James tacked on five more yards after seizing the ball on one ball on one bounce.
Despite a sack by JAKE HALLAHAN at the 17-yard line, Steele Canyon scored on a 17-yard pass from Fishburne to NATHANIEL GORDEN for a stunning 21-3 lead. On the play, Fishburne rolled right to buy some time and fired a perfect strike over a defender to Gorden in the end zone with 0:30 before intermission.
Worked once. Try it again, right!
On the ensuing kickoff, Marvin again recovered a pooch kick on one bounce to give the Cougars the ball at the 37-yard line with a chance for another score. West Hills toughened its coverage, however, and three incomplete passes finished the half.
"We're pretty fast," Longerbone said. "I kept thinking something's got to break.
"That barrage at the end of the first half was definitely the difference for us."
West Hills would get one back on its opening possession of the third quarter, driving 80 yards in six plays for a 12-yard touchdown pass from Young to HUNTER GUENTHIER. TYSON COURTNEY provided the big play with a 34-yard run, and Young rushed for another 16 yards to make it happen.
The score remained 21-10 until Steele Canyon marched 55 yards on 11 plays to make it 28-10 when Fishburne scored on a 7-yard run, rolling out right and bulling into two defenders at the goal line. Fishburne remained on his feet, and the Cougars were able to avenge their loss to the Wolf Pack from last season.
That, too, was a homecoming – for Steele Canyon – in which West Hills won 27-14. Steele Canyon leads the overall series 9-4.
"Last year they beat us on our homecoming," Walton said. "They thought they could do it again in their homecoming.
"Our defense and special put an end to that."
In addition to the aforementioned, Steele got big plays on defense from defensive end MIKEL OLIVER, who violently swatted away a pass at the line and had several big stops at the line. Likewise, Walton had two of those batted passes at the line, one coming one play after a big hit in the backfield for a 2-yard loss.
ALDO LANDEROS added a sack in the fourth quarter for the Cougars.
"Defensively, we played really well stopping their inside running game," Longerbone said. "Our front four was awesome."
That front four actually involved six players – Oliver, Walton, SUMMER AUDEH,  BILLY TELLOUS, THOMAS MAROKI and IAN MILLER – who limited West Hills to 145 rushing yards.
And then there was Lipscomb.
Appropriately nicknamed "Cowboy" – Lipscomb was a backup middle linebacker until star 'backer AMIR HARRIS went out with a knee injury last week. Lipscomb was instrumental in two touchdowns and joined in on several gang tackles for the Cougars.
When he's not playing football, Lipscomb competes in rodeos, riding broncos, roping calves and all that. Originally from Wisconsin, Lipscomb wears cowboy hats and boots to school every day.
"Cowboy was awesome," Longerbone said. "He really stepped up."
Fishburne, who plays quarterback, safety, punter, kicker and punt returner, was unable to play against Helix last week due to a concussion protocol.
He returned this week to throw two touchdowns and run for another.
Though he was only 4 of 12 passing for 45 yards with an interception by RYAN JEWELL, his two touchdown passes were dead on. He also rushed 11 times for a team-leading 67 yards and was 4-for-4 on PAT kicks.
DEONTAE McKINNEY carried 10 times for 51 yards, and ISAIAH THOMPSON added 47 yards with five sorties as the Cougars amassed 220 rushing yards. Steele caught two passes for 26 yards.
West Hills got rushing totals of 46 yards from Courtney, 45 from Young and 42 from AUSTIN DILL. Young was 8 of 20 passing for 67 yards without an interception.
Jewell was the leading receiver with three catches for 39 yards.
West Hills' ZACH BELL had a fumble recovery after a high punt snap, and PEDRO LOZANO added a sack.
"That was a prime time game," Ash said. "That's a good football team over there. I'm proud of what we did. They're definitely a higher-caliber team than we are.
"We were going to have to play great to beat them, and we did not play great."
Things don't get any easier next week for either team. West Hills plays at No. 2-ranked Helix (6-1, 2-0), and Steele Canyon travels to Grossmont (5-2, 2-0).
Helix trounced El Capitan 58-7, while Grossmont routed Valhalla 54-26.
Grossmont Hills League
STEELE CANYON 28, WEST HILLS 10
Steele Canyon 0 21 0 7 – 28

West Hills    3  0 7 0 – 10
WH – FG Cade Weaver 35
SC – Perry Steele 14 pass from Thomas Fishburne (Thomas Fishburne kick)
SC – David Lipscomb recovered blocked punt in the end zone (Thomas Fishburne kick)
SC – Nathaniel Gorden 17 pass from Thomas Fishburne (Thomas Fishburne kick)
WH – Hunter Guathier 12 pass from Jordan Young (Cade Weaver kick)
SC – Thomas Fishburne 7 run (Thomas Fishburne kick)