Eagles answer call to beat Lancers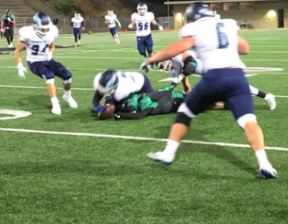 Granite Hills' TYLER GONZALEZ recovers a fumble by Hilltop Friday. / photo by Dave Dickens
2017 EAST COUNTY PREP FOOTBALL
GRANITE HILLS 34, HILLTOP 20
By Dave Dickens
EastCountySports.com
CHULA VISTA – The Granite Hills Eagles spoiled Hilltop's homecoming with a 34-20 non-league win at Southwestern College Friday night.
It didn't look like it was going to go the Eagles' way early.
Hilltop kicker David Delgado booted a 28-yard field goal to give the Lancers the lead 3-0 in the first quarter with 8:16 remaining.
Senior TYLER GONZALEZ recovered a fumble for the Eagles, but Granite fumbled it right back and Hilltop's Jeremiah Rivera had a one-yard touchdown run to make it 10-0 Hilltop (3-4).
In the second quarter, Granite Hills scored on a 33-yard touchdown run by good-looking sophomore running back KEYVON MARTIN, which made it 10-6 Hilltop at the 6:45 mark of the second period. The PAT was blocked.
Hilltop got three more on another field goal by Delgado from 35 yards out with 3:23 before halftime.
Granite Hills scored on a 9-yard touchdown run by senior quarterback JAKE SIEGFRIED, as the Lancers went into the half with a 13-12 lead.
But the Eagles allowed only one touchdown in the second half, as Granite Hills outscored Hilltop 22-7 after halftime.
The Eagles were forced to punt on a third quarter possession, but the Lancers fumbled and Granite Hills recovered.
CHRIS OSTRENG, a junior, scored on a touchdown run for Granite Hills to make it 18-12. The conversion failed.
Granite Hills racked up a safety with 7:57 left in the third quarter.
Martin added another rushing touchdown in the third quarter with 5:08 to go in the third quarter.
Martin finished with 117 yards on 12 carries. as Granite Hills rushed for over 300 yards on the night.
The Lancers scored their rally touchdown seven seconds into the fourth quarter to cut the lead to 26-20.
Then in an even fourth dramatic turn of events, the Lancers picked off a pass to set up a first-and-goal at the Eagle 7.
However, the Granite defense held them to no gain over the first three downs.
A subsequent field goal try was blocked by and returned for a touchdown by GIDEON ALABA to make it 34-20 with three minutes left in the game.
Alaba rushed the kick try from the left side and got in so quickly that he basically slam dunked the ball down to the ground and picked it up on the dribble all in the one motion to send him sprinting alone down the right side line.
"Hilltop put up a pretty good game, better than we thought they would," Alaba said. "We came out with a win. That's all that matters. It was a really good game."
Granite Hills (5-2, 1-0 GVL) will travel to Mount Miguel (3-5, 1-1) for a Grossmont Valley League game next Friday night.