Eagles improve on road, ready for title
Updated: October 21, 2017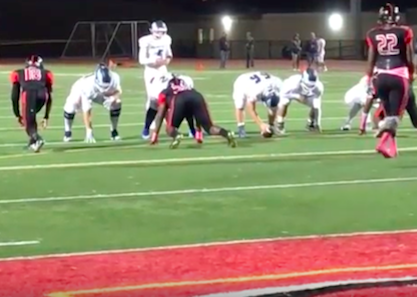 JAKE SIEGFRIED sets the Granite Hills offense in the red zone Friday night at Mount Miguel.
2017 EAST COUNTY PREP FOOTBALL
GRANITE HILLS EAGLES 31, MOUNT MIGUEL 13
By Dave Dickens
EastCountySports.com
SPRING VALLEY (10-20-2017) – The visiting Granite Hills Eagles did not come out flat against Mount Miguel during the Matadors' Homecoming Friday night.
As a matter of fact, both teams and fans alike were ready for some football, and a league contest at that with playoff implications for sure.
Both of these teams needed a win, however, the Matadors needed this game to remain eligible for a playoff spot.
Granite Hills needed the win to possibly win league and maybe even get a first-round bye.
Eagles head coach KELLAN COBBS stated earlier this week that the key was to pick up first downs and stay ahead of the chains.
Cobbs spoke highly of the Matador running game earlier in the week and how vital it would be to stop RB SHEMAR GREENE, who ended up having a decent game in spite of the lights out Eagle defense.
Consider the Eagles primed and ready for next week's Grossmont Valley League championship-impacting clash against fellow circuit unbeaten Monte Vista after Granite Hills disposed of Mount Miguel, 31-13.
The Eagles put the first 3 points on the board by kicker JUSTIN MCELLIGOTT, who finished perfect with 3 of 3 PATs and one field goal made from 28 yards to end the first Eagle drive, 3-0, early in the first quarter.
However, this particular evening was chock full of penalties.
Most of the penalties were false starts and offsides, many of them used to gain yardage on behalf of the Eagles as QB JAKE SIGFRIED with his abrupt and convincing cadence at the line.
Mount Miguel would also trade off with Granite as they both had quite a few personal foul penalties that definitely need cleaning up as playoffs near.
The Eagle defensive line was playing lights out all night.
Granite forced a fumble against Greene with a hard hit in the first half.
The Matadors would get ever so close but found the Eagle defensive front was just too much for Mount Miguel to wear down.
The Eagles would score again as Siegfried, along with quite a few great runs, would find himself with another running score and a successful PAT yet again, leaving the score 10-0 Granite Hills (6-2, 2-0 GVL) with 11:26 left to play in the 2nd quarter.
With 6 minutes left in the first half after a long drive, Greene punched through the Granite goal line defense and put 6 up on the board and the PAT good, leaving the score 10-7, Granite.
The Matadors were shutout in the second half with the exception of one of Mount Miguel's special needs students – KYLAN NAPOLEON – getting the handoff and going 58 yards for the score to add the last touchdown and 6 points for the Matadors.
This was such a fabulous and unique thing to do for this kid and his family with 17 seconds left on the clock.
"Yeah it was awesome, Coach (SHAUN) MCDADE came to my sideline and asked if he would let the special needs athlete run the ball in for the score, and so we did."
Other than that score, the Matador offense – even with QB MUGABE MILLER and his sidekick Greene – played hard but when met by a swarm of Eagles, the Matadors had very few opportunities to advance the ball.
The Eagle offensive Leaders were Siegfried, who was 6 of 14 for 70 yards and 6 carries for 33 yards, with 1 rushing TD, along with RB TYLER GONZALEZ, who had 2 catches for 35 yards and a receiving TD, and carried 6 for 36 and a TD.
Granite Hills RB SETH ALLISTER had 10 carries for 85 yards and a TD at the very end of the 4th, as his presence could be very useful in the playoffs for Cobbs.
Eagles DB ETHAN BISHOP had the one and only pick for the Eagle defense.
Granite Hills DE WILLIAM BURTON, DE Gonzalez and DT GARRETT CURRAN, and all the kids up front
were impressive with a couple of sacks and stellar goal-line stands forcing a FG try or a turnover on downs, according to Cobbs.
Coach Cobbs' post-game thoughts on tonight's game and his thoughts on the biggest regular season game at home against Monte Vista.
Granite is on a 4 game winning streak.