Red Hawks roast Hornets for Homecoming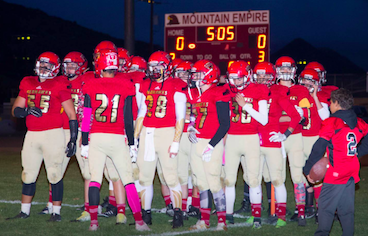 Mountain Empire prior to the game Friday night.
2017 EAST COUNTY PREP FOOTBALL
MOUNTAIN EMPIRE 31, CALIPATRIA 0
EastCountySports.com staff report
PINE VALLEY – The Mountain Empire Red Hawks celebrated Homecoming with a 31-0 victory over visiting Calipatria at Redhawk Stadium Friday night.
After a scoreless first quarter, the Red Hawks got a touchdown run from three yards out by BLAKE JARELL in the second quarter.
The Red Hawks scored a second touchdown in the second quarter on a 46-yard pass from quarterback GABRIEL HYDORN to DALLAS PRINCE.
In the third quarter, WYATT AGUILAR booted a 30-yard field goal. He was also perfect on his four PATs.
In the fourth quarter, Mountain Empire scored on a 3-yard touchdown run.
Hydorn added a 35-yard touchdown run later in the period.
CAMERON WILL had 15 tackles, while JONATHAN PENUELAS added 10 tackles, a sack and a forced fumble for the Mountain Empire defense.
BLAKE JARRELL also had 15 tackles, while senior COLTON ALLEN had seven tackles and a sack, but left the game with an injury.
Junior ANTONIO ARCE had five tackles and 1 1/2 sacks for the Red Hawks, while junior teammate NATHAN ROSE had six tackles and a sack.
Prince added six tackles.
Calipatria now leads the all-time series 30-27-2 after World War II. The Hornets initially won 13 of the first 15 meetings with two ties. The Red Hawks won for the first time after World War II in 1971, 20-0.