Eagles in rush to gain Valley title
Updated: October 28, 2017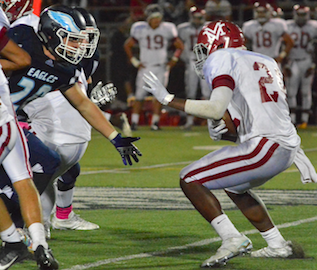 TYLER GONZALEZ moves in on Monte Vista's JAHMON MCCLENDON Friday night./ photo by Ramon Scott
2017 EAST COUNTY PREP FOOTBALL
GRANITE HILLS 41, MONTE VISTA 28
By Jim Lindgren
Special to EastCountySports.com
EL CAJON – In a Grossmont Valley League title showdown game, Granite Hills' longest time-possession drive of the game was a 9-play process covering 53 yards. It also was the only drive in which the Eagles didn't score – essentially ending the game with seconds left at the 10-yard line.
The six previous times Granite Hills had the ball, the Eagles posted six rushing touchdowns to overwhelm Monte Vista, 41-28, on Friday night at Valley Stadium.
"That's awesome," Eagles quarterback JAKE SIEGFRIED said. "I don't think we've done that all season. But that's the goal every game. Score every time."
And score they did!
The victory ensured the Eagles (7-2, 3-0) of at least a share of the league title with only El Cajon Valley (2-7, 0-3) remaining on the regular-season schedule before Granite Hills takes on all-comers in the Division II playoffs.
The Eagles have now won 13 straight league games and three straight league titles.
Monte Vista (5-4, 3-1) was looking for its first league title since 2004 but is expected to get a high seed in the Division IV playoffs, where many believe the Monarchs can run the table.
However, with only six seniors and 25 available players, Monte Vista was hard-pressed to overcome the size and strength of the Eagles.
"We got dominated up front on the line," Monte Vista coach RON HAMAMOTO said. "That was the big deal.
"It's disappointing that this was a league championship game, but if we can stay healthy, I think we're going to be well-prepared for the Division IV playoffs."
Granite Hills' punter, CHRIS OSTRENG, never put his foot on a ball. But he did toss a 38-yard pass to AUSTIN HIRIHARA on the Eagles' first play of the game.
Two plays later, TYLER GONZALEZ scored on an 8-yard run.
Monte Vista had driven 61 yards in 11 plays to open the game and take a 7-0 lead on a 21-yard pass from EMMIL HENDERSON to AMIR CONLEY at 5:30 in the first quarter.
The Eagles needed only three plays to knot the score.
Early in the second quarter, KEYVON MARTIN ripped off a 37-yard touchdown run to give Granite a 13-7 lead.
Four minutes later, the Monarchs were back on top after a muffed punt by the Eagles was recovered by TERELL KYLE at the 5-yard line, and JAHMON McCLENDON took the next handoff for the score and a 14-13 lead.
Granite Hills answered again, going 55 yards in nine plays and taking a 20-13 lead on a 40-yard dart-and-dash TD run by Siegfried with 1:52before intermission.
The Eagles took the opening possession of the second half 53 yards in eight plays as Siegfried scored again from 4 yards out for a 27-14 advantage.
After Monte Vista stalled and punted, Granite went 89 yards in eight plays and scored once more on a 33-yard scamper by Martin for a commanding 34-14 lead.
"We played well early on," Hamamoto said. "But when they beat us 14-0 in the third quarter, that did it. We just couldn't play defense.
"If you can't play defense, you don't deserve a championship."
Monte Vista did manage two impressive drives in the fourth quarter, sandwiched around an Eagles' 6-yard TD run by LIL' CHRISTOPHER HAMILTON JR.
The first covered 65 yards in 11 plays and was capped by a 2-yard TD plunge from ELSHADDAI LEVI.
McClendon capped an 8-play, 56-yard drive by bulling up the middle for a 7-yard score.
McClendon, a 6-foot-2, 210-pound junior, led all rushers with 113 yards on 29 carries, with two touchdowns.
"That was a tough 113 yards," Hamamoto said. "That was one of the best better defenses we've faced all season."
Martin led Granite Hills with 110 rushing yards on 10 carries, including his two long touchdown runs. Siegfried, the Eagles' leading rusher with 715 yards coming into the contest, finished with 71 yards on 12 carries, including his two scores.
In all, the Eagles utilized 14 runners to pile up 307 rushing yards.
"We tried to mix it up, keep them off balanced," Granite Hills coach KELLAN COBBS said. "They have a lot of guys going both ways. We were just trying to get our jet game going, trying to go side to side and get them tired. I think we wore them out."
Granite Hills' offensive line deserves a collected game ball in that regard.
DAMION HIDALGO, GARRISON KRUSE, JUSTIN KELLY, GARRETT CURRAN, EVAN DENNEY and tight end WILL BURTON were simply overwhelming on the front, moving the piles forward on nearly every play.
"Our offensive line did a great job for us," Cobbs said. "They just kept pounding forward."
Said Burton, "We felt like they were wearing out. We played physical throughout and gained confidence as the game went on."
Martin was equally impressed.
"I give it all to my offensive line, and Jake making the right reads," he said. "I just felt like we could score every time we had the ball."
Which they did, basically.
On defense, Burton had a spectacular sack for minus-11 yards, pulling down Henderson with a one-yard grab. Gonzalez, who only carried two times for 17 yards, was impressive on defense and added a 7-yard sack loss.
Other stalwarts on defense for the Eagles included CREED NEAL, ANTHONY McGREW, ZOSEPH CUERO, KIERAN BLANKENSHIP, ETHEN BISHOP, NOAH MEDIEROS, BRYCE CHRISTIAN and AARON MACHADO.
"Our defense, as a whole, played really well," Cobbs said. "We gained a lot of confidence as the game wore on."
Henderson, for Monte Vista, was 6-for-7 passing for 61 – all six completions going to Conley.
Siegfried threw just six times, completing four for 28 yards. Ostreng had the 38-yard pass completion, plus caught two balls for 21 yards.
But this game belong to Granite Hills' rushing attack.
"We just couldn't stop them," Hamamoto said. "Their offense was just too good for us."
On a side note, the game was delayed for several minutes when umpire Ed Blick went down with a cramp in his left leg in the fourth quarter. Immediately he was attended to by Monte Vista players and then the training staff. Blick, 53, a past president of the San Diego County Football Officials Association, remained in the game. What a trooper!
"I got hit on the play and went down and immediately my calf cramped up," said Blick, a Fletcher Hills resident and 1982 graduate of St. Augustine. "It was probably 30 to 45 seconds where my leg was in a ball.
"I want to thank that (Monte Vista) guy who came to my rescue. That was incredible."
As Blick and the officials crew were laughing about the matter, Blick turned to his crew chief, Steve James, and joked, "Can we get a prayer circle going?"
Grossmont Valley League
GRANITE HILLS 41,  MONTE VISTA 28
Monte Vista   7  7  0 14 – 28

Granite Hills 7 13 14  7 – 41
MV –Amir Conley 21 pass from Emmil Henderson (Jason Hernandez kick)
GH – Tyler Gonzalez 8 run (Justin McElligott kick)
GH – Keyvon Martin 37 run (kick failed)
MV – Jahmon McClendon 5 run (Jason Hernandez kick)
GH – Jake Siegfried 40 run (Justin McElligott kick)
GH – Jake Siegfried 4 run (Justin McElligott kick)
GH – Keyvon Martin 33 run (Justin McElligott kick)
MV – Elshaddai Levi 2 run (Jason Hernandez kick)
GH – Lil' Christopher Hamilton 6 run (Justin McElligott kick)
MV – Jahmon McClendon 7 run (Jason Hernandez kick)