@JustHunnids may make pro dollars
Updated: October 31, 2017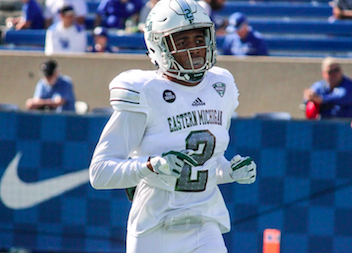 Sergio Bailey
2017 EAST COUNTY FOUR-YEAR COLLEGE FOOTBALL STANDOUTS
By Ramon Scott
EastCountySports.com
YPSILANTI, Mich. – Former Grossmont College receiver SERGIO BAILEY probably didn't choose his Twitter handle thinking that one day he would surpass 100 career receptions in just two years at Eastern Michigan Univeristy.
However, the aptly self-anointed @JustHunnids has done just that with at least four games remaining in his career with the Eagles.
His impressive continued success this season, despite grinding through a current six-game losing streak, has Bailey's fans, friends and family starting to talk about a look in professional football for the 6-foot, 190-pounder.
Bailey is only the 14th player to haul in 100-or-more catches in EMU history, and currently ranks 12th on EMU's all-time reception list.
Bailey is one of just 30 players in the FBS to have an active streak of 20-more more consecutive games with a reception.
Bailey has caught at least one pass in all 21 games during his EMU career.
Bailey has been nearly as spectacular as he has been consistent. He is as capable of making a highlight-reel catch in the end zone over a defender as much as he is catching passes underneath as a possession-style wideout.
Last week, the Olympian High grad had 3 receptions for 94 yards and a touchdown in a 30-27 loss to Northern Illinois.
In no time at all, @EMUFB responds to @NIU_Football's score with a TD of their own. pic.twitter.com/vnVkYpVFhm

— CBS Sports Network (@CBSSportsNet) October 27, 2017
Bailey has 104 career catches and 13 career TDs with the Eagles. He has 44 catches this season with five scores.
Eastern Michigan was one of the surprise teams in the nation last season, but have stumbled badly this year after a 2-0 start.
Bailey and the Eagles will be on national television once again this Thursday when EMU hosts Ball State (5 p.m., CBSSN).
Lawrence in a groove…
University of San Diego quarterback ANTHONY LAWRENCE, out of Grossmont High went 19 of 27 for 271 yards and 2 TDs in a 48-7 win over Stetson.
Last week, Lawrence was named the Pioneer Football League Offensive Player of the Week after he threw for 367 yards and five touchdowns to lead San Diego to a 38-17 victory against Butler in the Brian Fogarty PFL Classic at Torero Stadium.
Lawrence's five touchdown passes tied his career high, set Oct. 22, 2016, against Valparaiso. He finished the game 26-39 with 367 yards, five touchdowns and no interceptions.
Davis on watch list…
Former Helix Highlander standout JALEN DAVIS, who now toils at Utah State, was recently named a semifinalist for the Paycom Jim Thorpe Award.
The senior cornerback is on the watch list for the award which recognizes the top defensive back in college football.
The 5-foot-10, 185-pound native of La Mesa has already been named a mid-season All-American by The Associated Press, ESPN, CBS Sports and Sports Illustrated.
Davis is the only FBS player with three defensive touchdowns on the season as he returned two interceptions for touchdowns against BYU and one against Idaho State. He is also tied for first in the nation with his five interceptions this season, and ranks 11th nationally with his 1.5 passes defended per game.
This past Saturday, Davis had 5 tackles and a pas breakup in a 41-14 loss to Boise State.
Other Helix stars…
Former Helix Highlander KENDEL KEYS had three receptions for 29 yards in a 26-16 upset win over Fresno State.
Helix High's JAHAD WOODS was busy in Washington State's 58-37 loss to Arizona with five tackles, including three for loss.
Another Helix grad, NATE STINSON, carried twice for 19 yards in Northern Arizona's 37-17 win over Sacramento State, while former El Capitan great ISAIAH CAPOOCIA had a pair of kick returns for 40 yards for the Hornets.
Valhalla tacklers abound…
Former Valhalla Norseman KEITH ROGERS had 10 tackles for Jamestown in a 27-14 win over Mayville State.
Another former Norseman, DE'SHAWN TONE, a defensive lineman at Southwest Baptist had 10 tackles, 1 sack, and a forced fumble in a 41-38 loss to Missouri S&T.
Yet another Norseman, ISAIAH EDWARDS, defensive back for Western New Mexico had an interception and two tackles in a 44-7 loss to Angelo State.
Elsewhere…
Former El Cajon Valley receiving star VIRNELL MOON had 2 receptions for 91 yards and a TD in Colorado Mesa's 77-14 win over New Mexico Highlands.
ALEX LILLIARD, out of Grossmont High, had 8 tackles and two pass breakups for Dixie State in a 58-24 win over Adams St.
Former Christian Patriot SEBASTIAN SWIFT, a defensive lineman at Olivet Nazerene had 2 tackles including one for loss in a 49-6 win over Trinity Bible University.
Azusa Pacific defensive stars WILLIE FAIR (Steele Canyon) and JABRION BURNSIDE (Helix) combined for seven tackles and Fair added a sack in a 34-23 loss to Central Washington.