Eagles finalize title, will face Wolf Pack
Updated: November 4, 2017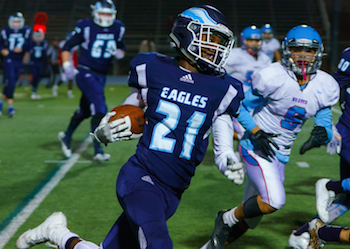 Granite Hills running back KEYVON MARTIN rushes against El Cajon Valley Friday night. / CS PRO PHOTO - Scott Barnhill
2017 EAST COUNTY PREP FOOTBALL
GRANITE HILLS 45, EL CAJON VALLEY 0
EastCountySports.com staff report
EL CAJON – The traditional Madison Avenue battle between the Granite Hills Eagles and El Cajon Valley Braves has been a one-sided event over the last several years.
So, it was a given that the Eagles would retain their Grossmont Valley League championship for the third consecutive year over their former rival.
For the record, Granite Hills pinned a 45-0 win against the visiting Braves at Valley Stadium Friday night.
The Eagles capped off a brilliant 8-2 regular season mark and continued its winning streak over league opponents to 14 games.  The Eagles' success in the Valley League has warranted a promotion in the future to the tougher Grossmont Hills League next season.
Ironically, the Eagles are expected to swap places in the two Grossmont Conference leagues with the West Hills Wolf Pack.
That sets up an interesting showdown next Friday night when the No. 6 Eagles face the No. 11 Wolf Pack in El Cajon in the first round of the San Diego CIF Division 2 playoffs.
The winner travels to meet No. 3-seeded Valley Center in the division quarterfinals.
The Eagles were seeded opposite a tough Mira Mesa outfit in the final tabulation. However, the CIF opted not to have West Hills face Steele Canyon in the actual 6/11 seeding, as the teams just met a few weeks ago with the Cougars winning in Santee.
"I like the draw that we got," Eagles coach KELLAN COBBS said. "West Hills is a conference game. I think it'll be a good game. Our schools always play each other tough.
"I think we can compete with everyone on our side of the bracket. I like the spot we're in.
"Now it's time to go get some playoff wins, make a run of it."
In Friday's win, Granite Hills senior quarterback JAKE SIEGFRIED scored on a 33-yard touchdown run, then a few minutes later, the star QB threw a touchdown pass to CHRIS HAMILTON, as the Eagles took a 14-0 lead in the first quarter.
Siegfried threw a second touchdown pass in the second quarter, this time to DYLAN RUTTER from 14 yards away.
Siegfried was 8 of 17 passing for 132 yards and two touchdowns. Seigfried also rushed four times for 40 yards. WILL BURTON had three receptions for 58 yards.
Granite Hills had a 26-0 lead at halftime and scored twice early in the third quarter to force a running clock.
In the third quarter, senior BRAIDEN ANDERSON scored on a 1-yard touchdown run for his first career TD.
Junior quarterback CHRIS GONZALEZ entered the game and proceeded to complete a touchdown pass to his older brother, TYLER GONZALEZ, for a 44-yard score.
Granite Hills linebackers NOAH ESPINOZA and JADEN LONGORIA had sacks for the Eagles in the first half, while teammate JOSH FECHTER had an interception in the second quarter.
The Eagles kicked a pair of field goals in the second half. Granite Hills also recorded a pair of safeties in the contest.
"Defensively, they handled business, getting to their quarterback a few times and getting a lot of tackles for loss," Cobbs said.
JACOB YOUNG, KIERAN BLANKENSHIP, JUWAN DENNIS, Burton and Gonzalez were impressive on the defensive line. LEO CASTRO, Longoria and Espinoza pitched in a fine performances at linebacker as did safeties BRIAN SMITH and Fechter.
"We played well," Cobbs said. "It was a good night. A lot of seniors got a lot of playing time on Senior Night, so that was nice."
El Cajon Valley (2-8, 0-4) still managed a spot in the Division IV playoffs. The No. 9 Braves will play at No. 8 Serra (5-5) on Friday.
Serra defeated El Cajon Valley 40-16 in a nonleague game on Aug. 25.