East teams test playoff fortunes
Updated: November 9, 2017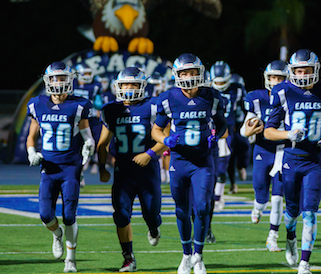 The 2017 Granite Hills Eagles
EAST COUNTY PREP FOOTBALL FEARLESS FORECASTER
WEEK 12
By Dave Dickens
EastCountySports.com
EL CAJON (FRIDAY, NOVEMBER 10, 2017) – The football fortunes of the Granite Hills Eagles and West Hills Wolf Pack are sure to change next season when the teams switch leagues in the Grossmont Conference.
After three consecutive Grossmont Valley League championships, it is only inevitable that the Eagles will find life in the Grossmont Hills League a little more rugged for the foreseeable future, while the Wolf Pack, which won the Valley League banner as recently as 2014, seem poised to be an instant title contender heading into 2018.
However, this year's squads will control their own destiny on Friday night when they meet for the 25th time, although this time, a trip to the San Diego CIF Division 2 quarterfinals will be on the line in a first-round playoff matchup at Valley Stadium at 7.
West Hills (6-4, 2-3 GHL), the 11th seed, definitely had a tough road making the playoffs this season, however, the Pack, with the exception of the blowout losses to Helix and Grossmont, have been in every game this season.
The signature upset win over the El Capitan Vaqueros catapulted the squad into a playoff berth.
The Pack definitely has their hands full tackling this weeks' opponent, sixth-seeded Granite Hills (8-2, 4-0 GVL).
The last time these two met was in October of 2015 at West Hills.
QB JAKE SIEGFRIED was a sophomore and threw 4 completions for 8 attempts, including 1 TD and 2 interceptions along with 7 carries for 58 yards.
The Eagles won that meeting 20-14 to snap a four-game losing streak to the Wolf Pack.
Granite Hills leads the all-time series 15-9, which includes six contests that were decided by exactly one point.
Siegfried is 74-of-142 for 876 yards with 9 TDs and seven picks through the air as a senior this season.
But he is even a bigger threat on the ground, with 941 yards and 15 TDs, which leads the team.
Key supporting cast members are RB/DE TYLER GONZALEZ, who has 75 carries for 606 yards and 6 TDs, and RB KEYVON MARTIN, a sophomore transfer from Helix, who has 54 carries for 497 yards and 6 TDs.
Leading the Eagles' receiving core, TE/DE WILLIAM BURTON has 26 receptions for 274 yards and 6 TDs.
Defensively for the Eagles, DB ETHAN BISHOP has a team-leading 76 tackles, 2 interceptions, 1 caused fumble and 2 recoveries.
Not far behind is Gonzalez with 61 tackles.
The key for Granite will be keeping the pass rush off the edge going, flushing the quarterback out, however, the linebackers need to be ready as West Hills has a very smart and elusive QB in junior JORDIN YOUNG.
The Eagles can establish the run early and manage the clock and time of possession, while forcing the Wolf Pack to punt, then the Eagles can win.
The Wolf Pack has their work cut out for them, however, they have overcome adversity many times this year.
A lot of it came from pure will to win from within.
Key cast members in the spotlight for the Pack will be Young, who is 64-of-114 for 739 yards and 12 TDs, along with only two picks, as well as, 93 carries for 404 yards and 4 TDs.
Just like Jake, Jordan is the leading rusher for his squad.
Other key components to this squad are WR/DB/KR RYAN JEWELL, who sealed the deal with a pick against the El Capitan Vaqueros to plummet the Wolf Pack into the playoffs.
As stated before, Jewell has always been in the right place at the right time and a great locker room leader, as well.
Let us not forget about the defense that also got the Pack into the playoffs.
WR CADE WEAVER will also be key in this contest. This may be closer than computers figure, but let's call it a close one for… GRANITE HILLS, 23-19.
(10) MIRA MESA (5-5, 0-4 Western) at (7) STEELE CANYON ( 6-4, 3-2 GHL) – With a surprising start, Mira Mesa came out of the gate earlier this season as the team to beat in Division 2.
The Cougars met the surging Marauders earlier in the season in week 5, as Mira Mesa came in looking for a big upset, but it was Steele Canyon that ended up winning big, 52-26.
In that meeting QB THOMAS FISHBURNE was 18 of 25 for 268 yards and 4 TDs, and 13 carries for 44 yards for the Cougs.
Steele Canyon RB ISAIAH THOMPSON had 15 carries for 96 yards in that one, as well.
The Cougars have beat some quality playoff caliber teams, along with Mira Mesa, and one of which was a defeat of a tough Otay Ranch opponent halfway through the season.
The Marauders limped into the playoffs as they lost 5 of their last 6 games, with a victory over Morse being the only win.
With the speed of the Cougars, especially on special teams, the Mira Mesa team will have their hands full yet again.
It is playoff time so don't be surprised if Steele Canyon coach SCOTT LONGERBONE unleashes his "Tsunami" on special teams to set the tempo.
TE/DL MIKEL OLIVER may come up with some key sacks and hurries, although his participation in the game is questionable due to a knee injury which has sidelined him the last two games.
Oliver, who holds a football scholarship offer from San Diego State, will likely not participate until cleared by doctors following a MRI scan.
The Marauders better be ready because the Cougars are confident and ready for the task at hand.
The speed of the Cougars will lead them past the Marauders for the 2nd time this year… STEELE CANYON,  38-21.
(9) WESTVIEW (6-4, 4-2 Palomar) at (8) CHRISTIAN (8-2 3-1 Eastern) (at El Cajon Valley High) – Christian has outscored their last two opponents, 105-56, as the Patriots upset the Point Loma Pointers, 44-37, on a last minute laser from QB BRAD JEREMIAH.
Jeremiah is 224-of-325 for 3,196 yards 41 TDs through the air, with 5 picks, along with 23 carries for 18 yards and 4 TDs.
The Westview secondary will definitely be put on alert that the Patriot receiving corps must be tightly covered.
Leading WR/RB/LB ALEXANDER GONZALEZ has 62 receptions for 713 yards and 14 TDs, while also carrying 25 times for 149 yards rushing for the Pats.
Christian WR JESSE MATTHEWS has 48 receptions for 778 yards and 12 TDs. while WR ALONZO RICHARDSON has 39 receptions for 738 yards and 9 receiving TDs and 2 rushing scores.
Patriot RB JAVIER JIMENEZ has 31 carries for 238 yards and 6 rushing TDs, as well as, 1 receiving TD.
Jimenez is the key component to establish the balance on offense.
Coach MATT OLIVER and AD DAVID BEEZER have been at this for several years and this pro style offense has been improving year in year out, as each year the Patriots move up in divisions.
After the upset over the Point Loma Pointers, the Patriots will definitely be able to compete with Westview.
These 2 squads have never faced each other. The winner will meet undefeated and county third-ranked No. 1 seed Ramona in the Division 2 quarterfinals.
The Westview Wolverines are ranked number 9 in Division 2 coming in, right below the Christian Patriots, who are ranked
number 8.
The Wolverines have their last two games against Vista, 17-7, and last week slid by Mt. Carmel, 19-18.
The Wolverines are led by signal caller BEAU NELSON, a three-year starter with over 5,000 yards in his career through the air. They also have a slew of speedy receivers and a stout defense, however… CHRISTIAN, 34-20.
(9) MOUNT MIGUEL MATADORS (4-6, 2-2 GVL) at (8) ESCONDIDO COUGARS (4-6, 1-3 Valley) – The Mount Miguel Matadors have really picked it up in all phases of the game and were definitely battle-tested against the Santana Sultans last Friday, with a 26-24 win in the regular season finale.
The Matadors came into Friday night off of a much needed bye and a loss to the 3rd-time Grossmont Valley League champion Granite Hills Eagles, 31-13, at the Matadors' home field.
Mount Miguel is ranked number 9 in the county in Division 3, as the Cougars are ranked number 8, for a slight edge on paper.
Escondido is coming off back to back losses, and most recently a shellacking at the hands of the San Pasqual Golden Eagles, 30-13 and a loss to Valley Center two weeks ago, 43-14, so the Cougars are eager to pick up a win and advance in these playoffs quickly.
Escondido leads the all-time series, 2-1, but only 1-0 since the CIF-SDS was created, winning 19-6 in 1963.
So this represents the first meeting between these schools in 54 years.
These two squads seem to be very evenly matched, with the only obvious edge is the home field advantage for the Cougars.
Standout players to look for as far as the Escondido Cougars are concerned are RB JAKE FRANKFATHER, who
actually had a beautiful 76 yard TD run last week versus San Pasqual.
Also look for Cougar QB ROBERT RAMOS, WR RINOR KOXHA, and WR SINCERE GILLON.
The last time the Cougars were a part of the SDCIF picture was in 2012, when they were ousted in the first round by Torrey Pines, 42-7.
Look for the Matadors to try and establish the run immediately, as RB SHEMAR GREENE has rushed for 11 TDs this season
, while QB MUGABEE MILLER has 5 rushing TDs, 5 through the air and just 1 interception.
Let us not forget the spectacular performance from DB/WR/KR SANTINO PACHECO, who had two spectacular punt returns for touchdowns against Santana last week.
Pacheco is also huge as a go-to receiver and a speedy defensive back and tackling specialist and was an EastCountySports.com Athlete of the Week earlier this season, not to mention, he leads the team in sacks with 2 and a pair of interceptions.
This should be a close contest, but when the SDCIF Division 3 playoffs start, it's a fresh start and the regular season is in the past. Should be close… MOUNT MIGUEL, 21-17.
(11) SANTANA (4-6, 1-3 GVL) at (6) RANCHO BUENA VISTA (5-5, 2-2 Valley) – The Sultans could have possibly raised their rank last Friday at Mount Miguel, which ended up the Division 3 barnburner of the week.
The Santana Sultans travel to Vista this Friday, ranked 11th in Division 3 to face the division 6th-ranked Longhorns of Rancho Buena Vista.
The Longhorns have lost the last 4 of 5 regular season games, however, they did beat the Fallbrook Warriors, 27-7.
This should be a phenomenal matchup that may be overlooked, but should be entertaining.
Always poised and ready to play, Santana's talented QB JOSH OEDEWALDT is 96-of-196 for 1,448 yards, with 13 aerial TDs and 8 picks, along with 38 carries for 96 yards and 2 TDs on the rush.
Oedewalt is a great leader on and off the field.
Santana WR/QB DAVON CHESTNUT has 38 catches for 551 yards with 5 TDs through the air and 1 on the ground.
Sultan WR CAMERON KANE has 31 catches for 414 yards and 4 TDs. Kane was huge in last week's loss to Mount Miguel.
Santana coach TIM ESTES always wants to establish the run to open up some play action.
Now healthy, look for his talented backs and offensive line to make it happen.
RB/OLB IAN LITTEN is the leading rusher. Built like a fullback, he has 47 carries for 249 yards and 3 TDs, not to mention 34 tackles and one fumble recovery.
Santana defensive leader, MLB/TE LANDON WOOD,  has 96 tackle,s 7 sacks, 2 caused fumbles and 2 fumble recoveries.
The Sultans are more competitive than their record shows, and this one could be close.
The nod goes to… SANTANA, 28-27.
(10) VALHALLA (2-8, 0-5 GHL) at (7)RANCHO BERNARDO (5-5, 5-1 Palomar) – The Norsemen come into this contest literally limping into the contest.
Valhalla comes in ranked 19th in a tough division 1.
Rancho Bernardo hosts and comes into this bout ranking number 16 in division 1, with home field advantage and a fairly healthy squad.
The Norsemen more than likely will have TE KYLE GRYGIEL barking signals as starting QB/K BRYAN MADRIZ and QB
DENNIS DAHLIN are out due to injuries suffered during the regular season.
Losing Madriz is like losing double-the-opportunity to score as he also handles kicking duties.
Look for Valhalla coach CHARLES BUSSEY to to have his squad tuned up and giving their all with the healthy players they do have and coached up based on their strengths and a scheme to fit the best way to win.
The Orange Nation fans have been disappointed this regular season, however, as we all know, come playoff time, it's a new season and anything can happen.
Coach Bussey will more than likely start the contest on offense with a heavy dose of RB TY SCHIMKE to try and set the tone and keep the defense honest to possibly open play action.
Also the Norsemen will be relying on their defense that started off very tough at the beginning of the season.
Featured playmakers for the Norsemen will be DE/OLB JACE MANNING, DE/TE JOSHUA MCNISH-HEIDER, and MLB/OLB DYLAN MARSH.
The Norsemen need to create and win the turnover battle.
The other key is to make sure fill-in QB Grygiel makes smart reads and limit the passes, take care of the football, and in a worst case scenario, do not take the sack and throw it away.
Rancho Bernardo is coming into the contest on a 3-game winning streak against quality opponents and looking to notch number 4 in a row.
The Broncos' sophomore QB Noah Morris is 50-of-94 in the last 5 games behind center for 786 yards 10 TDs through the air and 2 picks.
Leading Rancho Bernardo WR/CB Malcolm Ross-Turner has 33 catches for 629 yards and 9 TDs, while RB/LB Jack Gaylord has 37 carries for 187 yards and 3 TDs.
Leading tackler MLB LUKE MANOS has 79 tackles ,3 sacks, 2 picks and 1 safety.
This Broncos defense looks very fast and has very strong tackling ability.
Valhalla could really use the the win and is capable, however… RANCHO BERNARDO, 31-17.
(9) EL CAJON VALLEY (2-8, 0-4) at (8) SERRA (5-5, 1-3 City) – These two teams met in the Division 4 playoffs last year, as Serra won 24-22, over ECV's senior-led squad that almost rallied in the finals minutes.
Serra won a regular season meeting at ECV, 40-16, and now hold a 4-0 all-time record against the Braves.
The Braves led 16-6 at halftime, as MAQUEL GARNER and DEANDRE KELMON scored touchdowns.
But Serra QB Tim Zebroski and running back MYLES BRYANT were too much in the second half for El Cajon Valley.
The Braves are down to under 20 players and reportedly felt they might not be playoff worthy.
El Cajon Valley qualified 11th, but was moved to ninth by the seeding committee, while Serra was moved up a notch to 8th.
That may equal a bit of an easier assignment for El Cajon Valley, but the still figure to be overmatched… SERRA, 42-19.