Griffs defense juiced against Chargers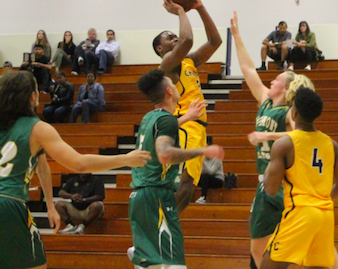 Grossmont's BRYCE PARSONS (right) defends against Cypress on Thursday. / cypress college photo
2017 GROSSMONT GRIFFINS MEN'S BASKETBALL
GRIFFINS 61, CYPRESS 44
EastCountySports.com staff report
CYPRESS – The Grossmont College men's basketball team limited host Cypress College to just 30 percent shooting, inlcuding a paltry 1-of-19 from three-point range as the Griffins charged up the defense in a 61-44 win here Thursday evneing.
The Griffns held the Chargers scoreless for a ridiculous 9:26 midway though the second half to turn a 31-all game into a 55-31 rout.
Grossmont sophomore forward RONALD BLAIN Ronald Blain had 12 points and 10 rebounds, while guard KYLE RUIZ, out of West Hills High, played 33 minutes off the bench, scoring 10 points for the Griffs.
The Griffins scored just 18 points in the first half, as the Chargers entered the locker room with a 3-point lead.
Cyrpess then scored the first two baskets of the second half, as well.
However, Grossmont (3-1) got a three-pointer from OSCAR LIMON to give them their first lead of the game, 28-27, four and-a-half minutes into the second half.
The game was tied 31-all with 13:34 left when Grossmont's defense clamped down.
Reserve KADE KYGAR, out of El Capitan High, came on the floor and had 11 points in 12 minutes, after the Griffins pulled away to their big lead. He hit on 3-of-5 three-pointers.
Starting guard DAVID WHEELER also added 10 points for the Griffins. BRYCE PARSONS grabbed a team-high 11 rebounds for Grossmont, which is in action again next Friday at the three-day San Bernardino Valley Classic.
Freshmen Randall Walker led Cypress (0-2) with 14 points and 4 rebounds, while Mike Magee added 10 points and 6 boards.
---
2017 CUYAMACA COYOTES MEN'S BASKETBALL
MIRACOSTA 78, COYOTES 51
EastCountySports.com staff report
OCEANSIDE – MiraCosta men's basketball team rolled to a 78-51 win over the visiting Cuyamaca College here on Thursday, sending the Coyotes to their third-straight defeat to open the season.
The Spartans scored 31 fast break points.
MiraCosta was led in scoring by sophomore Cody Hicks (15 points) and sophomore Anthony Jensen (14 Points).