Eagles earn playoff promotion over Pack
Updated: November 11, 2017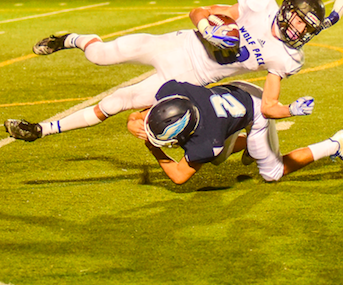 ETHAN BISHOP of Granite Hills, takes down West Hills' RYAN JEWELL / SCENES OF YOUR LIFE - photo credit
2017 EAST COUNTY PREP FOOTBALL PLAYOFFS – SDCIF DIVISION 2 FIRST ROUND
GRANITE HILLS 35, WEST HILLS 10
By Jim Lindgren
Special to EastCountySports.com
EL CAJON – With dominating fronts on both the offensive and defensive lines, Granite Hills has a knack for wearing down opponents as the game progresses.
Slowly but surely, the Eagles tend to gain more and more real estate, not to mention points, as the piles continually go their way as the game wears on.
Such was the case on Friday night in a San Diego Section Division II first-round playoff game against visiting West Hills, and special teams also added to the cause.
Trailing by three late in the second quarter, Granite Hills scored the final 28 points of the game in beating West Hills 35-10 to advance to the quarterfinals next week at No. 3-seeded Valley Center.
"In the second half, I think we started to wear them down a little, especially with the running game," Granite Hills coach KELLAN COBBS said. "And defense did a great job all night, creating some turnovers and giving us good field position."
Eagles tailback TYLER GONZALEZ rushed 12 times for 106 yards and two touchdowns. Quarterback JAKE SIEGFRIED kept 12 times for 77 yards and two scores, and KEYVON MARTIN added 48 yards with 10 touches.
The Eagles forced four turnovers and held West Hills to 150 total yards.
But let's give game balls to the guys up front. On offense, that would be GARRISON KRUSE, DAMION HIDALGO, JUSTIN KELLY, WILLIE PRUDENCIO, GARRETT CURRAN and tight end WILL BURTON.
They opened holes good for 252 rushing yards and 326 total yards.
On defense, multiple game balls go to KIERAN BLANKENSHIP, JAKE YOUNG, NOAH ESPINOZA, ETHEN BISHOP, JACK SIEGFRIED, JUWAN DENNIS, NOAH MEDEIROS, AARON MACHADO, BRIAN SMITH, Burton and Gonzalez.
"This was a defensive game," Jake Siegfried said. "Our defense stepped up. They carried us. I'm really proud of them.
"We were just playing smash-mouth football."
Said Gonzalez, "Tonight was a great night, but we've got to focus now on Valley Center."
No. 6-seed Granite Hills (9-2) has won seven games in a row since losing to No. 3 Valley Center (9-1) in September. Valley Center's only setback was a 14-13 loss to El Capitan.
"They're very good," Cobbs said. "They're very well coached. They provide some challenges for us with their offense."
Granite Hills provides challenges with its size and depth and corral of very good ball carriers.
Gonzalez, a 6-foot-3, 232-pound beast, had 606 yards and six touchdowns coming into the game, but he also stars on defense and was mostly rested the past few weeks as Granite Hills cruised through its third straight undefeated Grossmont Valley League championship run.
"We've kind of been resting him the last few weeks," Cobbs said, "but come playoff time we're going to ride him and all of our seniors as far as we can."
Siegfried is always dangerous with the ball in his hands, especially using his feet. He came in with 941 rushing yards and 15 touchdowns and left with 1,015 yards and 17 scores.
"He runs the ball very well," Cobbs said, "so we get to play 11 on 11 with him in there."
Martin now has 545 rushing yards in six games after having to sit out five games after transferring from Helix.
West Hills actually led this game 10-7 up until 2:40 remaining in the second quarter.
Granite Hills took the early lead, driving 50 yards in six plays on its first possession with Siegfried scoring on a 1-yard keeper after he had 19-yard pickup and Gonzalez a 10-yard gain.
Late in the first quarter, RYAN JEWELL returned a punt 27 yards to give West Hills the ball at the Eagles' 44-yard line. JORDIN YOUNG hit AUSTIN DILL on a 27-yard pass before Young scored on a 1-yard keeper to knot things at 7-7.
Midway through the second quarter, the teams exchanged turnovers on back-to-back plays.
The Eagles' Espinoza put a big hit on Young, forcing a fumble that was recovered by Blankenship at the Wolf Pack 20-yard line.
On the next play, Gonzalez gained 17 yards but fumbled into the end zone, and Jewell recovered that for West Hills.
Next play, Young hit Jewell on a short slant play that Jewell turned into a 49-yard gain. The drive eventually stalled, but CADE WEAVER booted a 42-yard field goal to give West Hills a 10-7 lead with 5:27 to play before halftime. It was Weaver's ninth field goal and matched his longest of the season.
After SETH ALLISTER returned the kickoff 43 yards, TYSON COURTNEY intercepted a pass to give West Hills the ball at their own 28-yard line.
Weaver, West Hills' best receiver and also the punter, unexpectedly dropped a punt snap at the 3-yard line. He was then hit hard by Burton and Dennis, and the ball caromed into the end zone.
Medeiros hopped on it for the touchdown and suddenly a 14-10 Granite Hills lead with 2:40 left before intermission.
"I saw Juwan Dennis try to jump on it, and I said, 'No, that's mine.' " Medeiros said. "We needed some momentum on our side. That did the trick. We needed to put our foot on the gas pedal."
Granite Hills would hit that gas pedal early in the third quarter. A 51-yard kickoff return by Allister gave the Eagles great field position, and Siegfried scored again from 1-yard six plays later for a 21-10 lead.
Two plays later, Espinoza recovered a fumble at the Wolf Pack 28-yard line, and Gonzalez soon scored his first touchdown from 2 yards out for a 28-10 advantage.
Midway through the fourth quarter, Gonzalez iced the win with a 13-yard touchdown run.
"The mishandling of the punt (in the second quarter) was big," West Hills coach CASEY ASH said. "Those things happen sometimes in high school football games.
"We just had too many turnovers and a lot of injuries. We had to put some guys into positions they aren't used to playing."
West Hills' Young was 8 of 14 passing for 100 yards. He also rushed 21 times for 45 yards and a score before leaving the game late after a big hit on a first down carry.
Jewell caught four passes for 72 yards, and Dill caught two balls for 30 yards, but West Hills had little else against a stalwart Granite Hills defense.
In addition to his first varsity touchdown, Medeiros blocked a punt in the third quarter.
"It was a great defensive game for us," Cobbs said, "and special teams also came through with several big plays.
"We'll take that every time."
While Granite Hills moves on in the playoffs, West Hills is finished for the year. Coincidentally, the Eagles and Wolf Pack are scheduled to switch leagues next year with Granite moving to the Grossmont Hills League and West Hills playing in the Grossmont Valley League.
The last time they had met in 2015, Granite Hills won to snap a four-game losing streak to the Wolf Pack. The Eagles, however, now own a 16-9 advantage in the series.
West Hills' Lozano INT of Siegfried pass late in first half. Granite Hills leads Wolf Pack, 14-10, at HT. pic.twitter.com/YXbgbqWAO6

— Ramon Scott (@RamonScottPoker) November 11, 2017

Division II – First Round
GRANITE HILLS 35, WEST HILLS 10
West Hills    7 3 0  0 – 10

Granite Hills 7 7 14 7 – 35
GH – Jake Siegfried 1 run (Justin McElligott kick)
WH – Jordin Young 1 run (Cade Weaver kick)
WH – FG Cade Weaver 42
GH – Noah Medeiros recovered fumble in end zone (Justin McElligott kick)
GH – Jake Siegfried 1 run (Justin McElligott kick)
GH – Tyler Gonzalez 2 run (Justin McElligott kick)
GH – Tyler Gonzalez 13 run (Justin McElligott kick)