Griffins sputter in final loss to Comets
Updated: November 12, 2017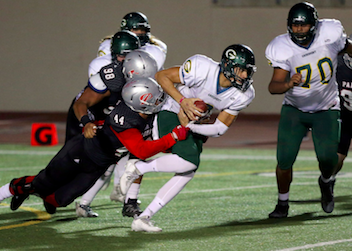 Grossmont is tackled by Palomar Saturday night. / photo by Hugh Cox
2017 GROSSMONT GRIFFINS FOOTBALL
PALOMAR 17, GRIFFINS 14
EastCountySports.com staff report
SAN MARCOS (11-11-2017) – The Grossmont College Griffins lost their season finale Saturday afternoon, dropping a 17-14 decision to the host Palomar College Comets in a Southern Conference game at Escondido High School's Chick Embrey Field at Wilson Stadium on Veteran's Day.
It was the Comets first league win of the season and made them bowl eligible. It also snapped a five-game losing skid for Palomar.
The Comets led 15-14 at halftime. The only scoring in the second half was a fourth-quarter safety when Grossmont snapped the ball through the back of the end zone on a punt attempt.
JEROME JOHNSON scored a rushing touchdown for the Griffins with 11:17 to go in the second quarter to cut into an 8-0 lead.
The teams traded touchdowns in the final 47 seconds of the second quarter.
Palomar took a 15-7 lead with a touchdown pass, but Grossmont scored just 37 seconds later when LUQ BARCOO caught a TD pass from BRAD CAGLE from 34 yards out to make it 15-14 at halftime.
Barcoo had four catches for 99 yards in the contest.
MYLIK STEEN had six catches for 55 yards for the Griffins.
Palomar (5-5, 1-4 Southern Conference) took the opening kickoff and drove right down the field to score. Running back Curry Thomason powered into the end zone to put the Comets in front 3 minutes and 16 seconds into the game.
The defense of Grossmont (4-6, 2-3 Southern Conference) limited the Comets' running game to 33 yards, which kept the G-House in the game.
ERNIE GARCIA led Grossmont with nine tackles, while LANE SELF added eight solo stops.
CHRIS JAMES had a sack for the Griffins.
"When Grossmont moved the ball, (our) defense made the plays when they had to. When we couldn't get our running game going, which made it especially tough to pass the ball," Palomar coach Joe Early said.