Four Griffins named first team all-league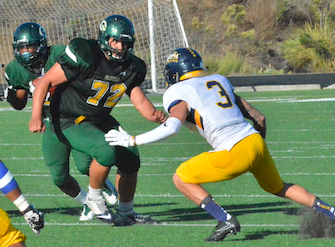 Grossmont College sophomore Francisco Saavedra (72), from Granite Hills High.
2017 GROSSMONT GRIFFINS FOOTBALL
EastCountySports.com staff report
EL CAJON – Four members of the Grossmont College football team were named to the Southern California Football Association National Division Southern League first team, it was announced Tuesday.
Three players from the Griffins' offense were honored.
Sophomore offensive lineman FRANCISCO SAAVEDRA, a 6-foot-4, 290-pounder from Granite Hills High, heads the list of locals.
Sophomore kicker NELS HALTOM, from Bountiful, Utah, was nearly perfect on his field goal attempts this season, nailing  14 of 15 attempts.
Both Saavedra and Haltom and were both unanimous selections.
Freshman RILEY JONES, from Edwardsville, Ill., a 6-foot-4, 225-pound tight end, grabbed 11 receptions in just six games this season.
On defense, Grossmont outside linebacker ERNIE GARCIA, a 6-foot-2, 220-pound tackling machine out of West Hills High, led the team with 78 tackles, including 55 solo. He also had four sacks.
Garcia was also a unanimous selection.