2-0 Patriots send Wildcats home early
Updated: December 1, 2017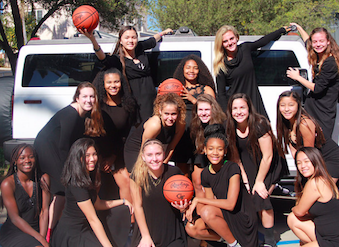 2017 CHRISTIAN HIGH PATRIOTS / courtesy photo
2017 EAST COUNTY PREP GIRLS BASKETBALL
By Dave Dickens
EastCountySports.com
EL CAJON (11- 29-2017) – Christian High definitely practices what they preach, as they provided a great act of kindness Thursday afternoon.
Courtesy of the Patriot administration and newcomer head coach VICKIE CARRINGTON, Christian High thought it would be beneficial to the visitors from Brawley to change tip-off from 7 p.m. to 5 p.m.
A kind gesture like this when it comes to competitive athletics is beyond commendable.
However, the Lady Patriots did their homework and were ready for the visiting Lady Wildcats when they arrived, as the final result was a 62-20 win over Brawley.
The Lady Patriots led the Wildcats 38-5 at the half, as not only was the defense hitting on all cylinders, but the offense was taking it to the house, or net if you prefer.
Upon the conclusion of the intermission, it would seem as if the Patriots never left the court, scoring 14 in the 3rd quarter and 10 in the 4th.
Brawley, having rested at the half, were only to compete in the 3rd quarter as the Lady Wildcats put up 11 to the lady Patriots' 14.
The Patriots would continue their domination defensively in particular holding the Wildcats to a mere 4 points in the 4th quarter.
Standout players of the game were SIMONE JAMES (20 points, 9 FG, 2 rebounds,1 steal) and KRISTEN WILLIAMS (14 points, including three three-pointers, 5 rebounds, 3 assists, 3 steals).
Carrington comes from a great Horizon girls basketball program.
"Consistent leadership is very important to me," Carrington said. "One of the great leaders on the court is (freshman) Kristen Williams, but because she is so young, some do not take her seriously."
The Lady Patriots (2-0) head into their next big test against 0-1 Torrey Pines, which is the next tournament opponent for Christian.
Torrey Pines will be the home team for the Matador Classic game on Saturday, December 2nd at 2:30 p.m.