ROUNDUP: Girls have mixed results Thur.
Updated: December 1, 2017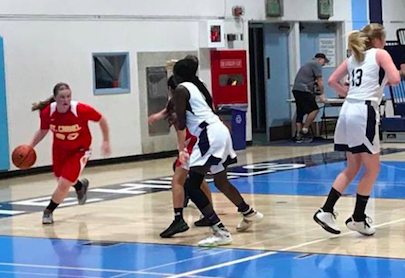 Mt. Carmel dribbles out against Granite Hills Thursday night.
2017 EAST COUNTY PREP BASKETBALL
EastCountySports.com staff report
EL CAJON (11-30-2017) – The Granite Hills Lady Eagles gave it all they could as the visiting Mt. Carmel Sundevils paid a visit and left one tip to the hosts.
Try to keep up.
The Devils went up early and scored often and fast in defeating Granite Hills. The Eagles trailed 35-10 with six minutes left in the game and fell 39-17.
A little practice and film breakdown should clean up some of the miscues and free up some of the rust for Granite Hills.
It is only game one on the season with many tournaments to utilize to their advantage.
The Sundevils were just too aggressive on offense and defense, as if they had an answer for every play in the Eagles' playbook.
Granite Hills head coach CURTIS NORWOOD pulled out as many different looks on offense and defense as he could come up with.
The Sundevils led 24-6 at the half.
Granite just never caught any breaks and had execution issues as a team.
The offense was missing layups and shots that needed to be made.
The Lady Eagles looked very sluggish and overmatched.
However, the talent is there and the Eagles can bounce back against their next opponent tomorrow on the road at Patrick Henry (1-0) at 7 p.m.
Patrick Henry knocked off Mission Vista 41-35 on Nov. 27.
MOUNT MIGUEL 71, DEL NORTE 54 – The Matadors are the county's fastest starting team – off to a 4-0 start – following the road win over the Nighthawks at the JV/Varsity Tip-Off Classic.
CAMARA DOUGLAS, one of the East County's top players, had 17 points and 16 rebounds for the Matadors, but it was freshman guard SYLENA PETERSON making her biggest impact so far with a 21-point performance.
Junior CITALLI GURROLA continued her production with another nice game with 14 points.
Mount Miguel gets a well-deserved rest and will play again next Wednesday at home against Montgomery in a tournament game at 7.
SERRA 60, HELIX 57 – The Highlanders suffered a tough loss against one of the top Division 1 teams at Serra High Thursday night in the San Diego Hoops Report Tournament.
Freshman SAMONAH BETTS led Helix in scoring, as she sparkled coming off the bench to finish with 17 points, including the team's only three of the game.
Senior guards DIAMOND WHITLEY and KAHLIA KING both had seven points for Helix. King added four steals.
"We played a solid game overall but missed too many opportunities and our missed free throws kept us from the win," Helix coach FREDDIE GARRETT said. "We showed toughness, but just didn't have enough to complete this mission.
Senior center MELAT EZANA had nine rebounds.
Senior starter MARIYAH HOWARD was injured in the third quarter and did not return.
"It was a tense game at the end with four of Serra's girls fouling out and leaving them with four on the floor," Garrett said.
Helix also had two players foul out.
WEST HILLS 47, UNIVERSITY CITY 27 – The Wolf Pack looked sharp against the Centurions in a home game at the Matador Classic and evened their mark at 1-1.
West Hills will be in action again next Tuesday against OLP on the road at 7.
BISHOP'S 70, EL CAPITAN 49 – After trailing 23-3 after the first quarter, the Vaqueros showed some grit in their season-opener and were only outscored by one point the rest of the way in a Matador Classic tilt in La Jolla.
El Capitan will travel to face Montgomery on Saturday at 7 p.m. in another Matador Classic game.