Vaqueros play tough, come up short
Updated: December 9, 2017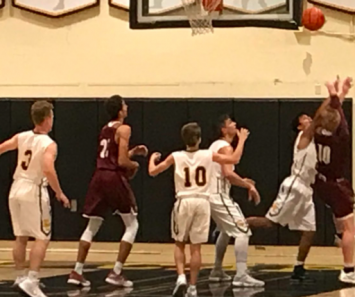 El Capitan and Bishop's battle on Friday night.
2017 EAST COUNTY PREP BOYS BASKETBALL
By Dave Dickens
EastCountySports.com
LAKESIDE (12-8-17) – On paper, the El Capitan Vaqueros have one of the toughest schedules in San Diego Section Division 4 boys prep basketball.
That is not just a statement made by Vaqueros head coach JEFF BICKFORD, it is a confirmed fact if you take a gander at at their entire schedule.
Bishop's definitely came into Friday as a huge favorite as the visitors, ranked No. 4 in the county's very competitive Division 2.
The Vaqueros are quite underrated, as just like the football program, El Cap has very tough opponents.
However, if you watch this group face the tough squads, their 1-3 record coming into this contest had the Vaqueros ranked at No. 10 in a tough division 4 group.
The Vaqueros did lose the game, 55-43, but they will contend in league play for sure.
The fighting Vaqueros were only down 19-17 as their defense was on-point especially in the first half.
"With my first year here after so many years at Crawford and then Santana, the kids are definitely buying in that we can compete with the elite teams," said El Capitan Head coach Jeff Bickford.
Heading into the 3rd quarter, the Vaqueros were very confident as they trailed by only by 2.
However the Knights took a 30-20 advantage with 5:04 left in the 3rd quarter.
With just a little over two minutes left in the 4th quarter, the Knights were up 45-38, however the Vaquero defense had quite a few blocks and just caused plenty of confusion amongst the Bishop's shooters, creating a lot of missed shots.
El Cap played their tails off and showed to everyone they can hold their own with any team they face.
The Vaqueros will face the Centurions of University City tomorrow at 10:30 am at Grossmont.