Monarchs continue to dominate competition
Updated: December 10, 2017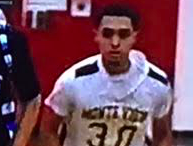 2017 EAST COUNTY PREP BOYS BASKETBALL
By Dave Dickens
EastCountySports.com
SPRING VALLEY (12-9-17) – The monarchy that has been established and it doesn't appear as if Monte Vista will be dethroned anytime soon.
The Monarchs continued their domination as they defeated Victory Christian Academy, 64-52, at their own tournament.
Monte Vista came into this contest with a perfect record of 5-0 and a San Diego Section Division 4 ranking of No. 2.
The Monarch opponent, Victory Christian Academy (1-2), however, had a San Diego Section Division 4 ranking of No. 9, which both will change come Monday morning.
The Monarchs have been averaging as of late, 15 points or more per quarter.
DEONDRAE McHALE had 27 points, 8 rebounds, 5 steals and 5 assists for Monte Vista.
Monte Vista's JAIDEN DAWN had 11 points and 10 rebounds,
The whole Monte Vista squad played phenomenal defense.
DEMARCUS MCKAN also added 13 points for the Monarchs, who are now 6-0.
The Monarchs will host the next opponent – Maranatha – on Wed., Dec. 13, at 7 pm.
MOUNT MIGUEL 88, BONITA VISTA 72 – The Matadors – the county's best-kept secret – improved to 6-0 in a battle of undefeated teams in the Baron/Matador Classic championship game
Mount Miguel will next face Carlsbad on Friday at 6 p.m. in a Grossmont Winter Classic game at Santana.
GROSSMONT 48, SCRIPPS RANCH 40 – The Foothillers outscored the Falcons by four in the fourth for the winning margin.
Grossmont meets Kearny on Friday at 8 p.m. in a tournament game.
SANTANA 59, RAMONA 56 – The Sultans had a massive rush in the fourth quarter to finally overtake the Bulldogs at the Santana Shootout.
The Sultans outscored Ramona 22-11 over the final eight minutes to secure the win and improve to 4-1.
Santana will travel to face Calvin Christian (1-2) on Tuesday at 7 p.m.
MOUNTAIN EMPIRE 72, BORREGO SPRINGS 34 – The Red Hawks won their first game of the season in the Warner Springs Tournament.
Mountain Empire hosts Del Lago Academy on Friday at 5.