Cougars win CIF State bowl championship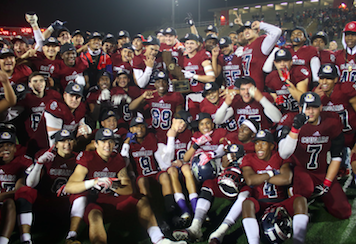 2017 STEELE CANYON COUGARS CIF STATE D3-A CHAMPIONS
2017 EAST COUNTY PREP FOOTBALL – CIF STATE DIVISION 3-A BOWL CHAMPIONSHIP
STEELE CANYON 44, HALF MOON BAY 42 
By Ramon Scott
EastCountySports.com
CHULA VISTA – MIKEL OLIVER, THOMAS FISHBURNE, and the Steele Canyon Cougars capped an improbable season with a CIF State Division 3-A bowl game championship Saturday night with a 44-42 victory over Half Moon Bay at DeVore Stadium.
Ever humble, the Cougars were eager to share the spotlight with a fallen friend before, during and after the wild victory on Southwestern College's home field, the second win for the San Diego Section Division 2 champs there in three weeks.
Oliver, in preparations for the biggest game of his career, learned the news of the death of his friend and one of his top rivals, WILL BURTON, on Monday evening.
Not that the Steele Canyon football team would need any extra motivation with this culminating game, especially for three-year starters Oliver and Fishburne.
"It was terrible to get that news," Oliver said. "But as soon as I heard, I knew what we had to do (to honor him)."
Oliver, along with the Cougar football team and hundreds of other area students, attended a vigil for Will on Friday night at Granite.
The Eagles' football coaching staff lauded Mikel on his poise and leadership when speaking to many of the students and team members on Friday night.
After carrying Will's jersey before the game and donning No. 19 stickers on the back of their Helmets, Steele Canyon grabbed the momentum right away with a pair of scores, then after allowing Half Moon Bay to rally for a one-point halftime lead, they rallied to assume control in a back-and-forth finish.
Despite four losses along the way, Steele Canyon won its eighth-straight, including six playoff games, to finish the season.
"We never gave up (on the season)," Oliver said, "We never lost hope. We played as a brotherhood."
KENNETH WATSON scored on a 9-yard touchdown with 6:45 left in the first quarter for a 7-0 lead.
Then moments later, Oliver reach down to pick up an errant pitch following a massive hit by DARIN WALTON and got a full escort to the end zone for a 59-yard touchdown and a 14-0 lead.
Half Moon Bay picked up a safety, then ended up taking over at the SC 40 following a free kick, and scored on a seven-play drive to pull within 14-8.
Half Moon Bay later put together a five-minute, 96-yard drive to take a 15-14 lead into the locker room.
The Cougars struck quickly out of halftime.
Just moments into the third quarter, Fishburne rolled to right and found NATHANIEL GORDEN along the right side. He took delivery of the pass and was off to the races for a 73-yard score, as Steele Canyon regained the lead.
"Picked to lose week in and week out," Gorden said. "We believed in each other this entire season. We came together as a team and battled together."
On Half Moon's next series, MARVIN JAMES recorded an interception for Steele and returned in well into HMB territory. Earlier, James blocked a point-after try.
Steele Canyon converted the turnover on a touchdown run from Fishburne to make it 27-15 with 7:34 left in the third.
James then stopped the next drive, as well, with his second interception.
The Cougars once again capitalized and Watson scored his second TD of the night for a 34-15 lead with 4:49 left in the third quarter.
The lead may have felt comfortable for some, but the state playoffs have been filled with pinball finishes.
Half Moon Bay scored on a 6-yard run, then recovered an onside kick and scored again on an 8-yard run to make it 34-28 with 10:26 to play.
Steele Canyon went up by two scores on a field goal by JOHN LAUTNER, but HMB came back and scored on a 4-yard run by Fishburne to make it 37-35 with 4:19 to play.
Steele Canyon just won state pic.twitter.com/tqhtARFiec

— Christian Pedersen (@MrCped) December 17, 2017
Steele Canyon got the decisive score, moving just as quickly down the field, as DEONTAE MCKINNEY had a touchdown run from 11 yards out with 2:06 to go in the game.
Half Moon Bay put up a late score with 1:25 to play, but SC's CHANCE JOHNSON recovered the onside kick.
After no completions in the first half, Fishburne completed all 10 of his second-half passes as his team scored 30 points.
Fishburne was 10-for-13 passing for 187 yards and one TD, giving him more than 2,000 yards for the season.
"I woke up today knowing we were about to be state champs," Fishburne said. "Nobody believed in us, but we believed in ourselves."
Oliver and TANNER EWERT held up the jersey of Burton, who died in a car crash Monday night, while walking in unison with teammates. A moment of silence was observed before the game.
"No. 19 was watching tonight," Oliver said. "Couldn't be more proud of my team. Though all the adversity, we finished on top."
For Longerbone, his program finally gets the recognition and respect it had rightfully deserved for several previous winning seasons, often against the same stiff schedule.
"I never dreamed of coaching in a state championship," Steele Canyon coach SCOTT LONGERBONE said. "The first thing I did was to thank (the team), they put me into a situation that was beyond my wildest dreams."