Folsom holds off Helix behind Bennett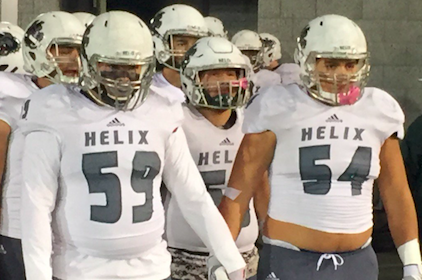 Helix's ISAIAH MANN (59) and CHRISTOPHER ALVARADO (54) walk out Friday night at Hornet Field.
2017 EAST COUNTY PREP FOOTBALL – CIF STATE DIVISION 1-AA BOWL GAME CHAMPIONSHIP
FOLSOM 49, HELIX 42
By Ramon Scott
EastCountySports.com
SACRAMENTO – The Helix Highlanders stunned the Folsom Bulldogs early with a pair of touchdowns by ISAIAH WOODEN in the first four minutes of the CIF State Division 1-AA bowl game championship, but the Bulldogs' offensive stars were one notch brighter than the Highlanders' high-level talent in a wild 49-42 game at Sacramento State's Hornet Field Friday night.
Folsom, ranked fourth in the state, and Helix, ranked seventh in the state, combined for over 1,038 yards of total offense, including 495 by the CARSON BAKER-led Highlanders.
But Folsom QB Kaiden Bennett passed for four touchdowns and ran for two more, completing 21 of 32 passes for 327 yards, while rushing for 147 yards on 14 carries.
Baker, a senior headed to UC Davis, completed 19 of 31 passes for 322 yards and three touchdowns. He also rushed for a score.
Helix sophomore ELELYON "FATTO" NOA rushed impressively for 124 yards in 28 carries. Noa is a sure dominant force, likely on both sides of the ball, in the future.
Helix's top receiver this season, Wooden, caught seven passes for 172 yards in the final game of the season.
San Diego State-bound senior RASHAD SCOTT had seven receptions for 117 yards.
Helix opened a 14-0 first-quarter lead behind Wooden, who had a three-yard touchdown run and 73-yard touchdown reception.
Helix senior defensive lineman ROBERT HUNTER intercepted short pass on the second play from of the game, as the ball was tipped at the line of scrimmage at the Folsom 17. Hunter returned it to the 4.
Three plays later, Wooden got the short shovel drop from Baker then went around the right side for a 3-yard score.
After Helix forced a Folsom turnover on downs at the Helix 27, Baker threw a deep pass to down the left sideline to Wooden, who came down with the catch and broke away for a 73-yard TD.
The Bulldogs then scored four consecutive touchdowns to take a two-score lead into halftime.
Bennett connected with Elijhah Badger on a 70-yard touchdown, as the receiver broke away from ISAAC TAYLOR-STUART near the sideline.
After a short punt on Helix's next series, Folsom got a 49-yard touchdown pass on an inside slant to Joe Ngata.
In the second quarter, Folsom got a short touchdown reception to C.J. Hutton on an impressive drive with 9:06 left in the first half.
Taylor-Stuart made a great over-the-shoulder interception, but Helix couldn't get anything going.
When Taylor-Stuart attempted to run out of punt formation, his wild scramble was well short at the Helix 40.
Bennett scored on a 32-yard run for the 28-14 halftime lead.
The Highlanders closed the gap on a 47-yard touchdown pass on a seam route down the middle of the field from Baker to Scott to make it 28-21. It was a 7-play, 74-yard drive for the Bulldogs.
But Folsom moved quickly and briskly against the winded Highlanders' defense.
The Bulldogs capped a scoring drive with a 2-yard run for another two-score lead.
Noa starting churning big yards for the Helix running game, as well, but a fumble well into Folsom territory halted what looked to be a sure scoring drive.
Helix got it back but down after Folsom took a chunk of time off the third-quarter clock with a punt to the Highlanders' 18.
Wooden, Noa and Scott all had big gains, then Taylor-Stuart had an 8-yard score with 15 seconds left in the third quarter.
Bennett hit on another long touchdown just moments later for a 54-yarder to Hutton.
Noa powered through for Helix on the next drive to get the Scotties into the red zone.
Baker capped the march with an 8-yard score with 6:16 left to cap an 11-play, 65-yard drive.
Folsom couldn't be stopped, however, marching easily for a score capped by a Bennett touchdown run on a 1-yard keeper with 2:47 remaining, capping a 10-play, 71-yard drive.
Helix got a desperation heave to Scott to get inside the 5.
Helix (13-2) pulled to within seven points with 1:06 left on a three-yard touchdown reception by TERRANCE MCINTYRE, making it 49-42.
Folsom recovered the ensuing onside kick, and secured its third state bowl game championship (first since 2014 and third since 2010), along with an undefeated season.
Helix was making its second appearance in the state finals after winning a Division II championship in 2011.
The lights went out midway through the second-quarter delaying the game for about ten minutes.
Ironically, the CIF announced Friday that the state championship games will be moved to Cerritos College for the next two seasons with an option for a third.