Vaqueros' four-game win streak ends
Updated: December 24, 2017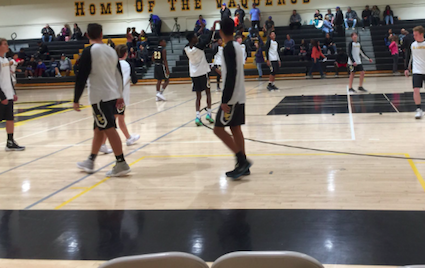 El Capitan warms up on Saturday.
2017 EAST COUNTY PREP BOYS BASKETBALL
By Dave Dickens 
EastCountySports.com
LAKESIDE (12-23- 17) – The El Capitan boys basketball team has been on fire for the last 4 games and riding high in the saddle.
The Vaqueros were very hopeful on there home turf to add to the win column and head into the Christmas break with a .500 record but instead found themselves at 5-7 heading into the break.
On the positive side, they still have a lot of basketball left and have nearly tied they're win total of last season already and will be recharged and still healthy, not always the case with tournament play taxing all teams' players.
The Lakeside natives were pretty sure they would compete and come up with a win tonight.
El Capitan fell, 51-38, to the visiting Komets, who are now 2-8 after defeating the Vaqueros.
Highlight and standout in one of the only poorly played games with the entire roster present was JACOB LOPEZ had 13 points.
"We were defeated in all phases of the game, offense, defense, hustle, rebounds, you name it," said El Cap head coach JEFF BICKFORD. "We could be in a worse spot, 5-7 is doable and we will regroup and get ready to face (4-2) Coronado.
The game against the Islanders will be on Wednesday, January 3, at Coronado at 6:30 p.m.
WESTVIEW 73, FOOTHILLS CHRISTIAN 71  – The Wolverines stunned the third-ranked Knights in the biggest county upset this season in a Grossmont Winter Classic game.
TAESHON CHERRY led the Knights with 16 points, while teammate JAREN NAFARRETE had 15 points.
YASSINE GHARRAM had 13 points for FCHS. He had a three-pointer with 2.1 left to provide the final margin.
The Knights' DORIAN BLUE had 11 points, while DERRICK CARTER-HOLLINGER added 10 points.
Carter-Hollinger hit a big shot with :19 left to make it 69-68 Westview.
The Knights had to put together a 9-0 run in the fourth to get back into the game late.
Cherry hit a baseline three to cap the spurt.
Foothills Christian had to use a 10-0 run to close a first-half deficit, as well.
Westview was hot from three-point range in the first half, finishing with 11 makes from beyond the arc before intermission.
Also on Saturday, Cherry reopened his recruitment and is expected to attract a ton of suitors.
GROSSMONT 57, RAMONA 44 – At the Grossmont Winter Classic, AUSTIN ODOM scored 24 points, including 4 three-pointers, while MYKI MORELAND scored 11 points for the Hillers.
MORGAN STIDUM had nine points, including a 6-for-6 performance at the foul line.
Grossmont led 33-21 at halftime.
Grossmont (4-7) will next play Bonita Vista (8-3) on Wed., Dec. 27 at 4:30.
MONTE VISTA 53, DEL NORTE 41 – DEONDRE MCHAYLE had 21 points, 11 rebounds, and five steals, while JORDAN BRAMER and JAIDEN DAWN got to work defensively in the win over the Nighthawks.
"Bramer and Dawn played really well defensively in a dog fight type of game," Monte Vista coach MIKE TULLY said.
Dawn had 10 rebounds, while Bramer had six rebounds and five steals.
Monte Vista led 21-19 at halftime.
McHayle had two threes late in the third, then Monte Vista forced several turnovers early in the fourth.
DEMARCUS MCKAN finished with eight points and five rebounds.
Monte Vista faces Montgomery on Wed., at 7:30.
STEELE CANYON 70, HILLTOP 40 – The Cougars are now 5-0 after the blowout win over the Lancers.
Junior GRANT CHILDS has 23 points for Steele Canyon.
GAGE SANDERS had 13 points and seven assists, while THOMAS FISHBURNE added 12 points for the Cougs.
Junior JAMES PONDERS had five rebounds for the Cougars.
Sophomore KOBE SANDERS had four assists and two steals for SC.
Steele Canyon led 29-9 after the first period.
Steele Canyon takes on Health Sciences (2-1) on Wed. at 10 a.m. in a Spartan Classic game.
EL CAJON VALLEY 65, SOUTHWEST (El Centro) 54 – The Braves won against the Eagles in a tournament game to improve to 7-4 on the season.
El Cajon Valley faces Warner at home on Wed., at 5 p.m.
MOUNT MIGUEL 78, UNIVERSITY CITY 37 – The Matadors dismantled another opponent to improve to 10-1 on the season in a Grossmont Winter Classic game at La Jolla.
UC fell to 3-8 overall.
Mount Miguel next faces a 2-3 Southwest (El Centro) club on Wed., at 7:30. at home.