Cougars, Knights impress differently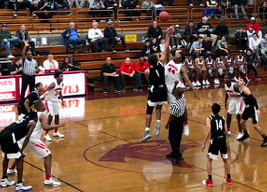 Foothills Christian and Westchester tip off on Wednesday night.
2017 EAST COUNTY PREP BOYS BASKETBALL
EastCountySports.com staff report
EL CAJON – The 13th-ranked Steele Canyon Cougars scored 106 points on Wednesday night in an 81-point victory over Health Sciences, 106-25, to extend their season-opening win streak to six games.
Five Cougars scored in double figures led by senior GAGE SANDERS' 23 points.
Sophomore KOBE SANDERS had 17 points and 12 rebounds for Steele Canyon, while senior THOMAS FISHBURNE added 16 points and junior GRANT CHILDS contributed 15 points.
The Sanders brothers combined for eight three-pointers. Gage Sanders led the Cougs with eight assists.
Senior JORDAN ANDERSON had 13 points in his season debut.
The Cougars were an awesome 43-of-61 from the field.
Steele Canyon will face Olympian (8-3) on Thursday at 4 in the Spartan Classic.
Olympian is coach by Monte Vista great MARTY ELLIS.
FOOTHILLS CHRISTIAN 73, WESTCHESTER 49 – The San Diego County fourth-ranked Knights extended a 32-28 halftime league and looked nearly unbeatable in the second half against a team ranked in the top 20 in the state at the Torrey Pines Holiday Classic's National Division feature game at The Olive Garden Thursday night.
The Knights (8-4) held Westchester (10-3) to just three points in the third quarter using a zone defense that befuddled the Angelenos.
The Knights extended the lead to more than 20 points at the end of three.
TAESHON CHERRY scored 32 points over the first three quarters for the Knights, scoring in a variety of ways.
DERRICK CARTER-HOLLINGER and point guard extraordinaire JAREN NAFARRETE each had 15 points for FCHS.
YASSINE GHARRAM had a stellar performance for the Knights, as well. He has been steady, solid and fun to watch, but his play seemed a level above that on Wednesday. He had eight points overall.
FCHS will move on to face county third-ranked Mission Bay in the National Division tournament quarterfinals on Thursday at 5:25.
The Olive Garden should be packed for this one between two of the elite teams in the county.
The Bucs advanced with an overtime win on Thursday over Bishop O'Dowd on a half-court buzzer-beater by Boogie Ellis, who finished with 42 points…
Boogie Ellis, @2019BMTF, buzzer beater for @MBbucsbball win over Bishop O'Dowd 74-71. Terrific game by both teams. pic.twitter.com/UJaW06YceU

— LA Court Report (@LACourtReport) December 28, 2017
LA SALLE 60, HELIX 58 – The Lancers hit two free throws with one second left as the 14th-ranked Highlanders lost to a tough squad from Pasadena in a Mt. Carmel Holiday Hoops Classic tournament game.
Helix senior AMARI GREEN led all Highlander scorers with 23 points, while teammates JAYLEN HINSON added 12 points and MARCUS HOLMES added 10 markers.
"We didn't execute well late in the game with the lead and La Salle capitalized on it," said Helix coach CASSADY said.
Green did all he could with 11 points in the fourth period. He made five three-pointers in the game.
Helix (7-4) next faces San Ysidro (4-9) at home on Jan. 2 in a non-league contest.
BEVERLY HILLS 54, CHRISTIAN 51 – The Normans defeated the tough Patriots in the tournament contest.
Christian, ranked 11th in San Diego, built an early 18-14 lead.
Christian (5-4) has another tough battle next, as the Pats will face De La Salle, of Concord, on Thursday in the Max Preps Holiday Classic.
MONTGOMERY 93, MONTE VISTA 66 – The 15th-ranked Aztecs gave the Monarchs a taste of the big time at the 35th Annual Aztec Holiday Classic.
The Monarchs have been impressive in their early-season winning run, but the Aztecs proved their notch higher on the power chart.
DEONDRE MCHAYLE led the Monarchs with 23 points, while teammate DEMARCUS MCKAN added 15 points.
The Monarchs are back down to business on Thursday night against a Vincent Memorial team that is just out of the gate late, starting the season just this week.