Gharram's star rises in OT win over O'Neal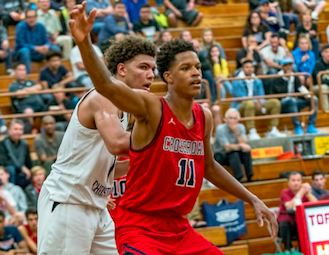 SHAREEF O'NEAL and TAESHON CHERRY battle on Friday. / photo by Tony Guerrero
2017 EAST COUNTY PREP BASKETBALL
Foothills Christian 70, Crossroads 65 (OT)
By James McHugh
EastCountySports.com
SAN DIEGO – Shareef O'Neal has been one of the hottest tickets to see at the Torrey Pines Holiday Classic this year.
The 6'10 senior, who is headed to Arizona next fall, was anything but disappointing on Friday night against Foothills Christian.
O'Neal hit mid-range jumpers, long three-balls, and even three of his five free-throws. Of course, there were the highlight reel jams, plenty of them. But in the end, the stars came out to shine for the Knights.
Foothills Christian erased a 10-0 run by the Roadrunners to start the game, seven straight from O'Neal, only to fall behind by 10 once again in the first quarter at 19-9. Resilient throughout the night, Foothills managed to leave the first frame only trailing by two.
With 4:13 to play in the second quarter a TAESHON CHERRY putback off a JAREN NAFARRETE miss knotted the game at 25. Nafarrete would take things into his own hands with one of his four steals on the next play, dishing to Cherry for the Knight's first lead of the game.
The Knights would maintain the lead, or a share of it until O'Neal showed up again in the fourth quarter to give Crossroads a 49-48 lead.
Four quarters weren't enough to decide things on Friday night however, and overtime became the YASSINE GHARRAM show.
Gharram had eight of his 15-points in the extra frame including hitting six of six from the charity stripe. Gharram also finished with 13 rebounds, tied for the team lead with Taeshon Cherry, and dished eight assists.
Junior DERRICK CARTER-HOLLINGER was pleased with the team's performance after the win.
"It was a great team win. We do have to be more consistent from the free throw line, but I'm proud of the overall effort, especially on defense."
For their reward, the Knights earn a Saturday afternoon matinee with Fairfax, yet another California powerhouse who entered the tournament ranked in the top 20 in the nation.
Foothills Christian Scoring: Cherry 18, 13 Reb, 3 Blk, 2 Ast, 1 Stl, Carter-Hollinger 17, 4 Reb, 2 Ast, 2 Blk, Gharram 15, 13 Reb, 8 Ast, Nafarrete 13, 7 Reb, 4 Stl, 2 Ast, Derrien Carter-Hollinger 6, 1 Reb, Blue 1, 3 Reb, 1 Ast.