What's up with Watson?
Updated: January 16, 2018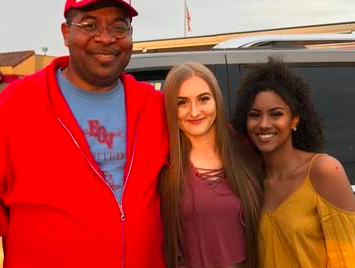 HIGH SCHOOL BASKETBALL STAR LEANNA WATSON CALLS IT A CAREER
2018 EAST COUNTY PREP GIRLS BASKETBALL
By Dave Dickens
EastCountySports.com
EL CAJON (01-15- 2018) – Former El Cajon Valley High basketball star LEANNA WATSON is not only a fantastic player, but a fantastic human being as well.
Watson was born at Grossmont Hospital in 2000, to Karen Watson.
Leanna is unsure who her father is and what his name was.
I was so unfortunate to have missed Leanna's time as one of the east county's basketball greats.
However, I was fortunate today to meet one of the sweetest, brilliant, caring young ladies.
I was also fortunate to meet up with her high school basketball coach of three years from El Cajon Valley High School, head coach CARLOS MOSS, along with one of her siblings, Chandra.
I was fortunate to not only enjoy their company, but also a small meal at the local Wings N' Things on Madison Ave. in El Cajon, right up the street from El Cajon Valley High School.
We did not just get right down to the reason she was no longer playing basketball.
Coach Moss and I chopped it up for a bit as we recalled some of the boys from my era that played hoop for El Cajon Valley and how important my late father, BILL DICKENS was to the East County Sports community and my love for the athletes as well, not only as players but as individuals, and what they do as they move on in their adult lives.
After chopping it up a bit, as the ladies enjoyed a plate that the two sisters shared, it was time to find out the reason such a young talent at the game of basketball decided it was time to move on.
We decided to do a bit of a rewind if you will, and to find out when Watson first fell in love with the game of basketball. She is such an intelligent and eloquent speaker I might add.
"The funny thing is I wanted to play all the sports, and I did," Watson said. "However, at first, I couldn't stand basketball."
"In seventh grade, while attending Cajon Valley Middle School, I fell in love with basketball, yes a quick change of heart," Watson said.
Leanna was already on her way to being one of the greats as a seventh grader, as she entered a Free Throw competition and placed seventh in the nation, not bad for a young athlete of 12 years.
In the same year at Cajon valley middle school she was dubbed athlete of the year.
Leanna also has 4 brothers, two from a different father she doesn't have contact with, and 2 brothers that Coach Carlos Moss recalls were great players in the game of basketball also.
Both of her brothers were honor students at El Cajon Valley High School, one was also the ASB president, and is currently
attending Cal Berkeley, and her other brother is currently a manager of a machine shop.
Leanna looked very proud as she spoke of her brothers' success. Leanna currently resides in El Cajon with her sister
Chandra and her mother, Karen.
In her first year as a freshman, Leanna could have attended several different schools but decided that since El Cajon Valley High is where her brothers attended, that is where she should attend.
As a freshmen, and 2 years of basketball under her belt, she was going to commit 100 percent to basketball.
Head coach Moss said, "Leanna was one of the most committed kids I ever coached. From the beginning she never missed a practice, worked extremely hard, and would pass on any social event or whatever was going on in order to get better.
"Leanna knew that she had to work hard and becommitted because she wanted to progress and be the best at her craft."
I decided, as I know Leanna would prefer, not to just discuss all of her stats and accomplishments on the court, except for this one, her junior year, when she had several 40 point games, but her ultimate was the night she had a triple double of 47 points, 11 assists, and 13 rebounds.
What is the main reason Leanna quit playing the game of basketball? That is the question everyone is asking.
"It took me two months to decide this is what I had to do, but the hardest part was to have to tell my mentor, my coach, my friend, cead coach Carlos Moss."
"It was my Christmas present from Leanna, telling me she was done, it was difficult as a coach, and still is, as I mutter under my breath if we are losing, darn it Watson, however as her father figure, coach, and mentor, I love her to death and hope only for the best for Leanna." said coach Moss.
"It was a torn ATFI, I received this injury 6 months ago, and the doctor told me initially, I only had a 10 percent chance of playing basketball again, which also affected my volleyball play as well," Watson said. "I had to try and I went back out and played for two weeks after I was cleared, but not only did I not feel the same physically, mentally I was done, I didn't love the game now.
"I knew as soon as I suffered the injury I would probably be done, not to mention 6 months away from the team, they had already bonded, it sent me into a depression and I was just a mess for a while."
"As my mother told me and I had heard before, when one door closes, another one will open for me, and I strongly believe that," Watson continued.
"Really, my initial reaction, I had respect, more than anything that Leanna could come to me and tell me she couldn't anymore, that says a lot about character, and to me that is what really matters, and she has a lot of great character," Moss said. "She didn't do what many said, and just fake it for the rest of the season.
"I love and trust Leanna no matter what, I care more about her being herself, not just about what she can do for my team.
"Too many coaches at every level get too wrapped up in winning. It's about building character while we have them, and I think we have lost focus of that in some cases.."
"This was one of the toughest decisions to make, I played through several injuries, torn rotator cuff, twisted or sprained ankles and sprained fingers," Watson added
Watson has a current GPA of 4.2, and has received offers based on her academics as well.
Trinity (Tex.), Southwestern College, Northern Arizona, USD, UCSD, SDSU are on her list.
"Mom would like me close to home, but I just want to focus on graduating high school first. Does my injury hurt still? Hurts me everyday. Do I miss basketball? I miss it everyday, and haven't and will not attend an ECV girls basketball game."
OK, one more stat, Watson had 1,800 total points scored last year.
When asked of her academic interests outside of athletics to study in college?
"I would like to major in business and maybe physical therapy," Watson continued.
I asked Watson if there was something she could say to an injured athlete or maybe just an athlete unsure of what to do, not sure if they want to continue playing athletics, period?
"I would say don't be afraid to step out of your comfort zone, basketball gave me comfort, and helped me cope in life at times," said the Braves' star with a smile. "Don't be afraid of disappointing others, as in the long run people will respect you as a person more, if you made an honest decision that made you happy."
What surprised me most, before we got up and shook hands, coach Moss had one more thought to add, "We have, as coaches to respect the feelings and emotions of our players, before basketball or whatever the sport may be. "
In conclusion, this one of the best, heartfelt, real interviews I have ever done in my short career as a sportswriter over 6 years,
Thank you to coach Carlos Moss and to former ECV girls basketball great and now friend, Leanna Watson.