ROUNDUP: Girls win in several leagues
Updated: January 19, 2018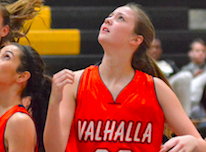 Valhalla junior HUNTER FORD
2018 EAST COUNTY PREP GIRLS BASKETBALL
EastCountySports.com staff report
GRANITE HILLS 34, SANTANA 31 – The Eagles held the host Sultans to just 13 points after three quarters, but had to hold on for the win after letting up a bit
KANI KUBARI had 12 points for the Eagles and helped her team build a double-digit lead, but the Sultans got rolling in the fourth, outscoring the Eagles, 18-10.
The Sultans would eventually close to within one point in the final minute.
AYANG AGOTH did a nice job at the free throw line in the second half for Granite Hills, making four key free throws, but, in general, the Eagles missed a few key freebies late.
Kubari made two clutch free throws near the finish.
Granite Hills improved to 6-10 and 1-1 in the Grossmont Hills League.
VALHALLA 48, EL CAJON VALLEY 31 – Valhalla picked up its first Grossmont Valley League win by defeating the visiting Braves (1-1 GVL).
Valhalla improved to 1-1 in the GVL with the win. The Lady Norsemen will travel to face Monte Vista in a league game on Tuesday at 6 p.m.
El Cajon Valley will host Steele Canyon on Tuesday at 6.
CHRISTIAN 76, MISSION BAY 31 – SIMONE JAMES scored 22 points and HANNAH RICHARDSON added 19, including five three-pointers for the Patriots.
James and Richardson were also strong on the boards in this one, as every Patriot registered in the scorebook.
Christian led 51-12 at halftime to improve to 4-0 in the Central League and 12-7 overall.
FOOTHILLS CHRISTIAN 52, GUAJOME PARK ACADEMY 18 – Sophomore ELLIE TURK had 31 points, 10 rebounds, four blocks and eight assists for the Knights.
Senior JANELLE RODRIGUEZ added eight points and 14 boards for FCHS.
The Lady Knights improved to 2-0 in the Ocean League.