Wolf Pack finds trail to stun Foothillers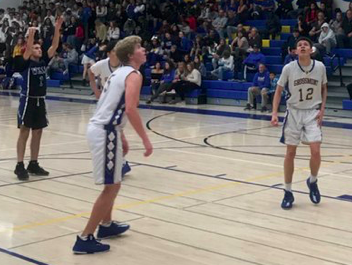 West Hills' Michael Total shoots a free throw against Grossmont Friday night.
2017 EAST COUNTY PREP BOYS BASKETBALL
WEST HILLS 59, GROSSMONT 58
EastCountySports.com staff report
LA MESA – In a game of late runs, the West Hills Wolf Pack got the last push in a come-from-behind win over the host Foothillers in La Mesa on Friday night.
The Wolf Pack, which made 11 three-point field goals in the contest, trailed 58-53 late but scored the last six points of the game for the victory.
Senior CAM BARRY had five triples en route to a game-high 29 points for West Hills (12-5, 2-0 Grossmont Hills League), which finds itself tied for first place after two nights.
Barry had nine rebounds, as well.
The Foothillers bolted out to an 8-3 lead, but the Wolf Pack quickly countered to take a 9-8 edge.
The Wolf Pack's MICHAEL TOTAH hit a three-pointer from the left corner with 20 seconds left in the first quarter, giving West Hills a 17-12 lead.
Totah had three three-pointers and finished with 12 points and three assists.
West Hills then spurted out to a 20-12 advantage early in the second quarter, then held a 25-18 lead.
The Foothillers would eventually close the first-half lead to a couple of possessions, but West Hills led 33-28 at halftime.
In the third quarter, Grossmont used a 14-0 run to turn a 38-32 deficit into a 46-40 advantage.
Grossmont would pull ahead 52-44 early in the fourth.
Totah had a pair of three-pointers in the fourth quarter. CADE RALEY also had a fourth-period three ball and Barry had seven points in the fourth.
Grossmont (9-10, 0-2 GHL) later held a 58-53 cushion, but West Hills scored six straight to finish off the Foothillers.
The Foothillers went 20-for-22 at the free-throw line in a stellar performance.
Raley had nine points for West Hills, which faces Granite Hills on Tuesday at 6 p.m. in a battle of 2-0 league teams. Helix is also 2-0 in the GHL.
Grossmont's MYKI MORELAND had a team-high 17 points, 11 coming in the second quarter, while AUSTIN ODOM added 13 points, including eight in the third quarter, and DAESEAN CRAWFORD came home with 11 points.
Grossmont (9-10, 0-2 GHL) is at Valhalla (5-14, 0-2 GHL) on Tuesday at 6.