Eagles get out of Cougar escape room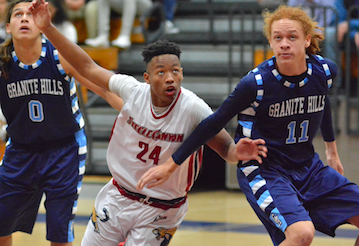 Granite Hills senior XSAVIER SMITH (11) and Steele Canyon sophomore ANTOINE WALKER. / photo by Ramon Scott
2017 EAST COUNTY PREP BOYS BASKETBALL
GRANITE HILLS 69, STEELE CANYON 56
EastCountySports.com staff report
SPRING VALLEY – The Granite Hills Eagles trailed Steele Canyon by 21 points in the first quarter Friday night but eventually stormed past the host Cougars, 69-56, in a Grossmont Valley League contest to improve to 2-0 in the young league season.
The Cougars came out with a lot of energy and were on fire from the field early, building a 17-4 lead, including a basket in the lane from KOBE SANDERS.
Later in the quarter, the Cougars led 21-8, then ballooned that lead to more than 20 points, giving this one the looks of a blowout in favor of the home side.
It would have been easy for a team to change the focus in trying to get back in the game, but instead of ditching their usual focus, the Eagles stuck with the game plan.
"I was extremely proud of our composure in fighting back," Granite Hills coach DAN DUFFY said. "We believed in what we were trying to do and never quit."
Granite Hills made 12-of-16 free throws in the fourth quarter.
The Eagles scored 23 points in the final eight minutes to cap the comeback.
Senior forward XSAVIER SMITH led the Eagles with 18 points, while sophomore teammate MCKAY ROBERTS finished with 17 points, including 14 in the second half.
Roberts had a pair of threes in the third quarter.
The Eagles' MOSES SMITH had 12 points, including 4-for-4 from the line in the fourth quarter.
Granite Hills' RAY CUERO finished with 10 points, including 3-of-4 free throws in the fourth.
For now, Granite Hills (12-5) is tied for first in the Grossmont Hills League with West Hills at 2-0. Helix sits in third with a 1-0 league mark.
Granite Hills and West Hills meet on Tuesday at 6 p.m. in Santee.