East County Sports Hoops Top 10 – January 14, 2018
Updated: January 21, 2018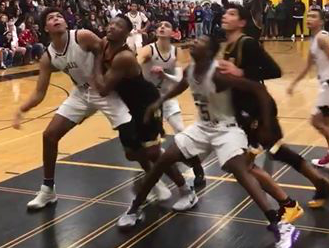 Foothills Christian and Mission Bay in the Battle at The Bay Saturday night.
2018 EAST COUNTY PREP BOYS BASKETBALL
EastCountySports.com BOYS HOOPS TOP 10
Foothills Christian – The Knights have re-directed their course with nine straight victories and avenged their last defeat which came at the hands of Mission Bay back on December 28, 2017. Foothills capped off the Coastal League's dominating performance at Mission Bay's "Battle at the Bay" by knocking off the host Pirates 61-58 in OT a night after an OT win over La Jolla Country Day.
Mission Bay – The Pirates have no unwarranted L's on their ledger. Their most lopsided loss came to La Jolla Country Day at the Torrey Pines Holiday Classic before the Bucs tallied wins against then state-ranked Bishop O'Dowd and current section #1 Foothills Christian.
Torrey Pines – The Falcons have won eight straight dating back to December 27. 2017. The only close contest in that span for the Falcons was a three-point win at El Camino. An unfortunate side effect of league play for the Falcons will be that five of their remaining nine games come against non-D1 teams.
San Marcos – The Knights are an interesting subject. A less than stellar early season schedule mixed with their KSA Tournament title in Florida all resulted in a lot of wins, but not many signature victories. San Marcos did rebound from their only local loss to Poway one week later when they topped the Titans at the Game on Challenge, but Tuesday night against Vista the Knights have a real chance to stake their claim in the section rankings.
Vista – The Panthers had an early-season loss to Mater Dei which they kindly returned to the Crusaders at the end of the West Hills Tournament. A three-point OT loss to #3 Torrey Pines back in December showed that the Panthers could hang with anyone in the county. Now San Diego fans will get to see a great signature game between Vista and San Marcos on Tuesday night (January 23) for some control in the pecking order.
La Jolla Country Day – The Torreys have shown they can hang with any team in San Diego. A convincing win over Mission Bay, a road win at Saints and an OT loss to Foothills Christian are exceptional checks on the Torreys' resume. There is concern for the depth which many came to see when Bishop's upset a Langborg-less LJCD team two weeks ago.
Saint Augustine – Saints is much more dangerous the longer they stay under the radar. It's odd to think that a program like Saints could ever conceivably fly under the radar to begin with, but here they are, inconspicuous and hanging out around 6-7 In the MaxPreps ranking system that will decide playoff seeding. The last two BIG tests for Saints should be at Mission Bay to close out January and a matchup with Whitney Young of Chicago at the Nike Extravaganza. The Holy War kicks of this week, however, and that's always good for a surprise or two.
Mater Dei – More than any team on our list, the Crusaders will suffer due to league strength to no fault of their own. The Crusaders have zero D1 games and two games against Montgomery remaining. They can ill afford to lose at all if they want to stay in the top eight in the MaxPreps system. By season's end, the Crusader's last game against a D1 team will have been January 16 at Grossmont.
El Camino – The Wildcats don't have an amazing record at 11-8, and they've lost four of four games against teams on our top-10 list. That being said, strength of schedule will likely be a big factor for El Camino as the season rolls toward playoffs. Two games against Vista could spur the Wildcats into stealing away one of the eight Open Division spots, or dropping them to a high seed in the Division 1 bracket.
Canyon Crest – La Jolla Country Day is the defining win on the Ravens' resume. One more shot at Torrey Pines and a February date with Santa Fe Christian are two of the most crucial games remaining for Canyon Crest. Like El Camino and Montgomery, Canyon Crest is one of few teams who have an opportunity to jump into the Open Division by season's end, but it will likely take a win at Santa Fe Christian, no more losses other than Torrey Pines, and, some help from teams already in the mix.