Matadors pressure Patriots to take win
Updated: January 21, 2018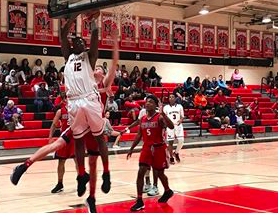 Mount Miguel's C.J. JACKSON goes up strong against Christian on Saturday night. / photo by David Dickens
2018 EAST COUNTY PREP BOYS BASKETBALL
EastCountySports.com staff report
SPRING VALLEY – After trailing most of the game, the Mount Miguel Matadors went 9-for-9 from the free throw line in the fourth quarter and outscored the Christian Patriots, 20-9, over the final eight minutes to take a 70-63 non-league victory, extending their season-long home win streak to 11 games on Saturday night.
JAMES ALLEN and DERON TRAYLOR both went 4-for-4 from the line and Traylor added his third third-pointer of the contest in the fourth to finish with a team-high 16 points.
Allen and MARQUIS EDWARDS both added 14 points for the Matadors, while C.J. JACKSON contributed 10 points.
Mount Miguel (17-4)  trailed 20-15 after one quarter as seven different Patriots registered in the scorebook.
Christian led 36-34 at halftime behind 12 points from NASHOM CARTER, who made a three-pointer in each of the first two periods.
The Patriots led 54-50 heading into the fourth quarter, but that's when the Mount Miguel defense stiffened.
"We went small in the second half so we could pressure them a little bit more," said Mount Miguel coach JAY ROWLETT. "I am so proud of the team, especially the unselfishness of C. J. Jackson."
Carter finished with a team-high 17 points for the Patriots, while JORDAN GAINES and CHRISTIAN WEST both finished with 10 points for Christian (11-8).
The Matadors host Monte Vista (14-6) on Tuesday in matchup between the top two teams in the Grossmont Valley League.