Cougars crawl back into Hills race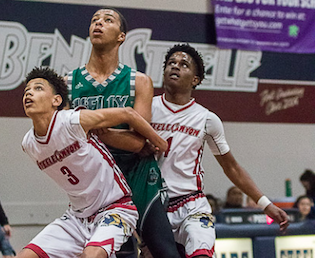 Steele Canyon's KOBE SANDERS (3) and GRANT CHILDS box out Helix's MAURICE HOLMES. / photo by Don De Mars Photography
2018 EAST COUNTY PREP BOYS BASKETBALL
EastCountySports.com staff report
SPRING VALLEY – The Steele Canyon Cougars expected to contend with the Helix Highlanders for the Grossmont Hills League championship.
However, a pair of losses to open the league campaign had the Cougars looking up at all of their main rivals for the title.
Consider the Cougars back in the hunt after breaking open a neck-and-neck game in the second half with the Highlanders on Tuesday night, pulling away over the final four minutes for a 62-53 home victory.
The Cougars looked sharp early, taking a 16-11 lead after one period, thanks to a pair of three-pointers from junior GRANT CHILDS, then led 28-23 at halftime.
But the Highlanders would storm back in the third quarter as the Cougars' looked like they were in a repeat performance from the collapse last Friday at home against Granite Hills.
But Steele Canyon senior GAGE SANDERS scored 21 points, including nine in the fourth quarter as the Cougars completely reversed their fortune, outscoring Helix, 21-8, in the final stanza.
Sophomore ANTOINE WALKER kept the Cougars within striking distance in the third with six of his nine points, including a pair of three-pointers.
Helix got 14 points from sophomore MAURICE HOLMES and 13 points and at team-high nine rebounds from senior BRADLEY DUNN.
Scots senior JAYLEN HINSON added 10 points, while senior guard AMARI GREEN had four assists and seven rebounds.
"We played a good third quarter to get us back into the game, but then seemed like we hit a wall in the fourth," Helix coach BRENNAN CASSADY said. "I probably could've used the bench more in the second half."
Helix (13-8, 2-1 GVL) will face West Hills (12-6, 2-1 GVL) in Santee on Friday at 7 p.m. in a key Hills League matchup.
Steele Canyon (7-6, 1-2 GVL) hosts Valhalla (5-15, 0-3) on Friday at 7 in an effort to get back to .500 in league.