ROUNDUP: Vaqueros, Patriots are winners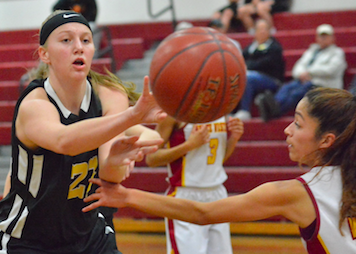 El Capitan's MACKENZIE CURTIS fires a pass against Monte Vista. / photo by Ramon Scott
2018 PREP GIRLS BASKETBALL
EastCountySports.com staff report
SPRING VALLEY – El Capitan freshman center SERENE WECKBACK was the most-rewarded recipient of the Lady Vaqueros' unselfish play Friday night, finishing with 26 points in a win over host Monte Vista.
The Vaqueros, who moved to 3-0 atop the Grossmont Valley League, had a season-high in assists as a team against the Monarchs.
Monte Vista scored the first bucket, but El Capitan (10-12) was ahead 12-4 at the end of the first quarter.
The Monarchs built the advantage to 24-6 midway through the second quarter.
"Everybody was looking to give the ball to the next open player which happened to be Serene more times than not," El Capitan coach DARIN CURTIS said.
"Everyone is starting to define their role on the team and as we do we are getting better each week."
Freshman MACKENZIE CURTIS returned from a bout of strep throat and came home with 16 points, while JORDAN GRANDY looked sharp from the outside in the first half and finished 10 points.
CHRISTIAN 57, CRAWFORD 15 – Patriots freshman KRISTIN WILLIAMS scored 14 points and sophomore SIMONE JAMES added 10 points as Christian led 27-2 after one quarter and 36-3 at halftime in the Central League win over the Colts.
Williams added three steals and three assists. while James had five rebounds.
Christian (6-0 Central, 14-7) will be at Madison (5-1, 15-3) next Friday at 7 p.m. in a sure league championship-impacting game.