Cougars shut down Valhalla in fourth
Updated: January 27, 2018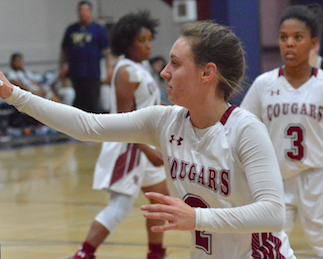 Steele Canyon senior guard Elizabeth Bott
2018 EAST COUNTY PREP GIRLS BASKETBALL
By Dave Dickens
EastCountySports.com
SPRING VALLEY (1-26-2018) – The Steele Canyon Lady Cougars were definitely primed and ready for their battle with their Jamacha rival, Valhalla.
Coming into Friday's contest the host Cougars were 8-6, including 1-1 in the Grossmont Valley League, while the visiting Norsemen were just 3-11, and 1-2 in league play.
However, we all know in athletic contests, rival records typically don't come into play no matter what type of season each squad is having.
At the end of one quarter of play, the Lady Cougars were up by 11, leading 15-4.
The Cougar defense didn't allow many buckets in the second quarter either as the host Cougars were up 21-12 at the half, but the Lady Norsemen defense was in position to allow only 8 points in the second quarter of play.
"It was a rough one this evening, but Lady Norsemen head coach MARC CARTER had his ladies ready to play," said Lady Cougars head coach PETER RUIZ JR.
"We came out sluggish in the third quarter in particular."
The Lady Norsemen definitely came to play and were not prepared to lay down that easy, as Valhalla went on a 17-8 run in the third quarter to tie it at 29-29, heading into the fourth quarter.
Momentum had definitely shifted in favor of Valhalla, as it appeared that the visitors might just head back down Jamacha Blvd. with a victory.
Not so fast, as the Lady Cougars clawed their way back into the lead for the remainder and the win, as Steele Canyon led the fourth quarter, allowing only one point, 19-1.
"To start our contest, our defense came out and caused many turnovers, and we were able to capitalize well and score in transition," said Lady Cougar LALA WADLEY.
The Lady Cougars went on a rampage offensively and defensively to finish off an up-and-down, hard-fought contest from both teams.
The Lady Cougars went on to win, 48-30, and improve to 9-6 (2-1 GVL).
"We all played as one unit and worked together for this victory, I had a couple of key plays to keep the scoring going, but not without the assistance of my teammates," said Lady Cougar KHYLALA BRANDY, who had 3 rebounds and 2 assists.
ELIZABETH BOTT also had 7 rebounds and 6 assists, while Wadley had 1 rebound 2 assists and 7 steals.
"Tonight was actually a rough one for me and the team as a whole," Bott said. "We started off strong, but second and third quarters our defense was giving up the three and taking advantage of outside shots.
"After we had worked on free-throw shooting all week at practice, I went 4-for-6 from the line which helped my team out. I feel so blessed to be able to play basketball, especially with this group of ladies."
Unfortunately, the Valhalla Lady Norsemen fell to 3-12 (1-3 GVL) on the season and will face El Capitan (10-12, 3-0 GVL) on Friday, February 2 at 5:30 pm at Valhalla.
The Lady Vaqueros defeated this Steele Canyon team back on the 19th, 53-40, on the Lady Cougars' turf.
The Lady Cougars will face the Foothills Christian Lady Knights (8-9) tomorrow at Cuyamaca College at 5:30 pm.