Hillers finally shake Eagles in fourth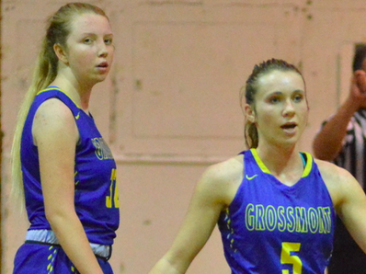 Grossmont's SARAH HENRY and MARISSA GILES (5).
2018 EAST COUNTY PREP GIRLS BASKETBALL
EastCountySports.com staff report
LA MESA – The Grossmont Foothillers earned their first Grossmont Hills League win of the season Friday night, defeating the Granite Hills Eagles, 43-29, in a contest that was closely contested until the final few minutes.
"We needed this win," Grossmont coach GRACE CAMPBELL said. "We are hoping the momentum pushes onto the next game so we can go on a win streak."
Junior MARISSA GILES led Grossmont with 18 points, including 12 in the second half.
Sophomore SARAH HENRY added 13 points for the Foothillers, including nine in the fourth quarter.
"Sarah really stepped up here game," Giles said. "We worked well together as we started reading each other. We began to control the game."
The Foothillers led just 12-8 after one quarter and 19-14 at halftime.
Granite Hills' ANYANG AGOTH hit a three-pointer in the third quarter and a subsequent basket by the Eagles pulled them to within 24-23.
Still, Grossmont couldn't shake the Eagles until the fourth quarter.
The Hillers led by just six entering the final quarter, but eventually would pull ahead by double digits.
The Foothillers were without the services of a couple of key players, according to Campbell.
"Marissa and Sarah both played well tonight," Campbell said. "They knew they had to produce double digits tonight to pull out a victory. "The reserves really stepped it up this game."
"Sarah's game is fast-tempo. She's an attacker and tonight she attacked when we needed her to score. Marissa had a better shooting game tonight."
Agoth finished with 17 points for Granite Hills, including three three-pointers.
"They raised their intensity level the second half," Granite Hills coach CURTIS NORWOOD said. "We where unable to match it."
Granite Hills' KANI KUBARI added 10 points.
"Another defensive asset we had tonight was Grace Cercado," Giles said. "She stepped up in Hendo's absence."
"It felt good coming out and getting the win," Henry said. "We knew we had a talented player gone, but that didn't stop us from fighting until the end."