Knights look for sweep in Coastal League round two
Updated: January 27, 2018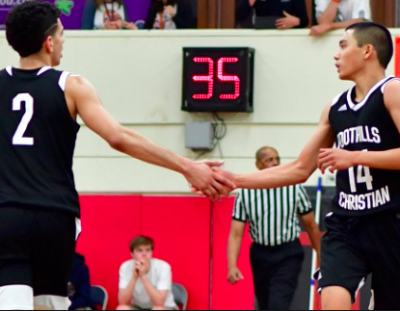 2017 EAST COUNTY PREP BASKETBALL
Foothills Christian 70, Army & Navy 51
By James McHugh
Special to EastCountySports.com
RANCHO SAN DIEGO – Foothills Christian moved to 7-0 in Coastal League play and 19-5 on the season with a 70-51 win over Army & Navy Academy Saturday night at Cuyamaca College.
TAESHON CHERRY led the Knights' scoring attack once again, tallying 28-points on the night on 13-23 shooting from the field. Cherry added nine rebounds and a flurry of monster dunks in the win, making it 11-straight victories for Foothills Christian.
J.C. Canahuate led Army & Navy with 24-points on the night, 16 of those before the break.
DERRICK CARTER-HOLLINGER had 16-points for Foothills Christian to go along with five blocks and five rebounds but was plagued with foul trouble early on. Sophomore guard YASSINE GHARRAM filled up his stat sheet with seven assists, seven rebounds and three steals for the Knights.
A less-than-stellar middle two quarters allowed Army & Navy to claw back into things late in the night.
With Foothills Christian leading by as many as 16-points in the early going, things seemed to be headed for a route.
However, with 3:34 to play in the third-quarter a J.C. Canahuate layup and free throw trimmed the Knights' lead to just nine points. Three straight Taeshon Chery buckets, including a thunderous alley-oop finish off a Yassine Gharram pass put Foothills back in control of things for the remainder of the night.
An 8-0 Knights run late in the third-quarter built the Foothills lead back to 54-41 headed to the final quarter. It wasn't the most impressive win for the Knights by any means, but Foothills can take some solace in a 28-point performance from their top scorer on an off-night by the team.
Overall Foothills Christian shot the ball well, going 28-53 from the floor. The Knights were however, just 5-15 from beyond the arc. Foothills will head to Santa Fe Christian on Wednesday night (January 31) to take on an Eagles team coming off a big league victory over La Jolla Country Day this past Friday.
Foothills will enter the night with a 13-game Coastal League winning streak. Orange Glen last upended the Knights a year ago today (January 27. 2017). Foothills has won four consecutive Coastal League crowns.