Monarchs hold on, edge Red Devils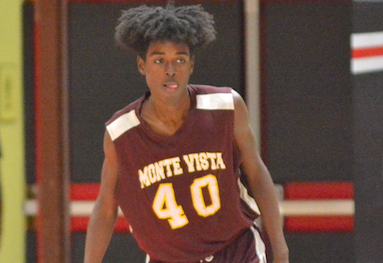 Monte Vista junior DEMARCUS MCKAN
2018 EAST COUNTY PREP BOYS BASKETBALL
By Dave Dickens
EastCountySports.com
NATIONAL CITY (1-27-2018) – The visiting Monte Vista Monarchs warmed up Saturday evening to face the Sweetwater High Red Devils as part of the Michael Lemaster Memorial Classic.
The Red Devils are ranked No. 13 13 in the SDSCIF D3, which is outside the playoff bubble, but Monte Vista ranks No. 3 in the SDSCIF D4, which has the Monarchs vying for a first-round bye.
With that being said the Red Devils with their record, division and strength of schedule over the Monarchs, head coach MIKE TULLY and his boys could've be considered the underdogs with this game being held at the Sweetwater gym.
However, The Monte Vista Monarchs have overcome adversity all season.
As tip-off began, the contest was officially underway.
Monte Vista was able to put up 15 points in the first quarter of play and another 13 in the second quarter to lead the favored home squad, 28-22, at intermission.
Leading the Monarchs squad with 9 points was football star and PG AMIR CONLEY, who had a 3-pointer in the first quarter to boot.
The second half was a different story as Sweetwater began to turn up the intensity.
"The officials actually allowed us to play," said Tully.
With Sweetwater up 42-41, Monte Vista's DEONDRE McHAYLE drove through a double team and passed the ball to junior DEMARCUS MCKAN for the go ahead score, 43-42.
The Monarch defense held twice to preserve the 43-42 win.
McKan led the Monarchs with 14 total points, while Conley scored 11 total points, and had a 3-pointer.
McHayle added 9 total points.
The Monte Vista Monarchs (16-7, 2-1 Grossmont Valley) will play a league game at home against the Santana Sultans (14-9, 2-1 GVL) on Tuesday, January 30 at 6 p.m.
It should be one of the best and most competitive league games next week and will have a large impact on which team going forward will challenge Mt. Miguel for the league title.