ROUNDUP: Teams wrap up first go-round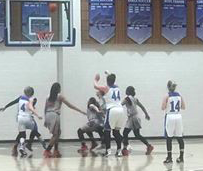 West Hills attempts a free throw Tuesday night.
2018 EAST COUNTY PREP GIRLS BASKETBALL
EastCountySports.com staff report
SANTEE – The Mount Miguel Matadors won the biggest game in the East County so far this regular season when they defeated the West Hills Wolf Pack, 52-20, Tuesday evening.
Mount Miguel improved to 21-0 on the season, but are ranked second in the county in the official computer rankings, behind La Jolla Country Day.
However, at least two other respected pollsters have the Matadors atop their county rankings. Mission Hills is condered to be the other major championship contender in the San Diego CIF Open Division.
West Hills did a staunch job defensively in competing with the Matadors, as the teams were deadlocked at 6-all.
However, Mount Miguel would go on to lead 22-10 at intermission.
Then the Matadors really got defensive, shutting out the Wolf Pack in the third quarter.
Seniors CAMARA DOUGLAS and LALLI GURROLA took charge of the Matadors' scoring work in this one, combining for 21 points.
Douglas also had seven rebounds and three steals.
SYLENA PETERSON added nine points, four rebounds and five steals for Mount Miguel
Despite the important win, Mount Miguel coach ROBBIE SANDOVAL pointed out that the Matadors missed 24 layups.
MICHELLE CORLEY had a complete night for the Matadors with four points, six steals, three rebounds and three assists, while teammate TIAJA BENNETT had four points six rebounds and five steals.
West Hills fell to 3-1 and currently sits in third place.
GROSSMONT 45, SANTANA 31 – The Foothillers trailed 13-7 after one quarter, but SARAH HENRY and GRACE CERRADO got things cooking in the second period to help Grossmont lead 25-19 at halftime.
Henry had seven points in the second quarter and eighteen points to lead all scorers.
Henry made eight free throws in the contest.
Grossmont's MARISSA GILES ran into some foul difficulty early, but Henry was ready for the challegene.
"We started off slow but picked it up in the second half," Henry said. "I felt really confident and knew I had to step it up since Marissa was in foul trouble. It was a good team win."
Cerrado had six points in the second quarter for Grossmont (8-10, 1-3 GVL).
"Sarah Henry stepped it up and Grace had a few steals to seal the game for us, " Grossmont coach GRACE CAMPBELL said.
"When I see the opportunity, I steal it," Cerrado said. "Our coaches emphasize defense."
Senior KOBIE HOLLAND had 11 points for Santana.
Senior MANDY STABLEIN had five points in the first quarter, as the Sultans took the early lead.
Santana, a CIF finalist last season, fell to 2-9 overall (0-4 GVL).
STEELE CANYON 61, MONTE VISTA 15 – The Steele Canyon Cougars have emerged as the main championship contender to first-place El Capitan after the first round of the Grossmont Valley League season.
The Cougars finished the first series of games with a 3-1 record, one-game behind the Vaqueros.
The Cougars fast-break was in gear, taking a 16-3 lead in the first quarter.
Senior ELIZABETH BOTT scored 16 points, grabbed four rebounds and handed out four assists, and sophomore KHYLAYA BRANDY added 15 points for Steele Canyon.
"We had a rough last couple of days with lots of girls sick," Bott said. "But it definitely didn't show. When this team is the on the court we give one-hundered percent.
"In the past few games, we've slowed up in the third quarter and tonight we went into the half saying we couldn't have that happen today."
MAHKAYLA CLINE added 10 points for the Cougars.
Brandy added eight rebounds and six assists.
MYA CROSS had six points and 13 rebounds
"It feels really good as a team to be doing as well as we are this season especially since last year was pretty rough for all of us," Cross said. "As for my rebounding, it's my contribution to the team. I do what I can to benefit my teammates."
SARA TAHA had six points for Monte Vista.
HELIX 38, GRANITE HILLS 31 – The Eagles put a big-time scare, jumping out to an 18-5 lead, but the Highlanders whittled their way back into the game and outscored the Eagles 17-7 in the fourth quarter for another thrilling win.
Helix (4-1 GHL, 16-5) remained just a half-game behind first-place Mount Miguel (4-0) in the Grossmont Hills League.
The Highlanders will travel to face Grossmont on Friday at 7 p.m.